Trumpeter Bill Ortiz to Release New Album "Points of View" on June 17th, 2022 | LISTEN!
by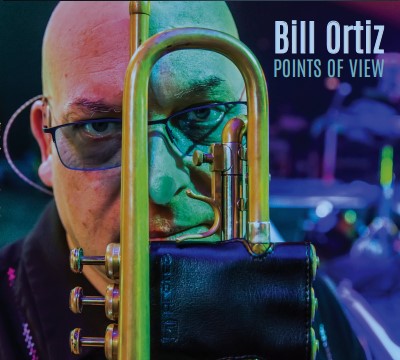 FORMER LONGTIME SANTANA TRUMPETER BILL ORTIZ DRAWS FROM
HIS ECLECTIC, MULTI-GENRE 40-YEAR CAREER TO OFFER A MULTITUDE OF
POINTS OF VIEW
ON HIS THIRD SOLO ALBUM
Available June 17th, 2022
One of the Bay Area's most dynamic multi-genre trumpeters for over four decades, BILL ORTIZ recorded and toured the world with Santana for 16 years – starting with the multi-Grammy winning Smooth album – and has recorded and/or performed with legends of jazz (Herbie Hancock, Wayne Shorter, Chick Corea), Latin (Tito Puente, Pete Escovedo), rock/blues (Boz Scaggs, Buddy Guy) and R&B (Tony Toni Toné, TLC, En Vogue, Destiny's Child).
POINTS OF VIEW, his first solo album since leaving Santana in 2016, perfectly reflects the great array of influences and the freewheeling playing and stylistic approach he brings to a wide range of classic pieces while leading an ensemble of fellow Bay Area greats in addition to legendary featured guests, drummer DENNIS CHAMBERS and saxophonist AZAR LAWRENCE.
Each of the ten pieces Ortiz re-imagines on POINTS OF VIEW was chosen because he felt they would be the best vehicles to showcase his personal voice on trumpet. "At its best," Ortiz says, "music makes people feel something. I wanted the album to feature important pieces that have been overlooked or forgotten, songs I felt could document the sounds and artists that were important to me in forming my voice while updating and bringing my personal style to them."
Personnel
Bill Ortiz trumpet, flugelhorn
Azar Lawrence tenor sax
Matt Clark piano, Fender Rhodes
Brian Jackson piano
Carl Wheeler Hammond B3 organ
Marcus Shelby bass
Marc van Wageningen electric bass
Dennis Chambers drums
John Santos percussion, lead & bg vocals
Javier Navarrette percussion, bg vocals
Terrie Odabi lead & bg vocals
Larry Batiste bg vocals
Sandy Griffith bg vocals
Christelle Durandy lead & bg vocals
Juan Luis Perez bg vocals
Produced by Bill Ortiz
Mouthpiece Music