Fusion Band Soul Café Returns with New Album "Step Aside" on Oct. 15th, 2021 | WATCH NEW VIDEO!
by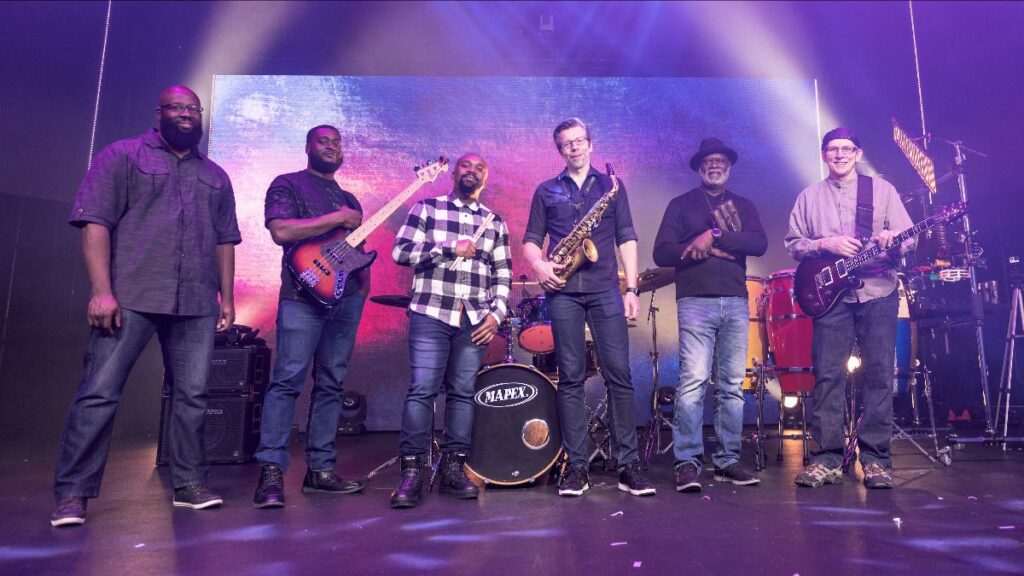 ST. LOUIS-BASED FUSION BAND SOUL CAFÉ RETURNS WITH A STUNNING BLEND OF PROGRESSIVE JAZZ, ROUSING FUNK, DRIVING HORNS AND LATIN-INSPIRED RHYTHMS ON FIRST STUDIO ALBUM IN 18 YEARS
Step Aside, due out October 15, 2021 on Autumn Hill Records,
finds guitarist/founder Ed Starrett and his six-piece band
in celebratory spirits following his battle with leukemia
For Immediate Release – Led by guitarist/composer Ed "Mr. Ed" Starrett, the vibrant fusion ensemble known as Soul Café has been thrilling audiences in the St. Louis area for more than 20 years with their blend of complex jazz and funk, Latin accents and driving grooves. Now, with their new album Step Aside, the soulful six-piece band urges listeners to clear a path for their exhilarating, infectious sound.
Due out October 15, 2021 via Autumn Hill Records, Step Aside also serves as both reintroduction and rebirth for Starrett and Soul Café. It's the band's first album wholly composed of original material since their 2003 debut, Unspoken Request; the first studio session for the band's stellar current line-up, which has honed its sound over a dozen years together; and the first outing for the band following Starrett's nearly decade-long battle with chronic lymphocytic leukemia.
The title Step Aside has a couple of meanings for me," Starrett explains. "We as a band are stepping aside from what we've done in the past a way and bringing our own identity to the forefront. On a more personal level, I was able to walk through a very dark, challenging and difficult time while keeping this band together and moving forward. So for me, Step Aside means that I can finally put that chapter behind me."
Starrett founded Soul Café in 1998, upon settling in St. Louis. He'd attended school in the area and moved back to his native Chicago, but personal and professional opportunities mixed with the desire for a less hectic home base led him back to the Gateway City. The band's sound reflects the influences of such fusion greats as Yellowjackets, John Patitucci, Lee Ritenour and Chuck Loeb, as well as St. Louis' own (and Autumn Hill labelmate) Dave Weckl.
A primary model for the band, though, was the eclectic funk-fusion band Koinonia, co-founded by the prolific bassist Abraham Laboriel. Starrett repaid the debt on Soul Café's 2003 debut with the tribute tune "Trujillo," named for the region of Laboriel's Honduran roots.
"I always gravitated towards driving instrumental jazz music," Starrett says. "I'm into very syncopated, very progressive, unpredictable music where the writing is a little bit more complex. If you put that together with percussion and a horn section, like Santana meets Tower of Power, then I start doing backflips."
Given the deft and diverse skills of Soul Café's current line-up, Starrett may soon be an Olympic-level gymnast. The majority of the band has maintained a consistent line-up for the last twelve years: keyboardist Jerry Scruggs, drummer Tim Quarells, bassist Charles "Bud" Quarells, and percussionist Donald Williams.
The one exception is saxophonist Jason Swagler, who joined just four years ago but has long been in the band's orbit; he is Associate Professor and Director of Jazz Studies at Southern Illinois University – Edwardsville and was part of the horn section that guested on Unspoken Request. He's quickly become an integral member of the band, serving as producer on the new album as well as assembling and arranging for the horn section of SIU colleagues Garrett Schmidt (trumpet) and Cody Henry (trombone).
It took five years for Soul Café to release its first album, though it was immediately embraced by the thriving local jazz scene. The band was voted Best New Artist by St. Louis Jazz Radio in 2003, and it has since headlined the Wine, Dine and Jazz Festival three times and has been featured at the Chesterfield Jazz Festival, the Old Webster Jazz & Blues Festival and the St. Louis Art Fair, among other events.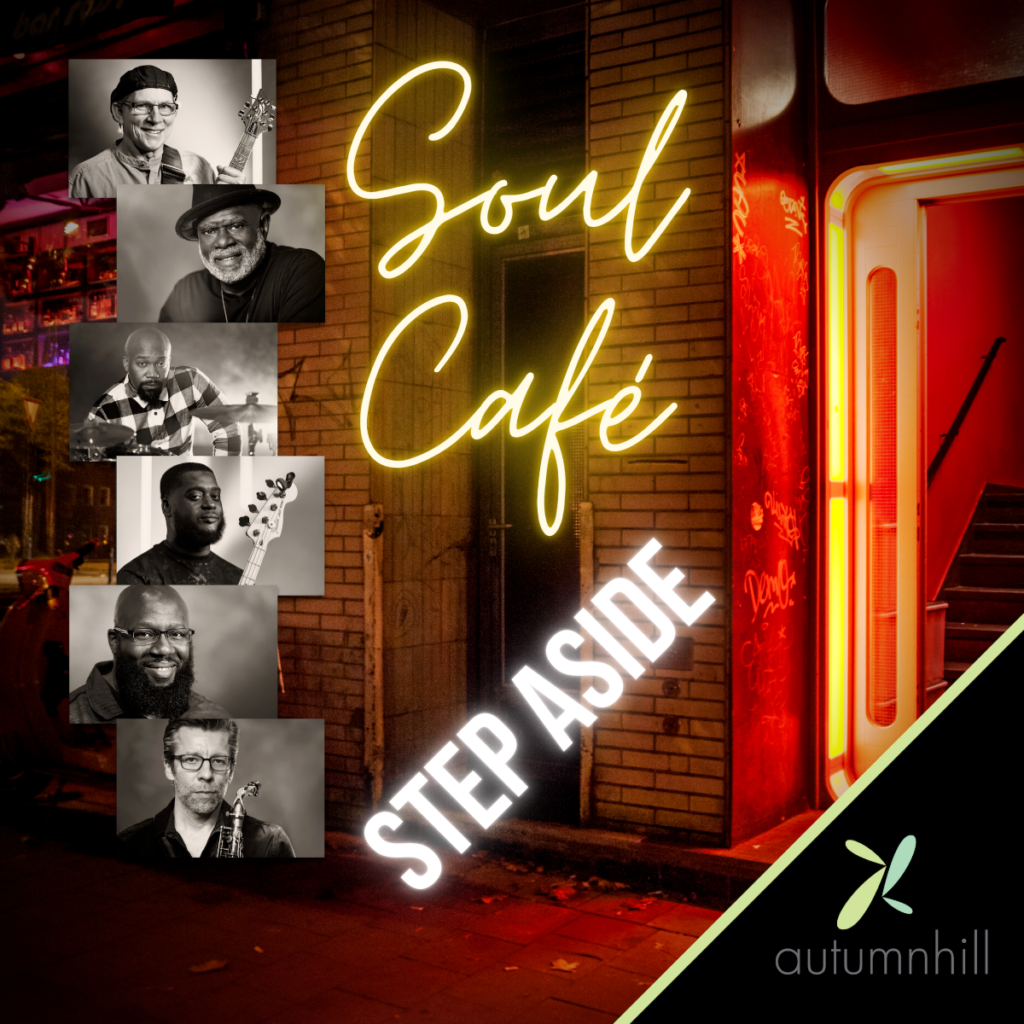 It was in the very same year, however, that Starrett was diagnosed with stage four chronic lymphocytic leukemia. Despite three grueling rounds of chemotherapy he managed to keep the band active, documenting Soul Café's crowd-pleasing live shows on the 2012 album Live at the Wildey Theatre, which featured dazzling renditions of tunes by many of the band's formative influences.
With his condition now under control thanks to a newly FDA-approved medication and a book of remarkable tunes contributed by most of the band's members, Starrett is determined to showcase Soul Café on its own rejuvenated terms. Keyboardist Scruggs contributed the first two pieces, the loping grooves of "Major Over Minor" followed by the bristling Yellowjackets-inspired fusion piece "It's On the Way." Scruggs also penned the glistening ballad "Sunset in May" and the deeply funky closing tune, "Back Home."
Opening with a brief, psychedelic meditation by Starrett, the title tune captures the hard-driving jazz-rock sound that ignites Starrett's passions as well as the steely determination that steered him through the personal challenges he's had to endure. He repurposes the title of the band's debut album for his other contribution, "Unspoken Request," whose glossy, silken vibe hints at the calm façade we often maintain while repressing our secret pain and grief.
A showcase for the band's rhythmic tandem, "Great Things" was written by drummer Tim Quarells and is driven by his propulsive connection with percussionist Donald Williams. Swagler contributed the taut, rocking "Another Cup," which harkens back to the arena virtuosity of bands like Return To Forever and Weather Report.
Rather than looking back at the struggles of the past, on Step Aside Starrett and his gifted cohorts choose the celebrate the potential of a reinvigorated future. "This new chapter that's ahead of me is a refreshing one," Starrett says. "I can be creative and inspired, and I feel like there are so many more things I need to do. I'm living in that new chapter now — the one that I had hoped for and have been moving towards for so long."
Purchase link for Step Aside: https://www.soulcafejazz.com/purchase-cd
Soul Café on the web:
Official Site: https://www.soulcafejazz.com/
Facebook: https://www.facebook.com/Soul-Cafe-Jazz-266024856756675/
Twitter: https://twitter.com/SoulCafeJazz
Instagram: https://www.instagram.com/soulcafejazz/
YouTube: https://www.youtube.com/channel/UCNUEPEJullBxQ7jVu09xNxw
Chart Room Media