Jazz Vocalist Amber Weekes to Release New CD "My Romance – A Special Valentine" on Feb. 14th, 2021 | WATCH NEW VIDEO!
by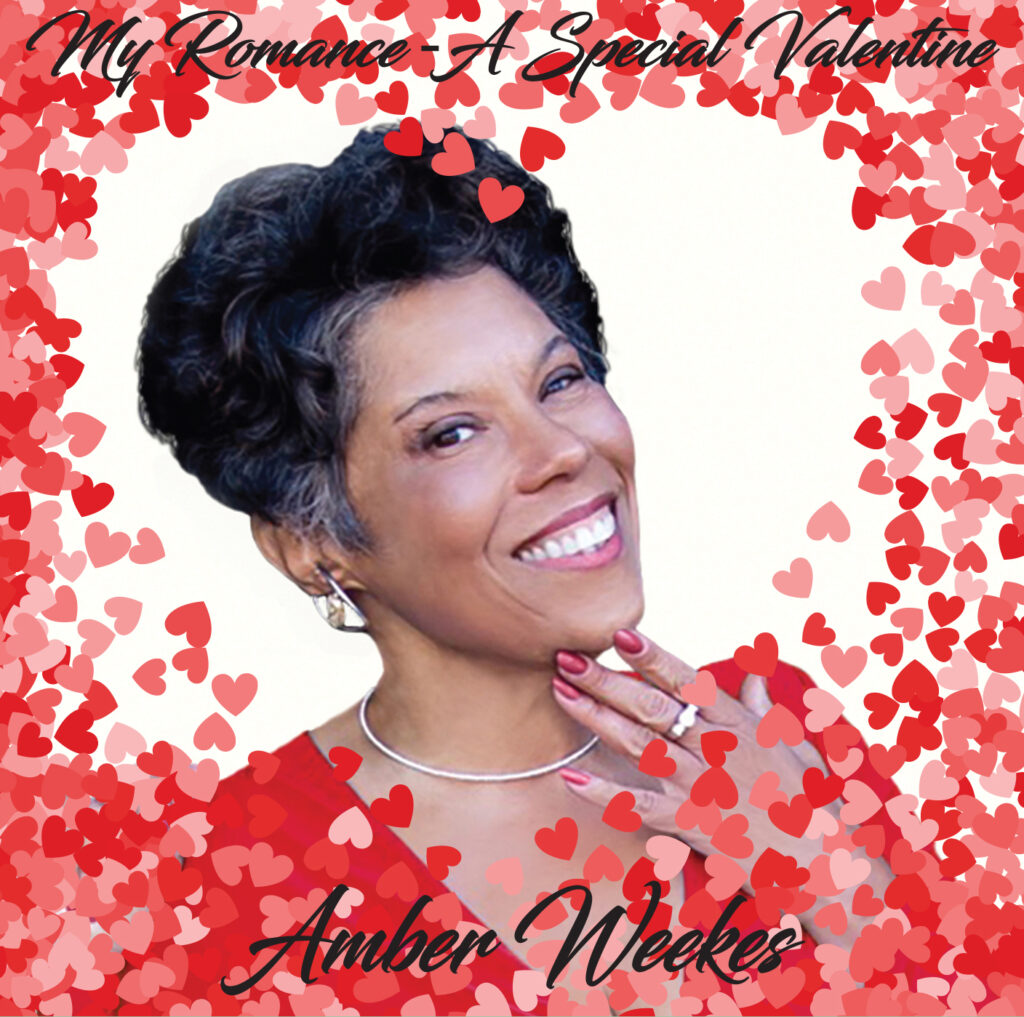 AMBER WEEKES "MY ROMANCE – A SPECIAL VALENTINE"
In time for Valentine's Day and in anticipation of her new upcoming album 'Round Midnight – Reimagined, the popular jazz singer Amber Weekes has released a CD single comprised of two romantic performances.
She performs "My Romance" with a string section while "The Way He Makes Me Feel" is a sensuous vocal duet with Mon David. Both performances can easily warm up any cold night.
Track listing
1. My Romance 3:34
(Rodgers & Hart)
2. The Way He Makes Me Feel (feat. Mon David) 4:53
(Legrand, Bergman, Bergman)
Musicians: Eddy Olivieri, Piano, Mark Cargill produced and conducted strings (My Romance); Tony Campodonico, Piano; Jeff Littleton, Bass; Nathaniel Scott, Drums; Strings arranged and conducted by Mark Cargill; Ramon Stagnaro, Guitar; Paul Baker, Harp; David Jackson and Munyungo Jackson, Percussion (The Way He Makes Me Feel)
Amber Weekes, who recently released her first Christmas album The Gathering, is an up-and-coming jazz singer. She has been creating a stir in recent times in the Los Angeles area where she is based.
Moving into the New Year, Ms. Weekes is coming out with a CD single that features her warm singing in two different settings. The single is being released in anticipation of the upcoming release of her full-length set 'Round Midnight – Reimagined, a remixed, remastered and reorchestrated version of her 2002 recording.
"My Romance" has her accompanied by pianist Eddy Olivieri and a string section produced and conducted by Mark Cargill for a lush and dreamy version of the 1940s standard.
"The Way He Makes Me Feel" features Amber Weekes interacting with Mon David, one of the top male jazz singers on the scene today. With tasteful backing by pianist Tony Campodonico, guitarist Ramon Stagnaro, bassist Jeff Littleton, drummer Nathaniel Scott, Paul Baker on harp, and percussionists Muyungo Jackson and David Jackson, their sensuous duet will have universal appeal due to the quality of their voices, the ease in which they blend together, and the universality of the subject matter.
Amber Weekes was a vocalist from an early age, was always attracted to jazz and the Great American Songbook, and studied singing with the great Sue Raney. She has performed in a countless number of Southern California clubs and venues in addition to New York's New Rochelle Jazz Festival and Las Vegas' Caesar's Palace. Her earlier recordings include 'Round Midnight, Pure Imagination, and The Gathering.
My Romance – A Special Valentine is the perfect soundtrack for a beautiful night with one's significant other.
Artist Website: amberweekes.com
Jazz Promo Services