Flutist Ragan Whiteside to Release New EP "Five Up Top" on Nov. 20th, 2020 | WATCH Official Video for Single "Reminiscing"!
by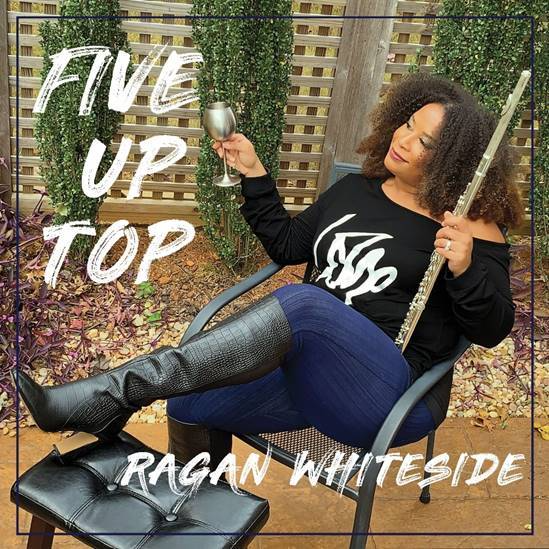 No stopping soul-jazz flutist Ragan Whiteside
Her fifth collection, "Five Up Top," drops Friday as she enjoys a Billboard Top 10 hit streak
ATLANTA (18 November 2020): Riding a hot streak of six consecutive Billboard Top 10 singles, soul-jazz flutist Ragan Whiteside will drop her new EP, "Five Up Top," on Friday on the Randis Music label. Cowriting four new songs for the disc with her producers, influential soul-jazz keyboardist Bob Baldwin and Dennis Johnson (Celine Dion, Freddie Jackson, Melba Moore), the latter of whom handles drums and keyboards on the EP, Whiteside vowed to drop her fifth album this year and refused to be stopped by the novel coronavirus.
"This record, more than my other albums, was an exercise in sheer will, determination and drive. Juggling a family with two toddlers, live shows and all the business-related stuff you have to do as an independent artist is a challenge. Adding an album project to the mix took that challenge to another level. Just when we thought we had everything 'under control,' the pandemic hit and everything screeched to a halt. The focus shifted to safety and survival since nobody had a clear idea of the full impact of COVID-19," said the Atlanta-based Whiteside.
"We knew we wanted to name this album 'Five Up Top' since it is my fifth studio album. However, with the time constraints, we realized that if we wanted to get this album out this year, we would have to get realistic and compromise on the length. We ended up making a five-song EP, which kept with the 'five' theme and took some of the pressure off."
The conservatory-trained Whiteside recently rose to No. 3 on the Billboard chart and No. 1 on the MediaBase chart with "JJ's Strut," a jubilant joint inspired by her daughter's moxie that opens the EP.
"Dennis conceived the song that we named for our daughter. She's a feisty little cutie who doesn't just walk – she struts!" said Whiteside who was accompanied on the cut by trumpeter Willie Bradley and guitarist Tony Bunch.
Written with a backyard barbecue in mind that Whiteside describes as filled with "sun, food, laughter, music and dancing with a plate in your hand," "Jam It" went to No. 2 at Billboard and reigned in the No. 1 position at MediaBase for five weeks.
The EP's lone reboot comes from an unexpected source: Little River Band. Whiteside climbed to No. 8 on the Billboard chart by soulfully reimagining the Australian rock band's 1978 hit "Reminiscing," giving it an R&B flair with lyrical flute play and dreamy vocals illuminating the chorus. The single was accompanied by a video (https://bit.ly/3f9bCx0).
Recalling her Bronx roots where saucy Latin rhythms permeated the air, "12 Bean Soup" is a Latin jazz stew seasoned by Baldwin's tasty piano and Phil Hamilton's (Luther Vandross) spicy guitar riffs.
Speeding to a close comes "Flying on 75," a clubby Euro house meets contemporary jazz hybrid capable of making dance floors jump. Percussionist Chembo Corniel drives the rhythm with prominent beats and crafty percussive fills.
Whiteside's hit streak includes her first Billboard No. 1 hit, "Corey's Bop," along with "Early Arrival" that features saxophonist Kim Waters and "See You at the Get Down." She has been collaborating with Baldwin and Johnson since her 2007 debut album, "Class Axe." Pairing her classical flute with R&B, funk, jazz and fusion grooves, Whiteside has cultivated a fervent following with her consistent chart presence, abundance of global airplay and rousing performances at popular music festivals and cruises.
"Five Up Top" contains the following songs:
"JJ's Strut"
"Jam It"
"Reminiscing"
"12 Bean Soup"
"Flying on 75"
For more information, please visit http://www.raganwhiteside.com.
Great Scott P.R.oductions