Playing For Change to Release New Album "Listen To The Music" on April 20th, 2018 | WATCH NEW VIDEO!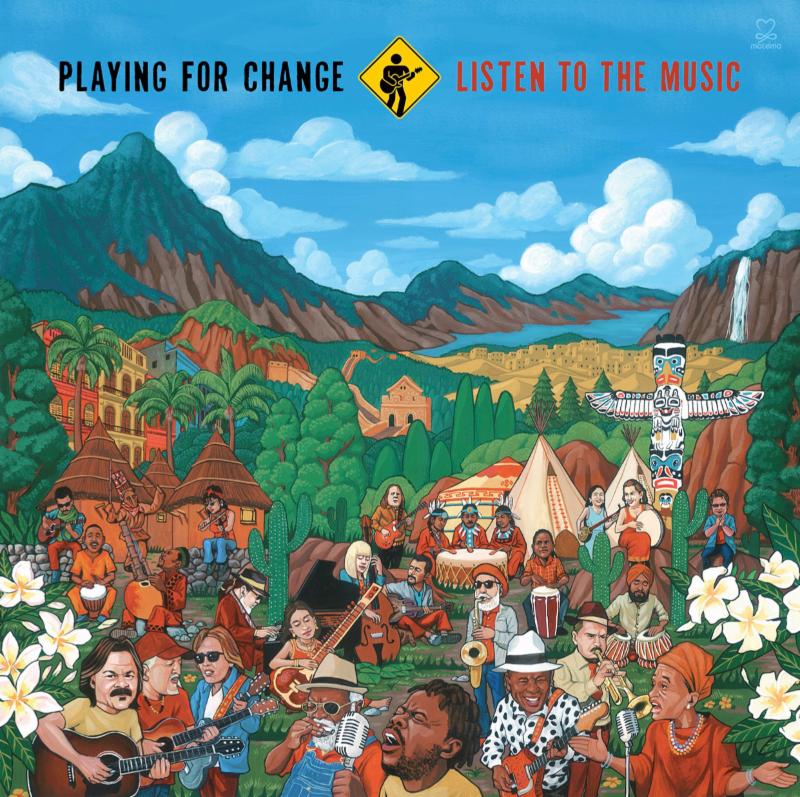 PLAYING FOR CHANGE
LAUNCHES NEW MONTHLY VIDEO SERIES
& ANNOUNCES NEW ALBUM LISTEN TO THE MUSIC
New Album LISTEN TO THE MUSIC
Available April 20 on Motéma Music
200+ Artists from 25 Countries perform 12 Music Classics,
Featuring The Doobie Brothers, Buddy Guy, Warren Haynes, Dr. John, Preservation Hall Jazz Band, Jack Johnson, Bombino, PFC Band, and many more
Los Angeles, CA – February 2, 2018 – Playing For Change (PFC), the multimedia company responsible for the popular "Songs Around The World" video series garnering more than 500 million total online views, announced their fourth and most ambitious album and video series to date, Listen to the Music, presented by nana music and 2seas Sessions, and led by the premiere of "Skin Deep," which features Buddy Guy along with over 50 musicians uniting in song across America. The album will be released April 20, 2018, and is now available to preorder here, through Motéma Music, the multi-GRAMMY®-winning label, with additional marketing support from newly formed mission driven label, Resilience Music Alliance.
While 100% of PFC's profits from the Listen to the Music album will be donated to the Playing For Change Foundation, a non-profit educational organization that has opened 15 schools for underprivileged students in far-flung regions, the messaging in the videos and music itself also furthers the organization's vital missions. The lyrics to the Doobie Brothers' classic title track serve as a perfect theme song for Playing For Change, promoting world peace achieved through music. The messaging in 84-year-old blues legend and first single Buddy Guy's "Skin Deep" brings new perspectives to today's race issues as he collaborates with musicians across America to sing of his experiences in the Jim Crow years, and yet proclaims with love that "underneath we're all the same." The video, featuring Tom Morello and the Chicago Children's Choir, among other artists, is a perfect way to kick off the Listen to the Music video series and celebrate Black History Month.
Featuring artists such as famed American legends The Doobie Brothers, Buddy Guy, Warren Haynes, Dr. John, Preservation Hall Jazz Band, and more, collaborating alongside street musicians, gospel choirs, an array of international music luminaries (including Tuareg guitarist Bombino, Malian kora master Mamadou Diabaté, Cuban tres player Pancho Amat, and Congo's legendary TPOK Jazz Band), and the Playing For Change Band, Listen to the Music is part of PFC's historic "Songs Around The World" series and presents 12 new interpretations of iconic music classics. A complete list of tracks and their featured artists is located below.

Enhancing the multinational flair of the project, each of these artists were filmed recording their parts for each song against scenic backdrops in their home countries, a process that took roughly three years to realize. The result is a compelling series of performance videos in which PFC's unique global multi-tracking recording process is documented to their most broad-reaching effect so far, featuring over 200 artists of diverse nationalities in 25 countries. The videos will be released once a month beginning Friday, February 2nd, to give a vibrant sense of place to the stunning array of musical traditions that meld seamlessly on these tracks, and providing an inspiring illustration of peaceful worldwide cooperation.
"In a world with so many divisions, we need to create connections. Musical collaboration is the best way to make that happen," says Mark Johnson, Co-Founder of Playing For Change, who has traveled the world to capture each and every video as part of the series. "No matter how many things in life divide us, they're just not as strong as the power of music to bring us together. This is music for the world and for the people, and that's why our project involves so much diversity. It's really about putting together a context where all these different people around the world can come together in harmony."
For more information on Playing For Change, visit http://playingforchange.com.
Playing For Change – Listen to the Music
1. "Listen to the Music" – Featuring The Doobie Brothers and Ellis Hall
2. "Everlasting Arms" – Featuring Dr. John, Luke Winslow-King, Vasti Jackson, and Roots Gospel Voices of Mississippi
3. "All Along the Watchtower" – Featuring John Cruz, Cyril Neville, Ivan Neville, Louis Mhlanga, and Warren Haynes
4. "Natural Mystic – Just a Little Bit" – Featuring Jack Johnson, Paula Fuga, Afro Fiesta, Donald Kinsey, and Lee Oskar
5. "Skin Deep" – Featuring Buddy Guy, Tom Morello, and the Chicago Children's Choir
6. "Chan Chan" – Featuring Teté García Catulra and Pancho Amat
7. "Africa Mokili Mobimba" – Featuring The Preservation Hall Jazz Band and the TPOK Jazz Band (From Congo to Congo Square USA)
8. "Ahoulaguine Akaline" – Featuring Bombino and Lee Oskar
9. "Rasta Children" – Featuring Paulo Da Luz and Blue King Brown
10. "Congo to the Mississippi" – Featuring Afro Fiesta, Grandpa Elliot, Vasti Jackson, and Leon Mobley
11. "Bring It On Home To Me" – Featuring the late Roger Ridley (singer from PFC's 103M views: "Stand By Me"), Alice Tan Ridley (Roger's sister), Grandpa Elliott (PFC Star) and Karl Denson
12. "Ripple" – Featuring Jimmy Buffett, David Crosby and David Hidalgo (Los Lobos)
Bobbi Marcus PR & Events, Inc.