Group SOULIVE to Release New EP "Cinematics, Vol. 1" on Feb. 23rd, 2018 | WATCH NEW VIDEO!
by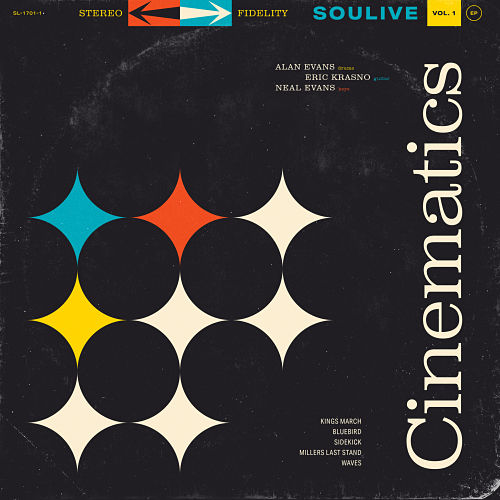 SOULIVE Announces New EP 'CINEMATICS, VOL. 1'
First New Music In Six Years From Genre-Smashing Groove Masters
Debut Single & Video 'KINGS MARCH" Out Now
Soulive has announced the release of 'Cinematics, Vol. 1.' The long-awaited EP—due February 23 on digital and vinyl formats via the trio's own imprint Soulive Music—is the first new music in six years from the genre-smashing groove masters. The collection's debut single, "Kings March," is out today on all DSPs and is accompanied by a video from the recording sessions.
These five dynamic new tunes from Soulive are guaranteed to turn the backs of your eyelids into a vibrant, action-packed movie screen as the band transforms their infectious blend of soul-jazz, hip-hop, funk and rock into a series of soundtracks for the movies of your mind. Better yet, this initial volume is the first of a planned series of 'Cinematics' EPs. With six long years having passed since the last time the three members of Soulive entered a studio together, fans will no doubt be excited to learn that there's plenty of new music expected from guitarist Eric Krasno, drummer Alan Evans and keyboardist Neal Evans for the foreseeable future.
Despite the long hiatus, when the band reconvened at Al Evans' studio Iron Wax in late 2017, they quickly gelled, calling upon the thousands of hours they've spent playing music together since their inception in 1999. Arriving without any overarching concept in mind, they each brought a few loosely-sketched ideas and fleshed them out together.
"We trust each other to bring our voices to each other's ideas," says Alan, while Krasno adds, "I think Soulive creates our best material using that method."
The "cinematic" quality of the music, then, arose naturally from the trio's collective instincts rather than from some grand plan. But it's unmistakably present throughout the session, conjuring imaginary sequences that take the trademark Soulive sound in thrilling new directions.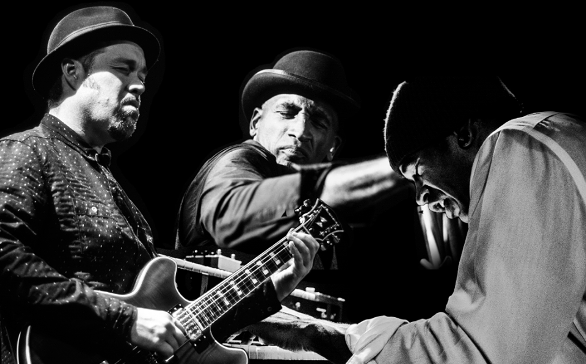 "We didn't have to talk about anything," Alan says. "It all unfolded as we were working on it; one song influences the direction of the next, and soon you find yourself going down this path. We want this music to take people on a little journey."
"A cinematic piece of music creates a mood. Film composers like Jerry Goldsmith, David Axelrod, Ennio Morricone and Melvin Van Peebles were all influential in the concept for 'Cinematics,'" Krasno says. "The idea is to use soundscape and melodic interplay to enhance the feeling and sentiment of a visual and to amplify the emotion that it's relating."
"It's a really fun concept to mess around with," Alan says. "But the exciting thing about it is that we have no idea what the next ones will sound like. In a few months our headspaces are going to be somewhere different, the sound of the room is going to be different just because of the ambient temperature – all of these factors are going to change the sound of the next recording and the one after that. I'm psyched to come back with some totally different influences and see what that will sound like."
"The rapidly shifting landscape of the modern-day music business has given Soulive the opportunity to take such an unconventional approach to releasing music, offering fans a few tracks at a time as inspiration strikes.
"One of the advantages of putting out music in 2018 is that we can do it quickly and on our own schedule," Krasno says. "We made this record top to bottom in two days and put it out about a month later, while it's still fresh from being created."
Alan adds, "You can work at the speed of your own creativity these days. That gives us a lot of freedom. The music can happen when it wants to happen, and whenever it does it's going to be a lot of fun."
SOULIVE
Tour Schedule
Mar. 2 – Ardmore, PA – Ardmore Music Hall
Mar. 3 – Ardmore, PA – Ardmore Music Hall
Mar. 6 – London, UK – The Jazz Cafe
'Cinematics, Vol. 1' is out Feb. 23 on LP and Digital formats via Soulive Music.
http://soulive.com
Calabro Music Media