Gospel Family The Showers Releases New Single "I Belong To You" | Announces New Tour 2017
by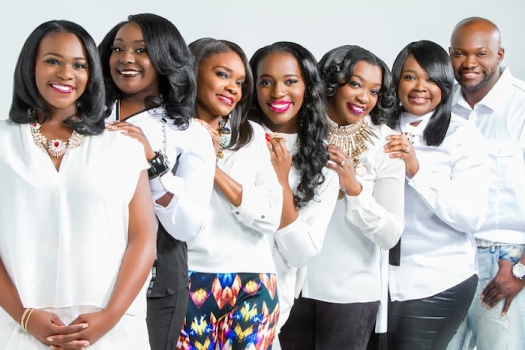 STELLAR AWARD NOMINATED SIBLING GROUP, THE SHOWERS, RELEASES NEW SINGLE, "I BELONG TO YOU"
PREPS FOR 1ST LEG PROMOTIONAL TOUR WITH STOPS IN ATLANTA, COLUMBUS, GA, MONTGOMERY, AL, BIRMINGHAM, AL RALEIGH, NC, CHARLOTTE, COLUMBIA, SC AND AUGUSTA, GA
(Hammond, LA) – – Stellar Award nominated sibling group, The Showers are set to release their second radio single "I Belong To You" from their forthcoming sophomore project THE JOURNEY (A&P Records). "I Belong To You" is written by group member and lead singer Titus Showers and co-produced by Stellar Award winner Tasha Page-Lockhart and Bruce Robinson, Jr.
"I Belong To You" is an uplifting testament to the power of praise thru even the most difficult times. The group will introduce their new single this week beginning in Atlanta at the Gospel Music Workshop of America (GMWA) as they embark on a promotional tour to support the single.
The 1st leg of the promo tour includes hitting markets such as Columbus, GA, Montgomery, AL, Birmingham, AL, Raleigh, NC, Charlotte, NC, Columbia, SC and Augusta, GA.
Earlier this year, The Showers lost everything in a fire that destroyed their childhood-home. The group revisited the scene months later to shoot a music video for their lead single "I Need You, Lord". The Showers family patriarch, Pastor Bobby R. Showers Sr. and his son Titus Showers watched their family home burn down before their eyes as the wind spread the flames, engulfing the entire home in smoke. The family built the home in May 1998, where Pastor Showers and his wife raised 10 children — six girls and four boys. The locally well-known minister of Zion Travelers Missionary Baptist Church in Independence and Rose Valley Baptist Church in Rosalind along with his wife, three children and two grandchildren were currently living in the home. The Showers are still giving God praise through as they recover from this tragedy.
The Showers Tour Dates:
7.26.17 – Atlanta, GA | Press Junket | GMWA
7.26.17 – Atlanta, GA | The Alliance/Bishop Hobbs Luncheon | GMWA
7.26.17 – Atlanta, GA | SGN The Light
7.26.17 – Atlanta, GA | The Circuit with Valerie Somerville
7.27.17 – Atlanta, GA | Radio One | The Nightly Spirit w/ Darlene McCoy
7.27.17 – Atlanta, GA | GMWA Nightly Musical
7.28.17 – Columbus, GA | WLTZ "The Dee Armstrong Show" | TV Appearance
7.28.17 – Montgomery, AL | 95.5 WRBZ/ WMGY/ Praise 96.5FM
7.28.17 – Birmingham, AL | WAGG 100.1 FM / 610 AM
7.31.17 – Raleigh, NC | 1290 AM (Sanford) & Victory 100.9 FM/1530 AM
7.31.17 – Raleigh, NC | WNNL 103.9 FM | Radio One
7.31.17 – Charlotte, NC | WDRB Media Online
8.01.17 – Charlotte, NC | WGIV 103.3 FM/ AM
8.01.17 – Charlotte, NC | WPZS Praise
8.01.17 – Columbia, SC | WFMV 95.3 FM
8.02.17 – North Augusta, SC | WNNR 1380 AM (the Big Rube & Sctonda Morning Show)
8.02.17 – Aiken, SC | WAAW Shout 94.7 FM
8.03.17 – Columbia, SC | WLTX CBS 19 | TV Appearance
About The Showers:
The Showers, a family of 7 siblings (10 total) that hail from Hammond, Louisiana (Regina,Tabitha, Titus, Melody, Angela, Ciara, and Tiffany) first came on the scene in 2013 with their debut single Top 30 radio single "Praise Your Way Through." In 2015, the group released their national debut self-titled project that boasted three Top 30 radio singles; "Better" (#13), "Immediately" (#24) – both written and produced by Deon Kipping and "Praise You Way Through" (#29). In 2016, they garnered a Stellar Award nod for Traditional Group/Duo of the Year.
The J Hardy Agency