LISTEN TO NEW MUSIC! Keyboardist Bob Baldwin Releases Double Disc Album "The Brazilian-American Soundtrack"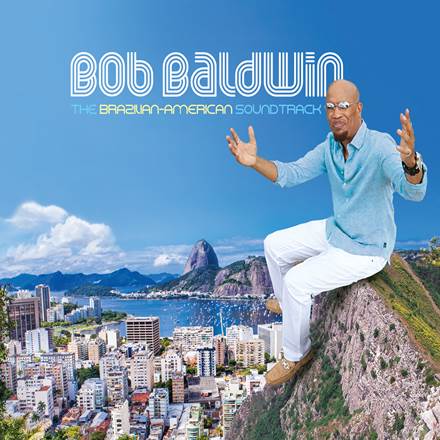 Going for gold: Keyboardist Bob Baldwin's
"The Brazilian-American Soundtrack," released Friday, is a sprawling urban-jazz exploration through Rio.
ATLANTA (1 July 2016): As the eyes of the world focus on Rio de Janeiro this summer, Red River Entertainment released a generous 26-song double disc of authentic Brazilian jazz rhythms and distinctly American R&B grooves on Friday from keyboardist Bob Baldwin entitled "The Brazilian-American Soundtrack." The Grammy-nominated artist had a hand in writing twenty tunes for the collection that he produced in two movements, Movement I: Rio-Ipanema and Movement II: New York, that were recorded in Rio, New York City and Atlanta over a three-year period. The first single that will be serviced to radio stations for airplay is the pulsating club music meets sultry Latin music blend "Ipanema Fusion."
"The Brazilian-American Soundtrack" is Baldwin's second foray into Brazil expanding on the territory he mined on his 2004 album, "Brazil Chill." This time out, he purposely incorporated more American nuances into the mix. Supplementing his own compositions, he elected to honor a few of the iconic artists who influenced his artistic muse including Antonio Carlos Jobim ("Corcovado"), Ivan Lins ("Anjo De Mim," "The Island" and "Love Dance") and Djavan ("Eu Te Devoro"). Another formative inspiration was Maurice White, the late Earth, Wind & Fire creator and leader who Baldwin remembers with a heartfelt spoken word tribute that closes the album, "The Message," and on two musical numbers, "Maurice (The Sound Of His Voice)" and "The Greatest Lover," the latter of which was recorded in the spirit of White's hall of fame band. Meticulously produced, performed, composed and arranged, most of the tracks on "The Brazilian-American Soundtrack" are tightly segued, maintaining a smooth flow and graceful transition from cut to cut through more than two hours of music.
Baldwin's winning team that bolsters his pliable piano gymnastics and effervescent keyboard finesse on "The Brazilian-American Soundtrack" consists of an international ensemble that includes noted Brazilian and Latin players Café Da Silva (percussion), Torcuato Mariano (guitar), Rafael Pereira (percussion) and Armando Marcal (percussion). Canadian trumpeter Gabriel Mark Hasselbach, veteran saxophonists Marion Meadows and Freddy V, and emerging flutist Ragan Whiteside add soulful horn solos while guitarists Marlon McClain and Phil Hamilton contribute compelling runs throughout the date that showcases a handful of charismatic vocalists: James "Crab" Robinson, Porter Carroll II, Gigi, Zoiea Ohizep as well as Baldwin himself. In fact, Baldwin demonstrates remarkable dexterity by singing lead and background as well as playing piano, Rhodes, keyboards, bass, drums, percussion, Moog bass, Melodica, strings and clave on the album.
"My love for Brazilian music runs deep. It started with the infiltration of samba in the 1960s courtesy of Stan Getz, who brought with him Astrud Gilberto and the legendary Antonio Carlos Jobim. So many other American artists have embraced Brazil, including Quincy Jones, who signed Ivan Lins to his publishing company, and Djavan, who I refer to as "The Brazilian Sade", who goes as far back as 1973 when he sang on a Stevie Wonder track. There are so many others – like Maurice White, Ramsey Lewis and George Duke – who all caught the Brazilian music bug and were hooked," said Baldwin, who made the record in part via crowdfunding for which a number of unique opportunities remain available (www.pledgemusic.com/bobbaldwin). "Musicians like Cafe da Silva, Armando Marcal, Torcuato Mariano, Delia Fisher and Rafael Pereira give the tracks on 'The Brazilian-American Soundtrack' authenticity and the green light to deliver the sound of Brazil to the project."
For more information, please visit www.BobBaldwin.com.
"The Brazilian-American Soundtrack" contains the following songs:
Movement I: Rio-Ipanema
"Funky Rio"
"Ipanema Fusion" featuring Café Da Silva
"Teardrop" featuring Ragan Whiteside
"Caipirinha" featuring Torcuato Mariano
"Corcovado"/"The Redeemer" featuring Torcuato Mariano
"Greatest Lover" featuring Zoiea
"Boa Noite"
"Lookin' At Me" featuring Gigi
"Anjo De Mim"
"The Island" featuring Leo Gandelman
"Eu Te Devoro"
"Oasis Of Love"
"Love Dance/May I Have This Dance?"
"Children Of The Sun"
Movement II: New York
"Home From Work"
"Maurice (The Sound Of His Voice")
"My Soul" featuring Marion Meadows
"For You" featuring Porter Carroll II
"Summer Madness" featuring James "Crab" Robinson
"Yesterday" featuring Freddie V
"South Of The Border"
"Mobile & Global" featuring Gabriel Mark Hasselbach
"Summer's Over"
"I Need The Air (You Breathe)"
"State Of Mind"
"The Message (A Maurice White Tribute)"
Great Scott P.R.oductions