WATCH NEW VIDEO! Donn T Teams Up with Questlove for "Last Breath (Questlove Remix)"
by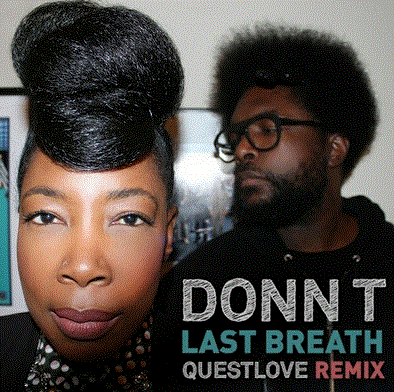 SPACE IS THE PLACE IN DONN T'S NEW VIDEO FOR "LAST BREATH (QUESTLOVE REMIX)"
Video Brings Together Critically-Acclaimed Singer-Songwriter Donn T & Grammy-Winning Musician Ahmir "Questlove" Thompson
Flight Of The Donn T album (featuring the original version of "Last Breath") available now; remix single available on iTunes and Amazon.
Singer-songwriter Donn T recently teamed up with her brother, Grammy winner Ahmir "Questlove" Thompson for a new video for the remix of her single "Last Breath".
In the video, Donn T and Questlove star as Ethereal and The Star Maker, a Sun Ra-adorned duo of otherworldly beings who create the cosmos and the earthly environment in which human Donn T (the traveler) resides.
The "Last Breath (Questlove Remix)" video is the brainchild of director Eternal Polk (for Idegosuperego Media) with video editing by Eternal Polk and Foremost Poets, and graphics by Foremost Poets. The clip is inspired by The Alchemist and Santiago's journey to find himself. Donn T, as the traveler, is awakened from a dream where clouds have been delivered to her. The lyrics of the song speak about the courage it takes to face things that threaten us, as well as, the resilience it takes to triumph.
Designer Ashaka Givens is stylist for the video. Givens is most recently lauded for styling director Nzingha Stewart, who won awards for outstanding writing and direction of the Lifetime TV movie With This Ring, a film in which Donn T's single "Midnight" appears.
Donn T's sophomore album, Flight Of The Donn T (D-Tone Victorious/MRI/RED) was released in 2015 to near-universal acclaim. Bama Love Soul called Flight "a delightful mixed bag of eclecticism", while The Philadelphia Weekly praised Donn T's "effortless cool" and compared her to talented artists St. Vincent and Lianne La Havas.
Philadelphia's Donn T defies categorization-playing and recording in a diverse range of styles from house and trip hop, to acoustic soul and pop. She first made an impact with 2010's critically acclaimed and aptly titled Kaleidoscopic. Over the years, she has shared the stage with and opened for a diverse array of artists such as Marsha Ambrosius, Little Dragon, Alice Smith, Patrick Stump (Fall Out Boy), Black Joe Lewis & The Honeybears, John Legend, Nelly Furtado, Amy Winehouse, and Zap Mama. She's also had songs placed on television and in movies including the Showtime crime drama Street Time, UPN's series Kevin Hill, BET's Ava DuVernay ("Selma")-directed feature film I Will Follow, and in commercials for the wireless audio product Sonos.
Donn T Social Links: Official Website | Facebook | Instagram | Twitter
'Stache Media