Craft Recordings Releases Art Farmer's "Portrait of Art Farmer" on Vinyl/Digital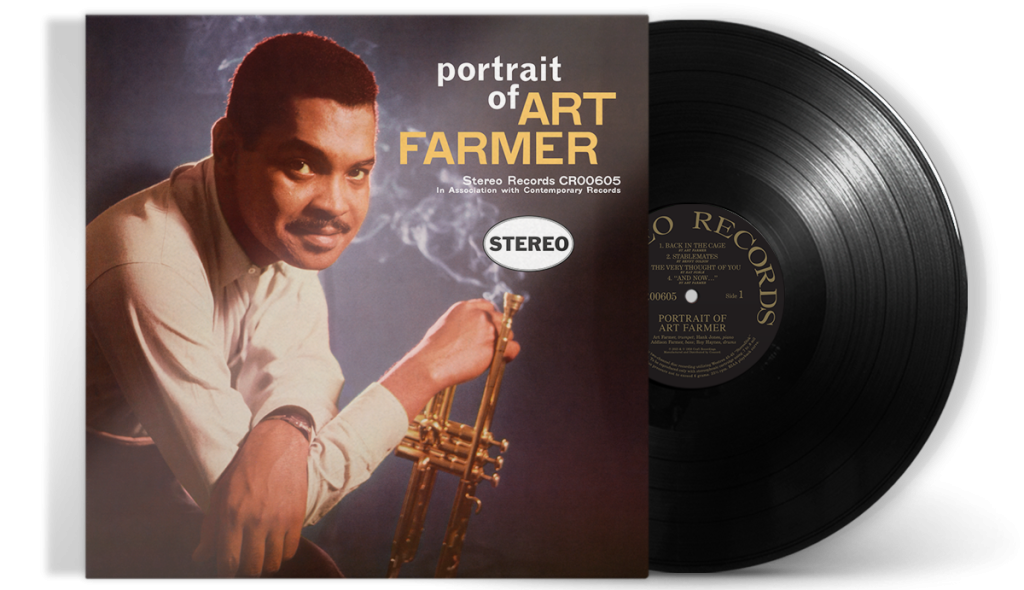 Craft Recordings releases Art Farmer's
Portrait of Art Farmer as part of the
Contemporary Records Acoustic Sounds Series
Available today on vinyl and hi-res digital
The extensive rollout, which continues Craft Recordings' celebration of the storied jazz label, also includes titles by Shelly Manne, Ornette Coleman, Curtis Counce and Phineas Newborn, Jr.
Each album features lacquers cut from the original master tapes (AAA) by Bernie Grundman and is pressed on 180-gram vinyl at QRP
In March, Craft Recordings and Acoustic Sounds proudly announced seven new titles in their acclaimed Contemporary Records Acoustic Sounds series. These latest reissues, which continue Craft's celebration of the iconic jazz label, include choice albums from Shelly Manne & His Friends, Ornette Coleman, Phineas Newborn, Jr., Leroy Vinnegar, Curtis Counce's You Get More Bounce With Curtis Counce and Art Farmer's Portrait of Art Farmer, which is available today. Each title, originally engineered by Roy DuNann and/or Howard Holzer, boasts lacquers cut from the original master tapes (AAA) by the GRAMMY®-winning engineer (and former Contemporary Records employee) Bernie Grundman, while all LPs are pressed on 180-gram vinyl at Quality Record Pressings (QRP) and presented in Stoughton old style tip-on jackets. All albums are available to order or pre-order, with release dates beginning May 19 through the end of 2023.
Founded in 1951 by film producer, screenwriter and record collector Lester Koenig (1917–1977), Contemporary Records became the epicenter of the West Coast jazz scene, while its cutting-edge approach to sound and design attracted some of the era's most exciting artists. The Contemporary Records Acoustic Sounds series—which launched in the spring of 2022 with titles by Art Pepper, Barney Kessel and Benny Carter, among others—honors the label's rich legacy through meticulous reissues that highlight the label's influential classics, as well as its must-hear rarities.
The series' 2023 collection kicked off in style with a swinging interpretation of West Side Story, led by pianist André Previn and His Pals (drummer Shelly Manne and bassist Red Mitchell). Released in 1960, three years after the legendary musical opened on Broadway, the instrumental album includes eight memorable selections from Leonard Bernstein's score, including "I Feel Pretty," "Maria" and "America." While the all-star trio stays true to the original material, they present each tune in a sophisticated new light. Available May 19, this special reissue will mark the album's first vinyl pressing in more than three decades.
Next up was Leroy Walks! from bassist Leroy Vinnegar and his sextet. A busy sideman, who worked alongside the likes of Les McCann, Stan Getz and labelmate Shelly Manne, Vinnegar was known for his "walking" basslines (a signature move that gave him the nickname "The Walker"). While Vinnegar's catalog as a leader is limited, his solo material stands as a testament to his talents. His 1958 debut offers plenty of plays on the bassist's nickname, with the original "Walk On," plus a handful of standards, including Julie Styne's "I'll Walk Alone" and Fred Ahlert's "Walkin' My Baby Back Home." Vinnegar is backed by Carl Perkins (piano), Victor Feldman (vibraphone), Teddy Edwards (tenor saxophone), Gerald Wilson (trumpet) and Tony Bazley (drums). This long out-of-print rarity returned to vinyl on June 16.
This summer will also brought two foundational classics from free jazz pioneer Ornette Coleman: 1958's Something Else!!! and 1959's Tomorrow Is the Question! (available July 14 and August 18, respectively). Hailed by AllMusic as the album that "shook up the jazz world," Something Else!!! marked the influential saxophonist's debut—as well as a defining title in the genre. While the album offered a bold introduction to Coleman's wholly original sound, it was also his only record in a conventional hard-bop setting. Featuring bassist Don Payne, pianist Walter Norris, drummer Billy Higgins and a young Don Cherry on cornet, the quintet performs nine original selections including "Disguise," "Chippie" and the blues-forward "The Blessing."
Coleman's follow-up, Tomorrow Is the Question!, found the saxophonist continuing to explore and push the limits of his sound. With further creative freedom, Coleman elected not to incorporate a pianist, instead reuniting with Cherry and enlisting drummer Shelly Manne, as well as bassists Red Mitchell and Percy Heath. This break from tradition allowed the two horn players to have greater freedom with their improvisations, without being tied to strict melodic structures. Featuring nine original compositions, the album includes such highlights as "Giggin," closer "Endless" and the Coleman classic "Rejoicing."
Shelly Manne's classic My Fair Lady was released on September 15. The 1956 album, which marked the first jazz interpretation of a musical, was a major hit for Contemporary and paved the way for hundreds of jazz sessions dedicated to Broadway shows. Joined by bassist Leroy Vinnegar and pianist André Previn, the drummer leads the trio through such enduring favorites as "On the Street Where You Live," "I Could Have Danced All Night" and "Wouldn't It Be Loverly."
Curtis Counce's 1957 album You Get More Bounce with Curtis Counce!, released on October 13, marked the bassist's second outing as a leader. A vital player in the West Coast scene, the Kansas City–born musician arrived in Los Angeles in 1945, where he built a name for himself as a sideman alongside the likes of Shelly Manne, Clifford Brown and Stan Kenton. In 1956, the bassist assembled his own group with Harold Land (tenor saxophone), Carl Perkins (piano), Frank Butler (drums) and Jack Shelton (trumpet)—all of whom deliver superb performances on You Get More Bounce with Curtis Counce!. Blurring the line between hard bop and cool jazz, the album features two originals ("Counceltation" and "Complete") and five standards, including Irving Berlin's "How Deep Is the Ocean?" and Charlie Parker's "Big Foot."
Portrait of Art Farmer, which returns to vinyl for the first time today, is a standout title in Art Farmer's prolific catalog of work, The 1958 album features the trumpet player in a quartet setting, alongside pianist Hank Jones, drummer Roy Haynes and his twin brother and bassist, Addison Farmer. Revered for his lyrical phrasing and inviting tone, Farmer's artistry shines particularly bright, as he performs a blend of moving standards (Ray Noble's "The Very Thought of You," Jerome Kern's "The Folks Who Live on the Hill" and George Russell's "Nita," among them) and originals ("Back in the Cage," "Earth").
Rounding out the year is A World of Piano! from Phineas Newborn, Jr. Originally from Memphis, the pianist began his career in R&B, playing as a sideman for the likes of B.B. King and Jackie Brenston and recording at the legendary Sun Studios. Shifting to jazz, Newborn relocated to New York and then to Los Angeles, where he was well into his career as a leader when he released his 1962 debut with Contemporary. A worthy showcase for Newborn's uncanny talents, A World of Piano! pairs the pianist alongside bassist Paul Chambers and drummer Philly Joe Jones, as well as bassist Sam Jones and drummer Louis Hayes. Together, the trios soar through standards (Sonny Rollins' "Oleo," Billy Strayhorn's "Lush Life," Dizzy Gillespie's "Manteca"), plus selections by the likes of Horace Silver, Charlie Parker and Clifford Brown. Long out of print for decades, the album arrives on December 15.
All albums are available for pre-order today HERE. Hi-res digital (192/24) for each title will also be made available on the same dates as each LP release. Scroll down for vinyl tracklists.
For up-to-date release information and news for Contemporary Records stay tuned to @craftrecordings and craftrecordings.com/contemporaryrecords.
November 10: Art Farmer – Portrait of Art Farmer
SIDE A
1. Back In The Cage
2. Stablemates
3. The Very Thought Of You
4. And Now…
SIDE B
1. Nita
2. By Myself
3. Too Late Now
4. Earth
DL Media