Trumpet Legend Eddie Henderson Releases New Album "Witness To History" | WATCH & LISTEN!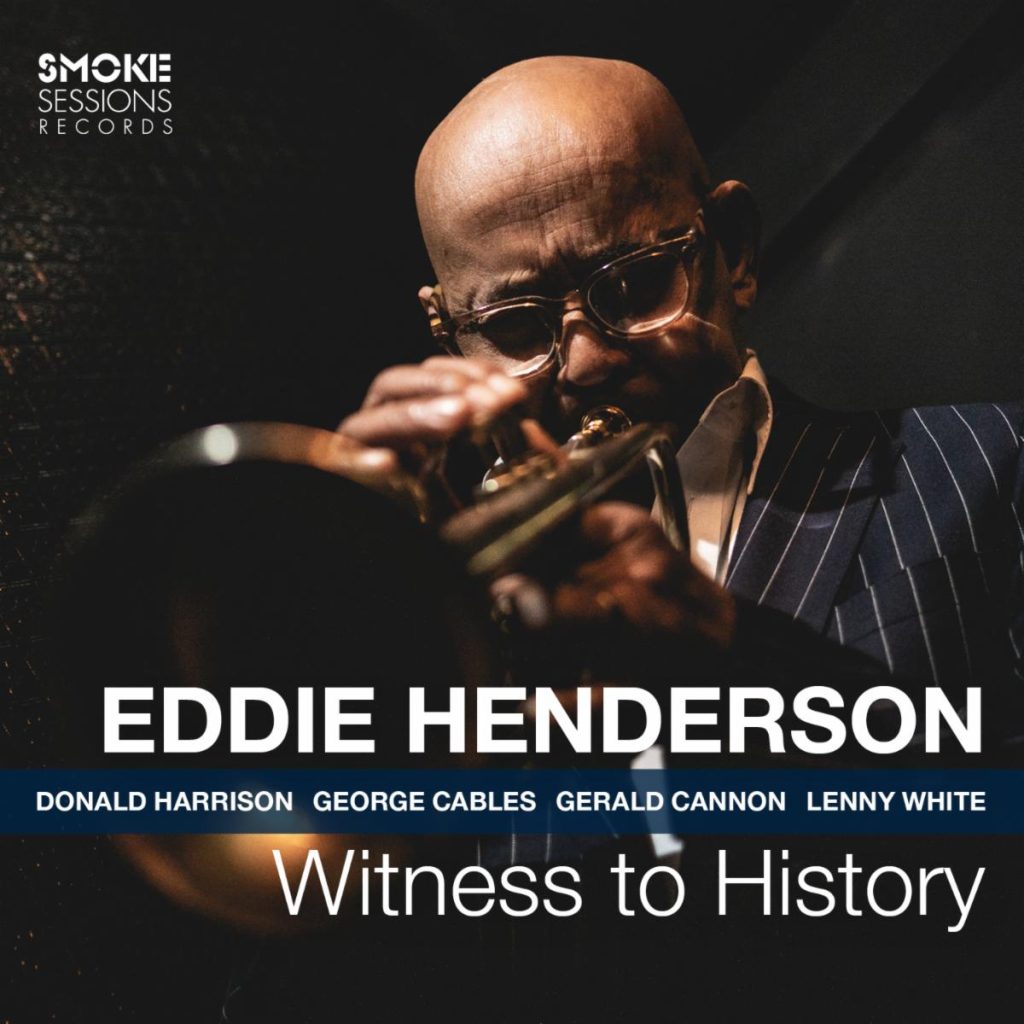 Trumpet Legend Eddie Henderson Celebrates the 50th Anniversary of His Debut Album with a Stunning New Recording Reflecting on His Musical Evolution
Witness To History, Available Today via
Smoke Sessions Records, Features Pianist George Cables,Saxophonist Donald Harrison, Bassist Gerald Cannon and Drummers Lenny White and Mike Clark
If it hadn't already been used for a 1950s television series, I Led Three Lives might have been an ideal title for the upcoming documentary about Eddie Henderson, who would be a fascinating subject in any one of those lives: as a medical doctor, as a pioneering figure skater, and of course as a legendary jazz musician. As it is, the film is scheduled to premiere on PBS in 2024 under the equally apt title of Dr. Eddie Henderson: Uncommon Genius.
If the process of making the documentary has forced Henderson to look back over the impressive scope of his own life, it's also led him to ruminate on the broad sweep of momentous events and influential figures that he's encountered over the course of his nearly 83 years on the planet. On his exhilarating new album Witness to History, due out today via Smoke Sessions Records, Henderson has assembled a collection of musicians and material that represent key points along that consequential timeline.
"My first trumpet teacher, way back in 1949, was Louis Armstrong," recalls Henderson, who met the trumpet icon through his mother, a dancer at Harlem's famed Cotton Club.
"From that point on, I witnessed the evolution in music through Miles Davis, Freddie Hubbard, Lee Morgan, Booker Little, Woody Shaw, John Coltrane, up to the present. I lived through the turmoil of the '60s and '70s and the rise of Black Power in this country. I was also fortunate to come into contact with people like Sugar Ray Robinson, Joe Louis, and Willie Mays. So, I have been a witness to history, and inevitably that rubbed off on me musically."
The release of Witness to History arrives on the 50th anniversary of Henderson's debut as a leader, 1973's Realization. The stellar quintet on this album bridges that half-century of music: lifelong collaborator George Cables returns once again to the piano bench. Henderson's colleague in The Cookers, alto saxophonist Donald Harrison, and his more recent collaborator, bassist Gerald Cannon, have also appeared on the trumpeter's recent string of releases for Smoke Sessions. They're joined by legendary drummer Lenny White, who has reunited with Henderson in the studio for the first time since Realization 50 years ago.
Henderson's "Scorpio Rising," which opens the album with two drummers, also features a guest appearance by drummer Mike Clark, who, like Henderson, was an integral part of Herbie Hancock's groundbreaking fusion groups (Henderson in Mwandishi, Clark in the Headhunters). The piece explicitly revisits "Scorpio-Libra," the searching opening track from Realization. Henderson's airy yet piercing approach, the hip-hop influence on White's grooves and Clark's exploratory interjections, all hint at the original while exemplifying the distance all have traveled in the intervening years.
The album continues with "Why Not?," the title tune from Cables' own 1975 leader debut, making for another fascinating career bookend. "I chose songs for this album that stood out in my mind for shaping my musical destiny," Henderson says. "George and I are close musical affiliates, and I've always loved the way he writes, the way he leaves a lot of space and lets things float. I've played that tune with George on live gigs, and I've always wanted to record it, so like the title says, why not?"
While many of the remaining pieces are classic standards, four of them represent a kind of Mount Rushmore for the post-Armstrong jazz trumpet, at least in Henderson's estimation. "Totem Pole" is the one piece actually written by one of the horn players I question, a cut from Lee Morgan's immortal The Sidewinder, here given more of a bossa nova feel. He discovered "Born to Be Blue," meanwhile, from Freddie Hubbard, though Henderson's version shifts from a ballad to a simmering mid-tempo swing. Finally, "Sweet and Lovely" is a nod to Booker Little, again reimagined from a melancholy ballad to a ¾ swagger.
Henderson says that "It Never Entered My Mind" really "hit a nerve" when he first heard Miles Davis' rendition as a teenager. Eddie Harris' "Freedom Jazz Dance" is another homage to Miles, as Henderson fell in love with Davis' renowned version from Miles Smiles.
Finally, "I Am Gonna Miss You, My Darling" is the latest contribution to Henderson's songbook from the pen of his wife Natsuko. The gorgeous ballad is named for her sentiment whenever Henderson heads out on the road, vividly captured by the pining melody. "Natsuko is a very prolific composer with an innate, God-given musical talent," says Henderson. "This particular tune was particularly meaningful, because we are inseparable when we're together. She usually travels with me, but it is difficult when we're apart."
Three lives, eight decades, more than fifty years of incredible music. Witness to History traces Eddie Henderson's evolution through a remarkable span of time but listening to this captivating album, it's abundantly clear that he's done more than watch from the sidelines as history unfolds. Dr. Henderson has made his own indelible mark on history, and this vital music reveals that he's far from writing his final chapter.
DL Media