South Indian Pianist Charu Suri to Release New Album "Rags & Ragas" on Sept. 8th, 2023 | WATCH TEASER VIDEO!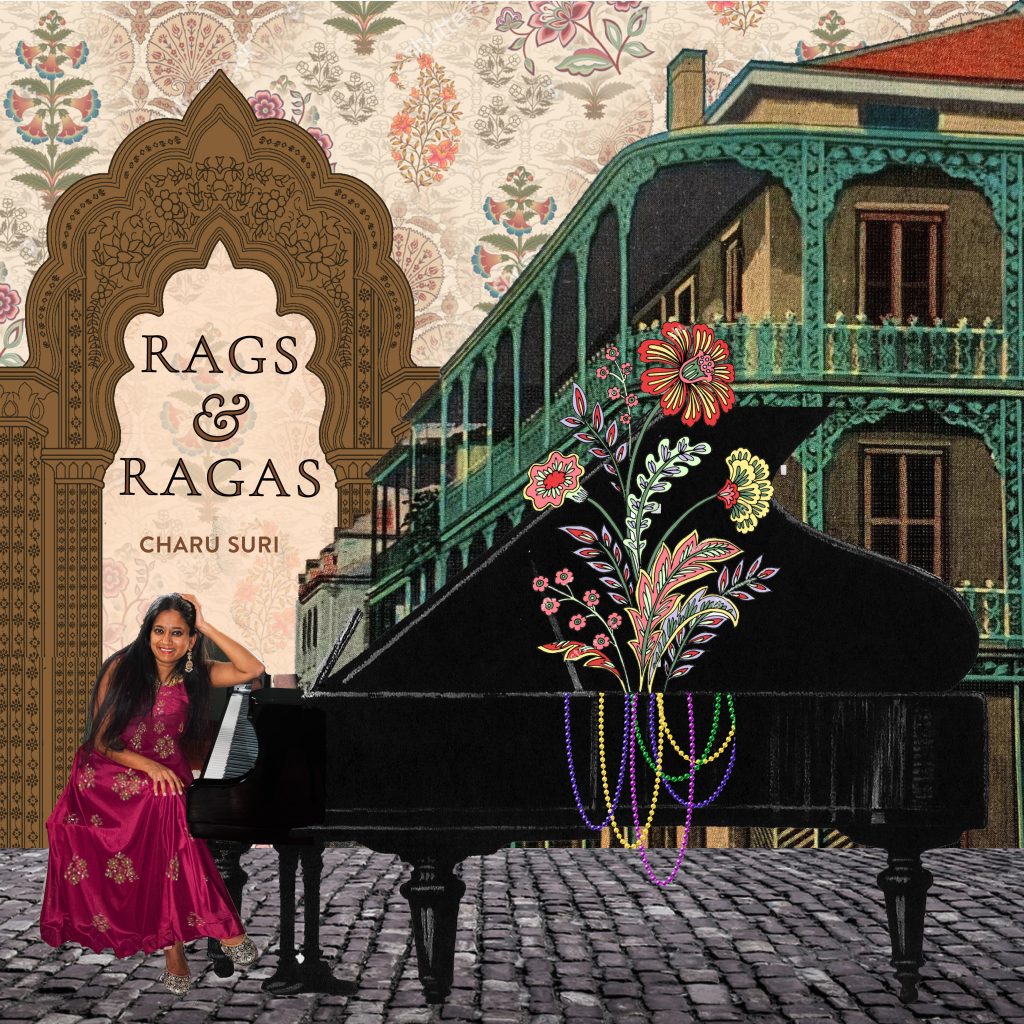 Indian Born Pianist Charu Suri to Release New Album "RAGS & RAGAS" on Sept. 8th.
Perhaps the very first album to fuse Indian ragas and New Orleans-style jazz, RAGS & RAGAS is a symphony of unity. As sparks of divine creativity reach out from the far reaches of India, this album becomes a conduit, bridging continents and cultures. Led by Charu Suri, a pianist and visionary hailing from South India, the album's harmonious melodic & vibrant rhythms extend their embrace to the music community and beyond. With the resounding bass lines of John Patitucci and the pulsating beats of Joe Lastie, the music reaches out, forging a powerful connection that transcends boundaries.
RAGA RAG NO. 1 BY CHARU SURI DROPS FRIDAY, AUG. 18TH
Pre-order the single on iTunes/ or Pre-save on Spotify
Raga Rag No. 1 debuts on Friday, 18th from this album: a compelling and magnetic highlight track that features a brilliant bebop/makam-based solo by Israeli pianist Kobi Arad.
The marvelous "Parade" arranged by GRAMMY-winning composer, Brent Fischer, is another album highlight, debuting Sept. 1st as a single. A musical conversation beyond geographical bounds, Raga Rag No. 1 intertwines with the essence of Indian ragas, creating a tapestry of sonic beauty. With each note, "Rags and Ragas reaches out, beckoning listeners to immerse themselves in the transformative power of music, celebrating the unifying language that binds us all.
Charu Suri (piano /composer)
Joe Lastie (drums)
Steve Gadd (drums: Raga Bhairavi, Hemant)
John Patitucci (bass)
Kobi Arad (soloist, Raga Rag No.1 )
Berta Moreno (saxophone)
Charlie Sabach (Oud)
Brent Fischer, arranger of "Parade"
Producers: Charu Suri, Kobi Arad, Devan Ekambaram, Brent Fischer
Recorded at: Sound on Sound Studios, Montclair, New Jersey
and Wackerman Studios (Steve Gadd) in Las Vegas, with Rob Katz (audio engineer)
Lonnie Park (Mixing/Mastering)
Album release date: Sept. 8, 2023
About Charu
CHARU SURI is a pianist and composer who treads fearlessly between genres, blending several styles and fusing Indian ragas with more traditional jazz.
Born in South India, she was a piano prodigy performing in various concert halls at an early age. Charu's most recent album, Ragas & Waltzes, dedicated to her late father, debuted September 02, 2022. Her upcoming album, Rags & Ragas, was recorded with John Patitucci on the double bass, Joe Lastie on the drums, and will feature Steve Gadd on percussion, releasing in August and September.
With mood-invoking ragas (to be played according to the time of day) for many of her compositions, she weaves techniques and sounds from several places including India, Europe, and Africa.
Charu Suri is a voting member of the GRAMMYs (Recording Academy). She currently has eight nominations in the International Singer Songwriters Association (ISSA) Awards in 2023,and won a Silver for Band Single of the Year for her original, "Bluesy." In 2022, she won two Intercontinental Music Awards for Raga Jaunpuri (in Asia Jazz),and Keep Dreaming (North America Jazz). Just recently she was awarded Entertainer of the Year (Gold) trophy by ISSA at its annual awards ceremony in Atlanta.
Charu also became the first Indian artist to collaborate with Preservation Hall Jazz Band in New Orleans on her last album, RAGAS & WALTZES, that features drummer Joe Lastie. Previously, she has released "The Book of Ragas" and "The New American Songbook" at Carnegie Hall. She returns to Carnegie Hall for the fourth time on Friday, April 5, 2024.
On May 13, 2023, the New Jersey Symphony Orchestra performed her work for the very first time at NJPAC in a family-friendly concert , including her arrangements of popular Bollywood tunes. She recently was the International headliner at the Southcoast Jazz Festival in Canada.
Jazz Promo Services