Music Trio Nite Bjuti (Pronounced Night Beauty) to Release Debut Self Titled Album on July 28th, 2023 | WATCH NEW VIDEO!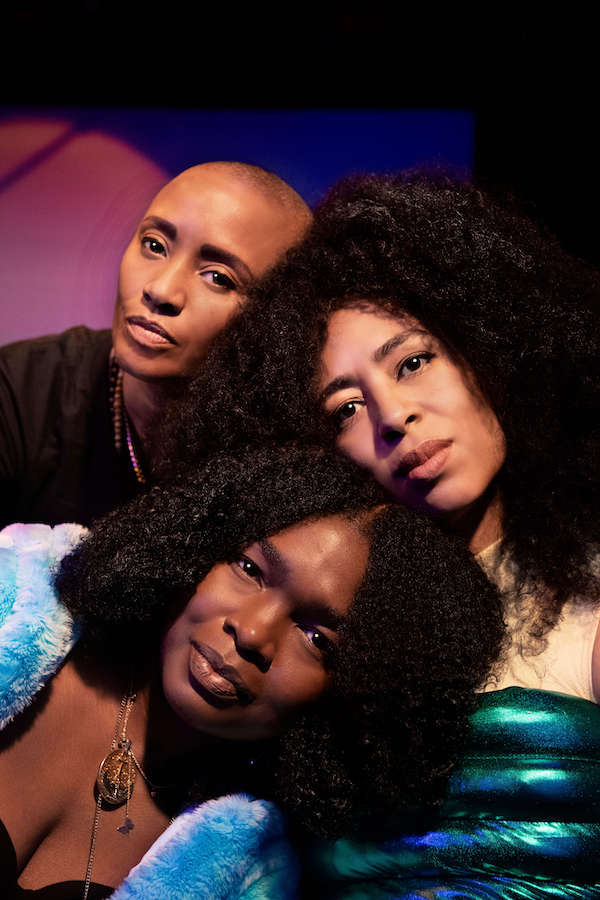 Nite Bjuti Releases Debut Self Titled Album Utilizing Multi-Genre Approach and Multimedia Experience to Rediscover Buried Diasporic Beauty, Transcendent Across Generations
Candice Hoyes, Mimi Jones, and Val Jeanty
Highlight Existential Themes Centering Black Women
July 28 via Whirlwind Recordings
Nite Bjuti [pronounced Night Beauty] is a trio of Black women artists who weave multiple strands of storytelling using voice, bass, electro percussion, turntables, Haitian drums, dance and visual projections to rediscover the buried Diasporic beauty in the world, transcendent across generations. The name draws from a centuries old Haitian folklore called "Night Beauty," about a girl whose bones begin to sing in her afterlife, her spirit seeking justice. On this eponymous album, singer/songwriter Candice Hoyes, bassist Mimi Jones, and GRAMMY® Award-winning soundchemist Val Jeanty publicly animate narratives centering Black women across time ranging in subject matter from vodoun, sisterhood, sexual expression, reproductive freedom, magic, and the politics of respectability with archival resources ranging from the letters of Zora Neale Hurston, to the iconic Kitchen Table Series by Carrie Mae Weems.
Nite Bjuti, released on July 28 via Whirlwind Recordings, taps into the transcendent communicative powers shared among the trio to delve into the spiritual intimacies of Black life. Hoyes sings and utters lyrics that bear witness to misappropriated histories, gentrification, girlhood, intergenerational trauma, self definition, liberation and communal wealth while interrupting and occupying space of public discourse and creativity predominantly led by, and intended for, men. Intentionally, Nite Bjuti chooses improvisation as their key to manifesting intimate community, such that their audiences feel togetherness, experiencing the performance in the exact moment that the group discovers each other onstage.
The album conveys their unique blend of vocalism, jazz harmonic expression, a trio of traditional Haitian drums, electro percussion, and turntables, and genre bending bass to achieve transcendent storytelling. Every track is an improvisation on the spot. During an ongoing recording process they honed the narrative flow of each track, sharing spiritual intentions, harmonic and melodic directions, historical wisdom, poetic prompts, and instrumentation to manifest an album of brilliant sonic imagery, clarity and human connection.
Armed with a lushness of sonic colors, Nite Bjuti conjured arresting sounds from ancient archives and their own imaginations. In "Stolen Voice," Hoyes and Jones leverage two different keys to convey an otherworldly sense of displacement. "We are expressing the kind of pillaging, the uprooting of women in ways personal, intergenerational, familial, sexual, past and present," Hoyes shares. On focus track Witchez, they sonically paint the medicine women, healers, and radical Black women across time who are accused and dismissed, their legacies "buried whole" as the song states.
Through historical allusions, acidic electronic howl, webs of gossamer bass textures, Nite Bjuti spins a swan song for Black feminist champions and reveals themes of liberation and self-determination through the music, narrative and movement. Through this highly collaborative radical ensemble, this album expands upon the jazz tradition in a highly individualistic and contemporary way because improvisation is a singular event. As producers, the trio were mutually dedicated to exploring the wild, remote dimensions of their collective sound conversations. Through the recording and mixing process, they attuned to amplifying the sounds of their inner voices as well as ancestral voices that have been silenced by systems of racial and gender subjugation and how that impacts our present conversation. Their multi-genre approach to jazz, incorporating blues sensibility into a blend of percussive and electronic rhythms, applied bass textures, vocal sampling, poetry and dance is distinctively compelling.
Nite Bjuti are UMEZ Arts Engagement Grant recipients for their 2022 mixed media installation commissioned by the Schomburg Center for Research in Black Culture and 2020 recipients of the NYC Women's Fund in Jazz Music which funded this debut album as well as the 2021 Manhattan Arts Grant. The trio has performed at Jazz at Lincoln Center NYC Winter Jazzfest and NUBLU JazzFest and performed for WBGO's Afternoon Jazz and was featured on the Wayne Shorter tribute project, Palladium.
Whirlwind Recordings