Jazz Ensemble Kevin Harris & The Solution Drops New Project "Jazz Gumbo" | LISTEN!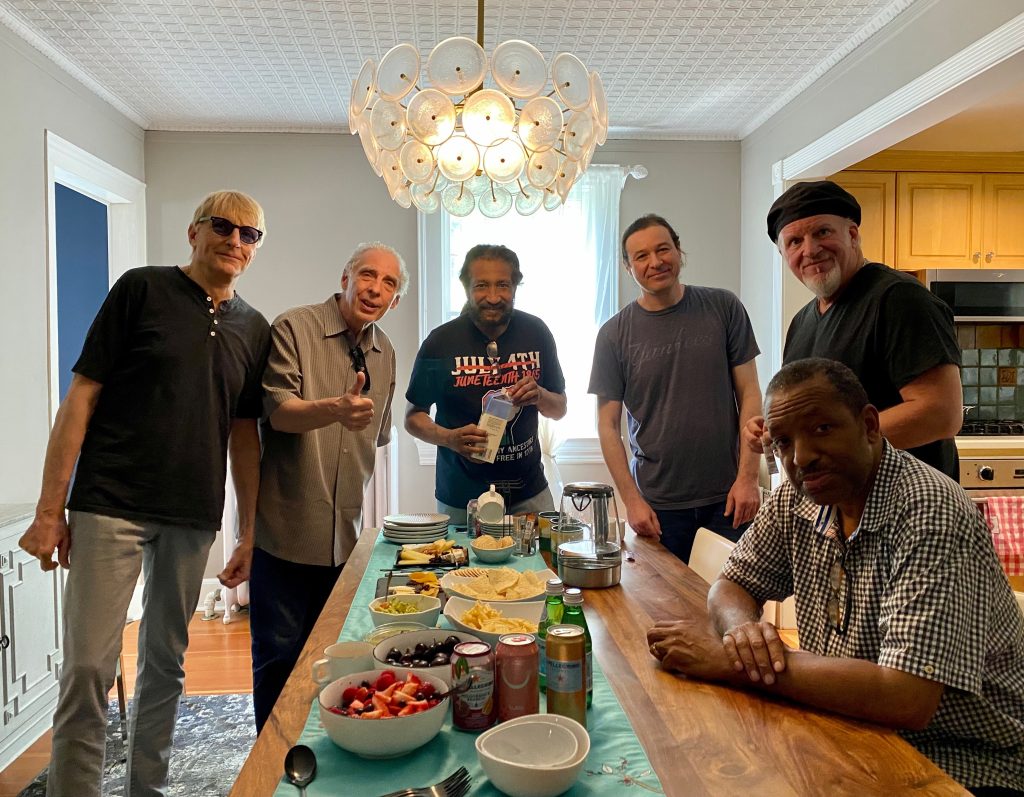 Kevin Harris & The Solution "Jazz Gumbo"
Actor, Singer, Writer, Producer and Vocal Coach to the Stars, Kevin Harris has distinguished himself as one of the most versatile singers in music. Jazz, Pop, Rock, Blues, Legit Broadway, Negro Spirituals, Funk or R&B. The list of artists he's worked with is a "Who's Who" of legendary Musicians.
Born in New York and raised in San Jose in the Bay Area, Kevin forged many close relationships and played with members of The Doobie Brothers, Loading Zone, Janis Joplin, Carlos Santana, The Legendary Headhunters, John Handy, Flora Purim and Airto as well as top Bay Area groups , Joy Of Cooking, Manteca, members of Tower Of Power and Graham Central Station. His Jazz influences came from studying and working with Eddie Jefferson, Jon Hendricks, Esther Phillips, Rodney Franklin, Flora Purim, Art Blakey, Cedar Walton, Johnny Hartman, John Handy and many. Kevin has recorded with John Handy, Michael White, Cornelius Bumpus, Cedar Walton, Donald Harrison, Mike Kissel, Drew Zingg, Rodney Franklin, Babatunde' as well as his own band Tout Le Monde.
As a bandleader with TOUT LE MONDE and The Kevin Harris All Stars, Kevin initiated the weekly music jams at the Legendary China Club and Decade featured Monday nights on Q104.3, bringing him the moniker, "Mr. Monday Night". A Who's Who graced these Stages under Kevin's tenure. The Four Tops, David Sanborn, Elliot Randall, Julian Lennon,Buddy Miles, Paul Shaffer, Will Lee, Stanley Jordan, Carlos Alomar, Jeff "Tain" Watts and Gavin DeGraw, Branford Marsalis. As an award winning actor he has been seen in Streets of San Francisco, Desperately Seeking Susan, A Doctor's Story, A Christmas Without Snow, Invasion of the Body Snatchers, Beat Street and more. He eceived The TOR award for Best supporting actor Off – Broadway in The Holy Junkie. IN 2010 Kevin was diagnosed with Stage III Throat/neck Cancer. While undergoing a debilitating treatment of radiation and chemotherapy, Kevin used his talents as a vocal coach honed from working with Earl Jones, Johnny Mathis' teacher from San Francisco St University. While vocal coaching thru Jive/RCA/Sony records, Kevin worked with R. Kelly, Miguel and Semi-finalist for the Voice, Michaela Page and Grammy nominated producer, Carlos McKinney, Gavin DeGraw and many more. This enabled him to maintain his instrument while imparting his experience, strength and hope.
Kevin celebrated this rebirth of his life with a performance at the San Jose Jazz Festival with a truly all-star band featuring alto sax player and star of the HBO series Treme' Donald Harrison, legendary Herbie Hancock and Headhunters drummer Mike Clark, Pittsburgh hall of fame bassist, Richie Goods, composer and pianist for Sex and The City, Mark Berman and Chris Botti guitarist, Ben Butler. Following this performance Kevin has continued to perform at many top venues in New York City such as Smalls, Club Bonafide, The Cutting Room, and more while putting together the internationally acclaimed CD "Tribute to John Coltrane and Johnny Hartman" featuring ; Patience Higgins, Michael Wolff, Tony Garnier , and Mike Clark.
Now, as a follow up, Kevin has created a new music adventure with Kevin Harris and the Solution,"Jazz Gumbo" with his long time partner alto sax great Donald Harrison plus Herbie Hancock and the Head Hunters alumni drummer Mike Clark, David Letterman's band long time bassist Will Lee, Jerry Z (organ), Tony Garnier , bass, and Danny Draher on guitar.
Kevin Harris (vocals)
Donald Harrison (alto sax/backround vox)
Will Lee (bass/background vox)
Mike Clark (drums)
Jerry Z (organ/piano/background vox)
Tony Garnier (bass)
Danny Draher (guitar/background vox)
Produced by: Kevin Harris and The Solution Recorded at: Raw Recording, Engineer; JC Santalis Mixed & mastered at: SpaceLAB Recording Engineer; Jake Palumbo, CD design by: A.J. Schmitz, Intro Lyrics to FJD by Will Lee.
Blujazz