Wynton Marsalis Releases New Project "The Jungle" feat. The JLCO & The MSO | Announces New International Tour for 2023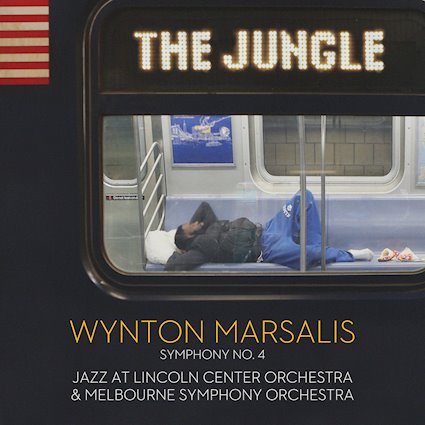 BLUE ENGINE RECORDS ANNOUNCES
RELEASE OF
THE JUNGLE
Recording of Wynton Marsalis's
Fourth Symphony
Featuring
The Jazz At Lincoln Center Orchestra With
Wynton Marsalis
And The Melbourne Symphony Orchestra
Conducted By Nicholas Buc
The Jungle digital release now available on all streaming platforms
The JLCO performs
The Jungle with guest orchestras in select
European cities June 7-July 9
New York, NY (May 26, 2023) – Today, Blue Engine Records releases The Jungle, the fourth symphony by Pulitzer Prize-winning composer and Jazz at Lincoln Center Managing and Artistic Director Wynton Marsalis, on all major streaming platforms.
Featuring the Jazz at Lincoln Center Orchestra (JLCO) with Wynton Marsalis alongside the internationally recognized Melbourne Symphony Orchestra (MSO) conducted by Nicholas Buc, The Jungle was recorded live in Hamer Hall in Melbourne, Australia in 2019.
The Jungle will be part of the JLCO with Wynton Marsalis's repertoire throughout the world renowned big band's 2023 European Tour (June 7-July 9). This international tour includes 23 shows, 16 cities and 8 countries. For The Jungle performances, please see the schedule below. For more information and to purchase tickets, visit: 2023.jazz.org/tour
"New York City is the most fluid, pressure-packed, and cosmopolitan metropolis the modern world has ever seen," says Wynton Marsalis. No wonder, then, that the city inspired the composer's fourth symphony, The Jungle. Captured live in 2019, Marsalis's masterwork highlights the paradoxes that define New York City, where wealth and poverty, grit and romance, and unlimited growth and stagnation all coexist. But it's also a meditation on what being human means today—a widescale attempt to understand the maelstrom of modern life and remind us what brings us together.
The JLCO with Wynton Marsalis will reunite with MSO for the first time since 2019 for performances of Wynton Marsalis's All Rise in Australia on August 25-26 2023 in Hamer Hall.
THE JUNGLE TRACKLISTING:
1. Movement I: The Big Scream
2. Movement II: The Big Show
3. Movement III: Lost in Sight (Post Pastoral)
4. Movement IV: La Esquina
5. Movement V: Us
6. Movement VI: Struggle in the Digital Market
7. Bonus track: Curtain Call (Knozz-Moe-King/C Jam Blues)
THE JUNGLE ALBUM PERSONNEL:
JAZZ AT LINCOLN CENTER ORCHESTRA WITH WYNTON MARSALIS:
REEDS
Sherman Irby – alto saxophone
Ted Nash – alto saxophone
Victor Goines – tenor saxophone
Camille Thurman – tenor saxophone
Paul Nedzela – baritone saxophone
TRUMPETS
Ryan Kisor
Kenny Rampton
Marcus Printup
Wynton Marsalis
TROMBONES
Vincent Gardner
Chris Crenshaw
Sam Chess*
RHYTHM SECTION
Dan Nimmer – piano
Carlos Henriquez – bass
Jason Marsalis – drums
*Tour replacement for Elliot Mason
MELBOURNE SYMPHONY ORCHESTRA
CONDUCTED BY NICHOLAS BUC
2023 Jazz at Lincoln Center Orchestra European Tour:
*indicates JLCO with Wynton Marsalis performance of The Jungle
June 7 | Luxembourg City, Luxembourg – Philharmonie Luxembourg
*June 9 | Luxembourg City, Luxembourg – Philharmonie Luxembourg; Luxembourg Philharmonic Orchestra; Cristian Măcelaru, conductorJune
June 10 | Paris, France – Philharmonie de Paris
*June 13 | Paris, France – Philharmonie de Paris; Orchestre de Paris; James Gaffigan, conductor
*June 14 | Paris, France – Philharmonie de Paris; Orchestre de Paris; James Gaffigan, conductor
June 15 | Chalon-sur-Saône, France – Espace des Arts
June 16 | Roubaix, France – Le Colisée Roubaix
June 18 | Dresden, Germany – Junge Garde
June 19 | Munich, Germany – Gasteig HP8
June 20 | Vienna, Austria – Wiener Konzerthaus
*June 23 | Timișoara, Romania – Sala Capitol; Filarmonica Banatul Timișoara; Cristian Măcelaru, conductor
June 24 | Timișoara, Romania – Sala Capitol
June 25 | Bucharest, Romania – Romanian Athenaeum (JLCO only)
June 26 | Bucharest, Romania – Romanian Athenaeum (JLCO only)
June 29 | Katowice, Poland – Polish National Radio Symphony Orchestra Concert Hall
June 30 | Wrocław, Poland – National Forum of Music
July 2 | Szczecin, Poland – Teatr Letni
July 3 | Hamburg, Germany – Elbphilharmonie
July 4 | Neuhardenburg, Germany – Schloss Neuhardenburg
July 7 | Rotterdam, Netherlands – Rotterdam Ahoy
July 9 | London England – Barbican Centre
Blue Engine Records