Saxophonist Steve Carrington to Release Anticipated New Album "Friends R Family" on June 9th, 2023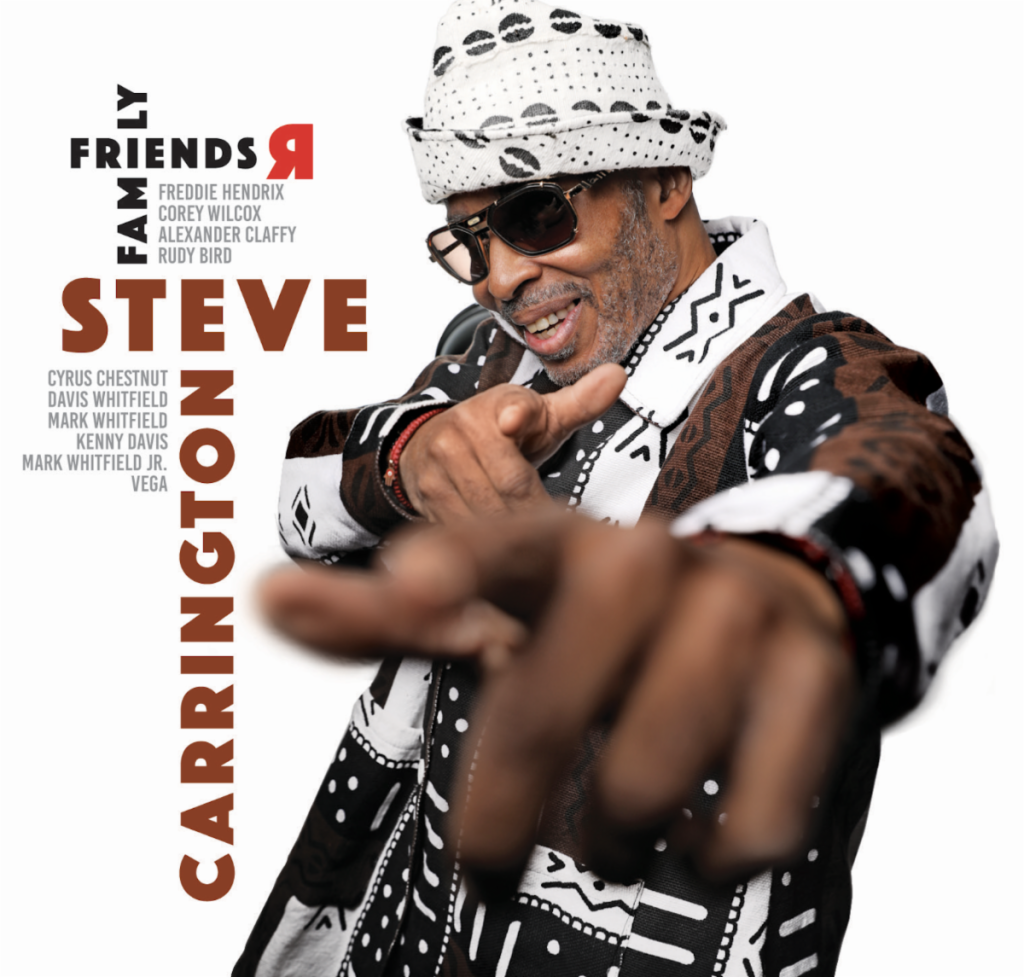 SAXOPHONIST
STEVE CARRINGTON
OFFERS FIRST FULL ALBUM OF ORIGINAL MUSIC,
FRIENDS R FAMILY
Recorded at Van Gelder Studio
Produced by John Lee
Steve Carrington (tenor, soprano and EWI) with:
Freddie Hendrix (trumpet), Cyrus Chestnut & Davis Whitfield (piano/keys), Kenny Davis (bass), Mark Whitfield (guitar), Mark Whitfield, Jr. (drums)
Additional appearances by Rudy Bird (percussion),
Corey Wilcox (trombone), Alexander Claffy (bass), Vega (rap)
Album releasing June 9, 2023
Available from Samech Records
New York….April 24th – With Friends R Family, his third release as a leader and first wholly original outing, virtuoso saxophonist and Baltimore native Steve Carrington shifts seamlessly between hard-swinging straightahead jazz and an infectious, groove-oriented, R&B-influenced concept. Drawing on the full range of his experience, including recent international tours with Kool & The Gang, he lays bare his eloquence and technical command on both tenor and soprano saxes as well as EWI (electronic wind instrument). In particular, the tonal richness and expression of his EWI playing on roughly half of Friends R Family marks a significant breakthrough in his artistry.
The sessions took place at Van Gelder Studio, the legendary jazz shrine in Englewood Cliffs, NJ now run by Maureen Sickler, the late Rudy Van Gelder's longtime apprentice. Carrington's "Ms. Maureen" is a dedication to her, and one of the tunes to feature jazz scene veteran Kenny Davis on electric bass, voicing the lyrical melody in unison with the leader's EWI. Davis also plays electric on the EWI-driven tracks "First Light/Beyond the Horizon" and "Mild and Easy."
The title Friends R Family articulates a notion held dear by jazz musicians: that the bonds formed through music are more than simply collegial. They run deeper. Cyrus Chestnut, pianist and sensitive, soft-spoken soul (and fellow Marylander), has the longest history with Carrington, and it shows. "Ha Shalom El L'Olam" (Hebrew: the peace of God forever) was written expressly for Chestnut and beautifully realized here as a soprano sax/piano duet. (Carrington is an ordained rabbi with a congregation and many online students.)
The tenor that Carrington plays on the album — including on the mellow, Latin-tinged "Orkide," Danish for "orchid," written for his wife — was given to him by Kenny Garrett, one of his closest friends and mentors. (A revered altoist, Garrett made a rare tenor appearance with this horn on three tracks of Terence Blanchard's 1995 release Romantic Defiance.) Through the G-Man's generosity, Carrington was officially "Garrettized" — to cite the burning uptempo track that is one of this album's highlights. Not for nothing does Garrett's longtime percussionist Rudy Bird appear on Friends R Family as well, lending rhythmic sparkle and lift on "European Serenade" and "Through the Eyes of a German Rose" (both of which feature rising-star bassist Alexander Claffy as well).
Magnificent trumpeter Freddie Hendrix appears on "European Serenade" as well as "Garrettized," the soprano feature "Mild and Easy" and the lovely flugelhorn/EWI waltz "Norwegian Butterfly." In Hendrix, Carrington has his ideal frontline partner, all the more because "Freddie and I became close in a short period of time," the leader says. "The soul of that brother is in me." Trombonist Corey Wilcox, son of the great Wycliffe Gordon, comes onboard for "European Serenade" as well, filling out the texture.
Then there's guitarist Mark Whitfield and his gifted son, drummer Mark Whitfield, Jr., as well as brother Davis Whitfield doubling on piano and Nord keyboard (a reminder that friends are sometimes literally family). "Mark is of my generation, just a bit older, and we go back too," says Carrington. "I think of him as Big Bro. I wanted a guitar player that could give me a straight sound but not completely straight, because I wanted that wah-wah rhythm guitar on some things, and he played it perfectly."
That soulful R&B sensibility is a testament not only to Carrington's recent Kool & The Gang stints, but also his love for tenor forebears such as Stanley Turrentine, Eddie Harris and Grover Washington, Jr. "Khalis's Groove" pays homage to Kool & The Gang's co-founder, the late Ronald "Khalis" Bell, in two different versions: first instrumental, later as a bonus track with a rap verse penned by special guest Vega. Along the way we hear the classic hook from "Celebration," and some intricate "Sir Duke"-style bass breaks doubled by Carrington's singing (an idea proposed by producer and longtime Dizzy Gillespie bassist John Lee).
As Friends R Family and all Carrington's endeavors make clear, he is "a force of nature," in the words of Mark Whitfield. He is above all a master player deserving of wider acclaim. Cyrus Chestnut agrees: "In my opinion, Steve is one of the messengers, and he's been placed here to create a healing balm with his music. To be a part of that journey and be able to witness and experience it, I count myself very blessed."
"I had nothing but the best around me, and they made it easy," Carrington humbly responds. And being fortunate enough to work in what is arguably jazz's most historic studio was not lost on any of the participants. "In the film Amistad," Carrington reflects, "there's a line that says in challenging times, we look to our ancestors for wisdom and guidance and the energy that they left. So you come to a place like this, in its walls you can find that energy."
ABOUT STEVE CARRINGTON
After studying at Berklee with the great Bill Pierce (Jazz Messengers, Tony Williams Quintet), Steve Carrington moved to New York and amassed performance credits including the Charles Mingus Epitaph project, Dizzy Gillespie and Roy Hargrove, plus Frank Wess and Jimmy Heath (at the same time!), among many others. Continuing his musical pursuits in the Baltimore/Washington area, he performed with Ruby Glover, Phillip Harper, Teodross Avery, Grady Tate and Cyrus Chestnut, who featured Steve on his third Atlantic album Earth Stories (alongside Antonio Hart and Eddie Allen). Carrington also joined the Jazz Mentoring Program faculty at the Eubie Blake Cultural Center, where he taught students including Quincy Phillips, now a highly sought-after drummer.
Returning to New York, Carrington sat in and performed with Elvin Jones, Joey DeFrancesco, Jeff "Tain" Watts, Wynton Marsalis, Wessell "Warmdaddy" Anderson, Eric Lewis (ELEW) and Chick Corea. With his own groups, he has opened for Abbey Lincoln, Lionel Hampton, Stanley Turrentine and Milt Hinton. He also worked steadily with Greg Bandy, Valery Ponomarev's "Our Father Who Art Blakey" Big Band, and Cyrus Chestnut's quartet and African Reflections Band. His debut album A Caring Tone was followed by Mind Traveler in 2019 and Friends R Family in 2023.
For more information visit:
www.stevecarrington.com
Two For The Show Media