Tenor Saxophonist Clifford Jordan's Long Lost Vocal Jazz Album "Drink Plenty Water…" is Available NOW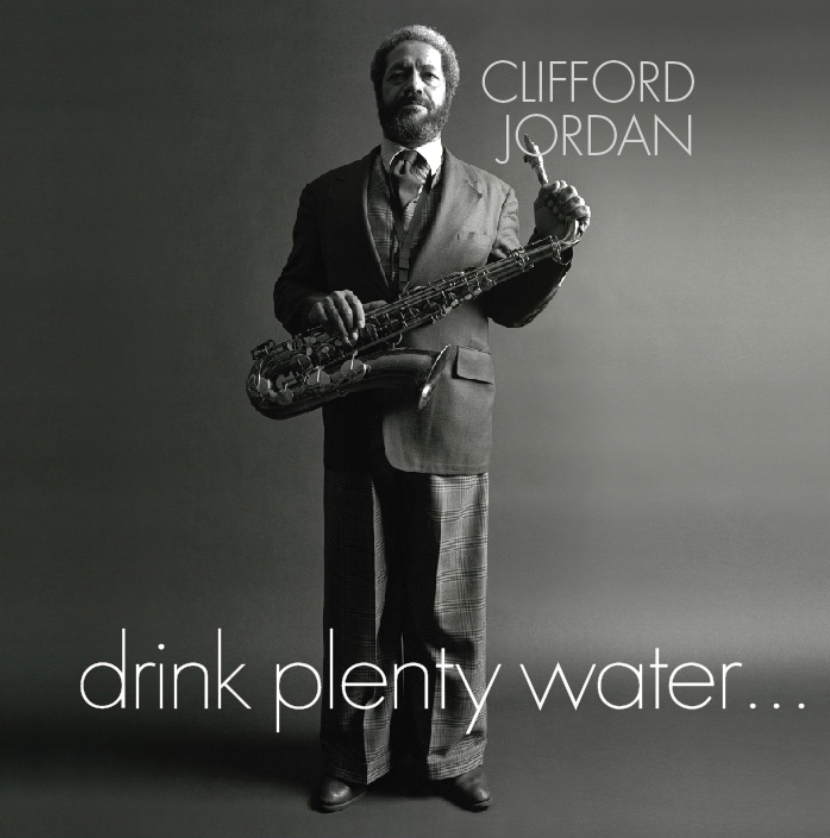 Long–lost Vocal Jazz session recorded in 1974 by Clifford Jordan & his Friends
NEW YORK, February, 2023 – After 49 years on the shelf, Drink Plenty Water, a long lost jazz recording from the late tenor sax master Clifford Jordan has been issued. Originally recorded for the Strata-East label in 1974, it is the only release in the Chicago native's catalog that is primarily a vocal recording, with inventive arrangements courtesy of bassist Bill Lee. Joining Jordan on tenor are Dick Griffin on trombone, Bill Hardman on trumpet, Charlie Rouse on bass clarinet, Strata East co-founder Stanley Cowell on piano, Billy Higgins on drums, Bernard Fennell on cello, and Lee and Sam Jones on bass.
Jordan's widow, Sandra, brought Drink Plenty Water to the light of day, spearheading a two-year-long, pandem- ic-delayed effort to get these four-decades-old recordings mastered and prepared for this January 2023 release.
Jordan's daughter, Donna Jordan Harris – all of 16 years of age at the time – sings lead vocals on several tracks, backed by remaining members of the ensemble. The vocal arrangements bring an unexpected new take to the compositions "Witch Doctor's Chant (Ee-Bah-Lickey-Doo)" and "I've Got a Feeling for You" that first appeared on Clifford Jordan's 1968 album Soul Fountain.
Jordan recorded Drink Plenty Water's opening track, "The Highest Mountain," more than any of his other com- positions during his recording career, which spanned from 1957 until his passing in 1993. And the song has lived on with recordings by T.S. Monk, Hugh Lawson, John Marshall and others. The vocal arrangement for "The Highest Mountain" on Drink Plenty Water makes it the most unique treatment of one of his finest compositions.
Additional tracks include "My Papa's Coming Home," a rhythm changes vamp with what trombonist Griffin describes as a "stunning" solo from the leader, and "Drink Plenty Water and Walk Slow," a short track featuring Fennell and Jordan under a spoken word story from actor David Smyrl. Other highlights of the 35-minute-long recording are the two tracks titled "Talking Blues" – the first a spoken-word story from Smyrl about a hustler living the fast life, and the second an instrumental version with great interplay between Jordan, Hardman, Fen- nell and Griffin.
"Besides being one of the greatest saxophonists in our Artform, my friend and colleague Clifford Jordan was also, aside from Stanley Cowell, just about the single other most important artist-owned recording contributor to 'Strata-East' at the dawn of the label's inception," writes veteran trumpeter and Strata-East co-founder Charles Tolliver in Drink Plenty Water's CD booklet. "Although this recording did not make it to the catalogue during this period, kudos to Sandy Jordan for finally unearthing this gem from the archives so it can now be issued."
ENSEMBLE
Clifford Jordan tenor sax, featuring: Donna Jordan Harris and David Smyrl vocalists, with Dick Griffin trombone, Bill Hardman trumpet, Charlie Rouse bass clarinet, Bernard Fennell cello, Stanley Cowell piano, Sam Jones bass, Bill Lee bass & arr., Billy Higgins drums, Kathy O'Boyle, Denise Williams, Muriel Winston backup vocalists, Martin Bough photographer
Jazz Promo Services