Saxophonist Tobias Meinhart and Berlin People to Release New Live Project "Dark Horse" on April 28th, 2023
by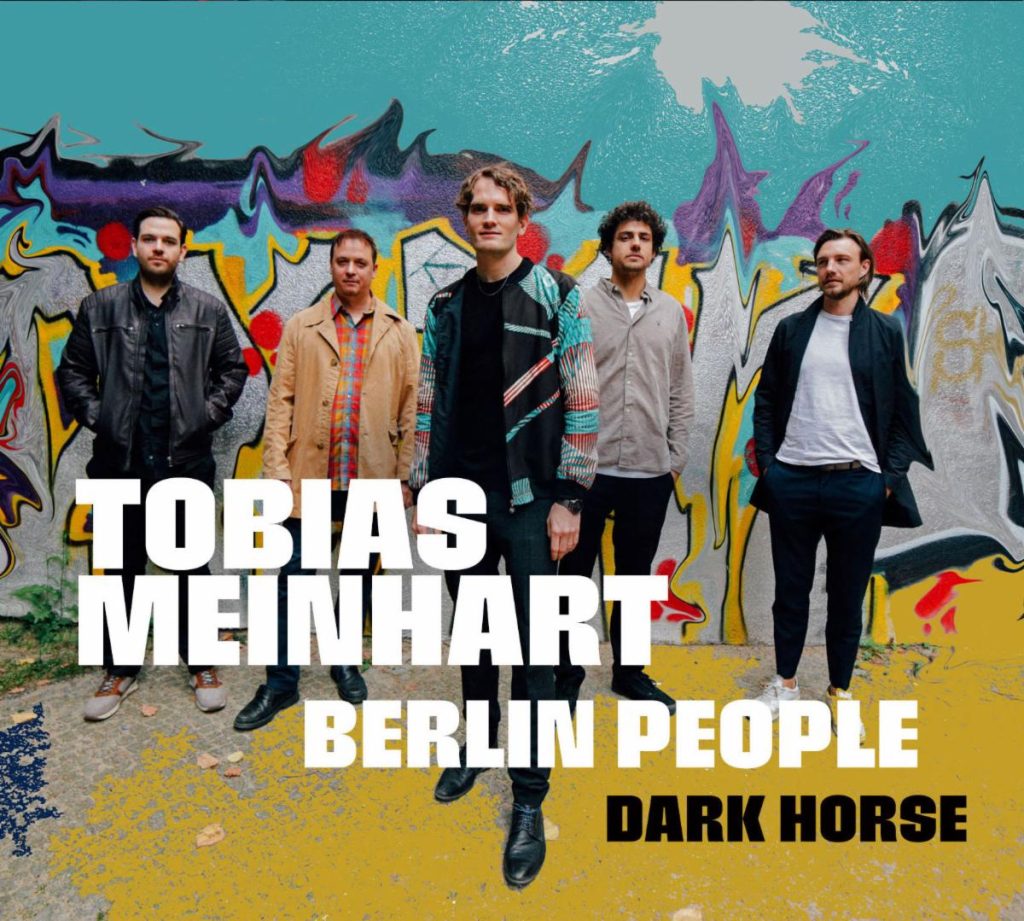 Saxophonist/Composer
Tobias Meinhart and his Berlin People project to release
live recording
"Dark Horse"
(Live at the A-Trane –
Berlin, Germany)
Release Date: April 28th, 2023
(Sunnyside Records)
It would be hard to foresee a young kid from Bavaria becoming a celebrated jazz saxophonist in New York City. Tobias Meinhart has done that, sculpting a career of brilliant recordings and world touring. One of his principal ensembles in this endeavor has been his Germany-based Berlin People, which features the revolutionary guitarist, Kurt Rosenwinkel. Meinhart and Berlin People's new recording, Dark Horse, celebrates how far he and the ensemble have come since their inception.
Since his arrival in New York City in 2010, Meinhart has maintained a busy schedule as a composer, performer, and touring artist. His album, Berlin People (Sunnyside, 2019), introduced the greater listening public to his Berlin-based group of the same name. Immediately, the group took to the road, playing extensively throughout Europe and South America.
These years of touring honed the group into a tight outfit of friends and collaborators. The lineup remains Meinhart and Rosenwinkel with pianist Ludwig Hornung, bassist Tom Berkmann, and drummer Mathias Ruppnig. The influential guitarist Rosenwinkel was more than a bandmate, he was an important mentor as he helped the young musicians get comfortable on the road.
As Berlin People matured on the road and in live performance, the music began to transform. Pieces that the group played every night began to diverge from the written page and became more free as band members began to feel more independence in their roles. Meinhart also began inviting his bandmates to provide their own compositions to be included in Berlin People's book.
To capture the evolution of the band, Meinhart decided to record Berlin People live at the A-Trane in Berlin, the place he first heard Rosenwinkel in 2008. The A-Trane is one of the few clubs in the world that still provides musicians with a full week of performances, allowing the music to truly blossom over the weeklong residency. The pieces on Dark Horse were recorded on two separate tours in 2021 and 2022. Most of the takes were taken from the final day at the club, representing the zenith of freedom and spontaneity that Berlin People approached the pieces with.
The recording begins with Meinhart's "Luna Park," a fun tribute to a favorite New York haunt, Coney Island. It is a piece that mirrors the different characters that one can witness at Coney Island, Meinhart providing four autonomous simple characters that come together. Meinhart's kaleidoscopic "Dark Horse" is an elaborate piece that contains many hidden elements which continually contort, changing over and over, implying that the listener knows the piece's true character.
The leader's "Dreamers" is an older piece and contrafact of the standard, "You Stepped Out of a Dream," though it might not be obvious. The piece also features a written drum feature for Ruppnig, whose "Gift of Time" follows, a beautiful ballad with a fantastic unison melody for sax and guitar, the tune reflecting on the fortuitous blessing of time to reflect during the Covid-19 pandemic. Pianist Berkmann's "Torn" is an atypical piece for the group, as it explores meandering sounds and structures beginning with a modal feature for drums before going into a harmonically complex melodic section, which is supposed to symbolize being torn when making a difficult decision in life.
Meinhart's "Sonic River" pits a 7/4 pulsating groove against an out of time rubato melody, the push and pull of the piece making it a unique grooving ballad. The recording concludes with the tune for which the band was named. When they initially recorded it for their debut album, Meinhart had brought it in and they recorded without rehearsal. Having been played at nearly every gig over four years, the tune is completely different, as the ensemble shows on their expansive and entrancing take of it.
The path that Tobias Meinhart and his group, Berlin People, have taken to get where they are in the global jazz scene has been a surprising one. With some surprises and some mentorship, namely from guitarist Kurt Rosenwinkel, they can celebrate their advancements as they release their new Dark Horse.
For more information, please visit:
www.tobiasmeinhart.com
Two For The Show Media