R&B Singer Kem to Release New Memoir "Share My Life: A Journey of Love, Faith and Redemption" on April 4th, 2023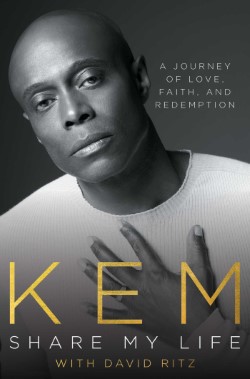 R&B Singer Kem to Release New Memoir "Share My Life: A Journey of Love, Faith and Redemption" on April 4th, 2023
From Grammy Award-nominated artist Kem shares his life in this revealing and remarkable memoir tracing his transformative journey from homelessness to gold-selling artist.
Share My Life: A Journey of Love, Faith and Redemption by Kem chronicles his incredible journey of self-discovery. The young boy who struggled with feelings of worthlessness becomes a man willing to put everything on the line for his dream. In his memoir, Kem goes back to the very beginning before his time to introduce his grandmother who worked as a sharecropper in the South and had thirteen children. As Kem's family rises from the sharecropping and ultimately lands in Detroit, there is an unspoken mantra of "hard things are better left unsaid," which has devastating consequences down the line. And so, Kem grows up in the midst of an impenetrable silence. His mother is never without a beer in her hand, and his relationship with his father is oddly tense. Emotionally starved, Kem internalizes harmful feelings, eventually spiraling to drug use in his search for relief.
About the Author
For all of his life, Kem has been driven by music and the emotions involved in bringing it to life. Today, the internationally renowned R&B singer/songwriter has to his credit: one platinum-selling album (Kem: Album II); two gold-selling albums (Kemistry; Intimacy); three Grammy nominations; five #1 hit singles ("Love Calls," "I Can't Stop Loving You," "Why Would You Stay," "It's You," and "Nobody"), along with several sold-out national tours and international shows.