Motown/UMe to Release 2-CD Expanded Edition of "The Supremes Sing Holland-Dozier-Holland" on June 15th, 2018
by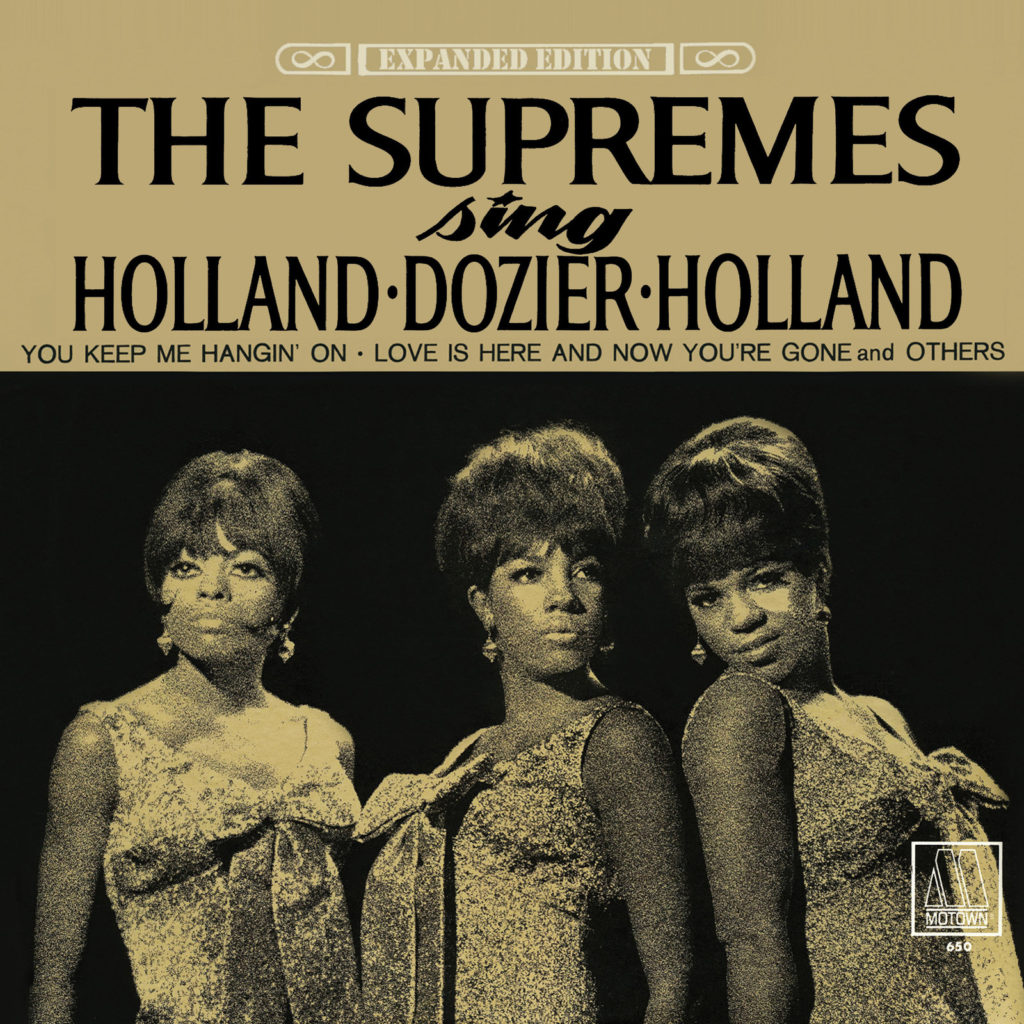 The Supremes Keep Us Hangin' On By Honoring 50-Plus Years Of "The Supremes Sing Holland-Dozier-Holland"
2-CD Expanded Edition Celebrates 50th Anniversary of Supremes' Historic Album Interpreting Songs from One of Motown's Most Storied Songwriting Teams
LOS ANGELES, April 30, 2018 /PRNewswire/ — On June 15, in anticipation of the upcoming 60th anniversary of Motown — a.k.a. Hitsville U.S.A. — and inspired by the album's own recent 51th anniversary, Motown/UMe is releasing a 2-CD Expanded Edition of The Supremes' tenth studio effort, the chart-topping The Supremes Sing Holland-Dozier-Holland. A whopping 52 tracks magnify the scope of a seminal album that made history, including 28 tracks that are heard here for the first time via a number of updated mixes and alternate versions, as well as a score of electrifying live performances captured at the Copacabana nightclub in New York City in May 1967, the last recorded performance of the original trio: Diana Ross, Mary Wilson and Florence Ballard.
The Supremes Sing Holland-Dozier-Holland, originally released in January 1967, further cemented the group's chart prowess and vocal harmonizing skills. The original album, inspired by the production team who along with the group had come to define the "Motown Sound" – producers Brian Holland and Lamont Dozier and lyricist Edward Holland Jr. – spawned a pair of universally loved No. 1 singles, the forever-pleading "You Keep Me Hangin' On" and the heartbreakingly dramatic "Love Is Here and Now You're Gone." The LP also went to No. 1 on the Billboard R&B Albums Chart, their fourth album to do so up to that point, while peaking at no. 6 Pop.
Formed in Detroit as The Primettes in 1959, The Supremes were Motown's most successful act of the 1960s, scoring 12 No. 1 singles. They also continue to reign as America's most successful vocal group to date. Their influence not only carries on in contemporary R&B, soul and pop, they also helped pave the way for mainstream success by African-American artists across all genres.
The expanded The Supremes Sing Holland-Dozier-Holland includes the original album in both its original mono and stereo mixes – with the mono album on CD for the first time – plus several rare and new mixes created exclusively for this expanded edition, including alternate versions and alternate mixes of the hits; the original film version of the No. 1 hit "The Happening," which was re-cut for the single version; a version of "Love Is Here and Now You're Gone" with a vocal previously available only on a Japanese release; a once-in-a-lifetime "duet" version of "You're Gone (But Always In My Heart)," that includes lead vocals by Diana Ross and Gladys Knight; and a Motown mashup of the H-D-H classics "I Can't Help Myself (Sugar Pie, Honey Bunch)" and "Where Did Our Love Go." Rounding out this collection is a rare recording from the Copacabana in New York, in May 1967, one of the last performances of the group with Florence Ballard. This spirited show is a masterful blend of Supremes hits and show tunes, the epitome of Motown founder Berry Gordy's vision for his Detroit-based company. And included in the package is a 32-page booklet with rare and never-before-seen photos plus an interview with Lamont Dozier. Also included is a bonus 24-page booklet that recreates The Supremes' 1967 souvenir tour booklet.
Fifty-plus years on, The Supremes Sing Holland-Dozier-Holland receives a well-deserved remastered expansion, produced by the team responsible for previous expanded editions, Andrew Skurow and George Solomon, and remastered by Universal Music's Kevin Reeves. These collections continue to keep us hangin' on to the most intuitive and most indelible blend of perfect harmonizing and majestic songwriting of the very best artists and creative teams Motown had to offer.
Preorder The Supremes Sing Holland-Dozier-Holland: Expanded Edition here
classic.motown.com/artist/the-supremes
facebook.com/Supremes
twitter.com/ClassicMotown
The Supremes THE SUPREMES SING HOLLAND-DOZIER-HOLLAND: EXPANDED EDITION [2 CD]
Disc 1
Original Mono (1-12) and Stereo (13-24) LPs
01./13. You Keep Me Hangin' On
02./14. You're Gone (But Always In My Heart)
03./15. Love Is Here And Now You're Gone
04./16. Mother You, Smother You
05./17. I Guess I'll Always Love You
06./18. I'll Turn To Stone
07./19. It's The Same Old Song
08./20. Going Down For The Third Time
09./21. Love Is In Our Hearts
10./22. Remove This Doubt
11./23. There's No Stopping Us Now
12./24. (Love Is Like A) Heat Wave
Bonus Tracks
25. The Happening (Extended hit mix)
26. All I Know About You (Extended mix)
27. Love Is Here And Now You're Gone (Version 3)
28. We Couldn't Get Along Without You (Extended mix)
29. You Keep Me Hangin' On (Extended "cool" alternate)
Disc 2
01. You Can't Hurry Love (Extended alternate)
02. The Happening (Film versions)
03. Love Is Here And Now You're Gone (Version 1)
04. You're Gone (But Always In My Heart) (Gladys Knight and The Pips Duet mix)
05. I Guess I'll Always Love You (Extended mix)
06. Going Down For The Third Time (Extended mix)
07. Remove This Doubt (Extended mix)
08. I Can't Help Myself (Sugar Pie, Honey Bunch) – Where Did Our Love Go (Motown Mashup)
Live At The Copa May 1967
09. Put On A Happy Face
10. Medley: Stop! In The Name Of Love/Come See About Me/My World Is Empty Without You/Baby Love
11. My Favorite Things
12. You Keep Me Hangin' On
13. The Lady Is A Tramp/Let's Get Away From It All
14. I Hear A Symphony
15. From This Moment On
16. Queen Of The House
17. Love Is Here And Now You're Gone
18. Somewhere
19. You Can't Hurry Love
20. Medley: Thoroughly Modern Millie/Second Hand Rose/Mame
21. Group Introductions
22. You're Nobody Til Somebody Loves You
23. The Happening
SOURCE UMe