Erykah Badu's Game-Changing Debut "Baduizm" And "Mama's Gun" Available NOW on Vinyl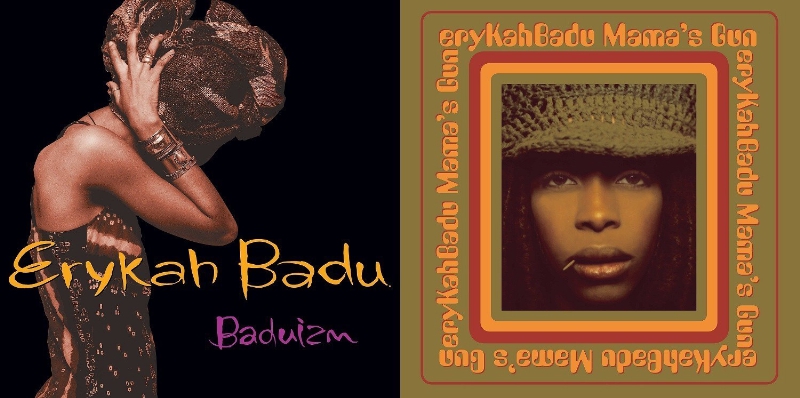 Erykah Badu's Game-Changing Debut "Baduizm" And Smash Sophomore Album "Mama's Gun" Released On Vinyl Via Motown/UMe
"BADUIZM" AVAILABLE ON VINYL IN ENTIRETY FOR FIRST TIME EVER AS DOUBLE LP
UMe
LOS ANGELES, Oct. 24, 2016 /PRNewswire/ — Erykah Badu's game-changing debut, Baduizm, and her smash sophomore album, Mama's Gun, are now available back on vinyl as part of Motown/UMe's Respect The Classics initiative. Previously released on vinyl as a shortened nine-track single LP, this release marks the first time Baduizm has been released on vinyl in its entirety with 14-tracks across two standard-weight LPs. The vinyl reissue of Mama's Gun is also as a double LP.
Order and stream Baduizm: https://UMe.lnk.to/BaduizmRTC
Order and stream Mama's Gun: https://UMe.lnk.to/MamasGunRTC
Baduizm introduced Badu's unique artistic vision to the world when released in 1997 and established her as one of the emerging neo-soul genre's leading artists. Produced by Madukwu Chinwah and The Roots, the Grammy Award-winning album peaked at #2 on the Billboard Top 200 and went to #1 on the Top R&B/Hip-Hop Albums chart. Universally hailed by critics, it topped many year-end lists and earned rave reviews with Entertainment Weekly enthusing, "Badu's nouvelle-soul debut hits the target, blows it up, reinvents it," Q calling it a "warm thoroughly idiosyncratic record which mixes jazz, soul and a slice or two of hip hop into a rich, smoky musical brew," and Rolling Stone remarking, "Baduizm showcases the heart and soul of a bohemian B-girl who happens to have an effortless jazz swing." Baduizm was honored with a bevy of honors including the Grammy Awards for Best R&B Album and Best Female R&B Vocal Performance for breakout single "On & On." Other accolades included eight American Music Awards, three Soul Train Music Awards and two NAACP Image Awards, taking home trophies for Outstanding New Artist and Outstanding Female Artist. The album is certified triple platinum in the U.S. with sales of more than three million and is gold in both the UK and Canada.
Mama's Gun was Badu's highly-successful follow-up to Baduizm, selling a million copies just two months after its release in November 2000. Hailed by Rolling Stone as her "zenith," Mama's Gun cemented Badu's place in the world of R&B with many praising her growth as a songwriter, composer and lyricist; she was lauded for her more direct and confessional approach to her lyrics. Recorded at Jimi Hendrix's famed Electric Lady Studios, the album was co-produced by Badu along with producers James Poyser and Jay Dee (aka J Dilla). It features a host of all-star musicians including drummer Questlove, jazz trumpeter Roy Hargrove, veteran vibes player Roy Ayers and Stephen Marley who duets on the reggae-tinged "In Love With You." Lead single "Bag Lady" became a Top 10 hit and was nominated for two Grammys: Best Female R&B Vocal Performance and Best R&B Song, an honor her song "Didn't Cha Know?" also received. Mama's Gun continues to grow in stature 16 years after its release as it finds new fans year after year and is revisited by critics. In the BBC's 2012 reexamination they hailed it as "a fabulous, ever-evolving work by one of the most dazzling artists of the past two decades." More recently, Pitchfork reviewed the album in their esteemed Sunday Reviews section awarding it a 9.4 and declaring, "More than a decade before Queen Yoncé, Erykah Badu laid down the blueprint for a black feminist album that went well beyond documenting tales of heartbreak to address issues greater than the sum of any one relationship. She made a record that wore its awareness of the larger traumas and challenges that complicate human intimacy on its sleeves. It was music for the revolution that wasn't televised."
BADUIZM TRACK LISTING
Side A
1. Rimshot (Intro)
2. On & On
3. Appletree
4. Otherside of the Game
Side B
1. Sometimes (Mix #9)
2. Next Lifetime
3. Afro (Freestyle Skit)
4. Certainly
Side C
1. 4 Leaf Clover
2. No Love
3. Drama
Side D
1. Sometimes…
2. Certainly (Flipped It)
3. Rimshot (Outro)
MAMA'S GUN TRACK LISTING
Side A
1. Penitentiary Philosophy
2. Didn't Cha Know
3. My Life
4. …& On
Side B
1. Cleva
2. Hey Sugah
3. Booty
4. Kiss Me on My Neck (Hesi)
5. A.D. 2000
Side C
1. Orange Moon
2. In Love With You
3. Bag Lady
Side D
1. Time's a Wastin
2. Green Eyes
SOURCE Motown/UMe