Verve/UMe to Reissue Eight Essential Diana Krall Albums In Double-LP Vinyl Editions on July 15th, 2016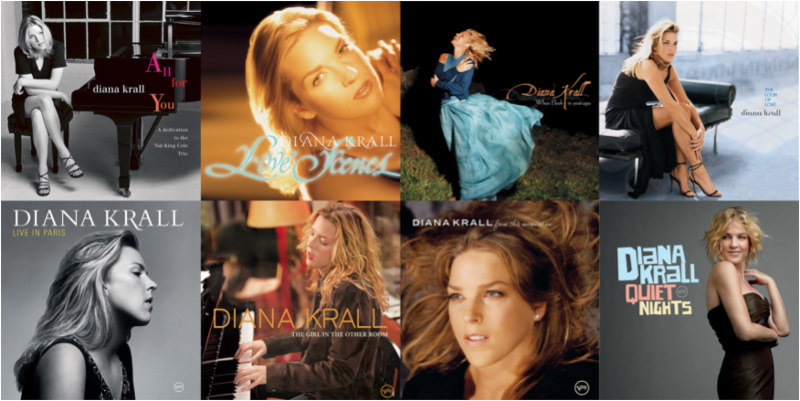 Verve/UMe to Reissue Eight Essential Diana Krall
Albums In 180-gram Double-LP Vinyl Editions
Available July 15 as Part of Verve's
60th Anniversary Celebration
As part of Verve Records' ongoing 60th anniversary celebration, Verve/UMe is proud to announce the July 15 release of eight essential Diana Krall albums in 180-gram, 2-LP vinyl reissues. The renowned pianist and vocalist has called Verve home for the vast majority of her illustrious career, and these new versions of her recordings originally released between 1996 and 2009 showcase many of her finest moments in lustrous vinyl format.
These reissues, which each feature the original album in its entirety on two LPs, range from intimate trio sessions to celebratory big band outings, songbook standards to modern pop favorites and memorable original songs. All feature Krall's expressive voice and deft piano playing, along with production by three-time GRAMMY® Award-winner Tommy LiPuma.
The series begins with All For You, Krall's reverent tribute to the Nat King Cole Trio, originally released by impulse! in 1996. The album features Krall leading a trio with guitarist Russell Malone and bassist Paul Keller through some of the legendary pianist/singer's most beloved tunes, with guest appearances by pianist Benny Green and percussionist Steve Kroon. Its follow-up, 1997's Love Scenes, includes 13 of Krall's favorite love songs, performed by her trio with Malone and Christian McBride on bass.
A distinctly orchestral sound comes to the forefront on Krall's official Verve debut, When I Look in Your Eyes, released in 1999. Eight of the album's 13 tracks feature strings conducted by veteran composer/arranger Johnny Mandel along with an all-star jazz ensemble. The symphonic approach was expanded even further for The Look of Love (2001), which spotlights Krall's vocals backed by the London Symphony Orchestra.
Recorded live during Krall's sold-out run at the legendary Olympia Music Hall in Paris in late 2001, Live in Paris captures the energy and spark of Krall's concert performances. The album's dozen songs feature several of Krall's regular collaborators, including guitarist Anthony Wilson, bassist Christian McBride, and drummer Jeff Hamilton, as well as Orchestre Symphonique Européen, conducted by pianist/arranger Alan Broadbent.
The Girl in the Other Room (2004) was Krall's first release to prominently feature her own original songs, many of them written in collaboration with her husband, Elvis Costello. She returned to the Great American Songbook for 2006's From This Moment On, which garnered a Best Jazz Vocal Album nomination at the 2007 GRAMMY® Awards. The series concludes with Krall's 2009 album, Quiet Nights–her tenth release–highlighted by GRAMMY® Award-nominated arrangements from frequent collaborator Claus Ogerman.
Diana Krall is a star in a long line of revered and influential artists who have been featured on Verve throughout the label's 60 years. Verve was founded in 1956 by Norman Granz, the forward-thinking impresario responsible for the hugely popular Jazz at the Philharmonic concerts, which brought the music to new audiences and garnered jazz an unprecedented level of respect in popular culture. Granz also managed Ella Fitzgerald and launched the label in large part to create new opportunities worthy of the singer's immense talent, including her landmark series of "Songbook" recordings.
Under the visionary leadership of Granz and, after MGM purchased the imprint in 1961, Creed Taylor, Verve continued to set new trends. The label sparked the Bossa Nova craze with the 1964 release of the GRAMMY® Award-winning Getz/Gilberto and brought a lush, elegant new sound to jazz with the arrangements of Claus Ogerman and Oliver Nelson. Its focus eventually widened to encompass groundbreaking comedy, folk and rock recordings, including now-iconic releases by The Velvet Underground, Frank Zappa & The Mothers of Invention, Janis Ian and Laura Nyro.
It was its jazz legacy that cemented Verve's place in the popular imagination, however, and after a fallow period in the '70s and '80s Verve was revived in the mid-1990s, again signing many of the biggest names in music: Herbie Hancock, Wayne Shorter, John Scofield, Betty Carter, Abbey Lincoln and Shirley Horn, all of whom recorded for Verve during this period.
Over the course of its six-decade history, Verve has become synonymous with the very best in jazz, venerating the music while charting its course and helping to break down racial and stylistic barriers. There's no better way to celebrate that legacy than with the music itself, and 2016's 60th anniversary releases invite listeners to revisit the breathtaking sounds of Verve in new and exhilarating ways.
For more information, please visit: VerveMusicGroup.com
DL Media