Organist Dr. Lonnie Smith Named 2017 NEA Jazz Master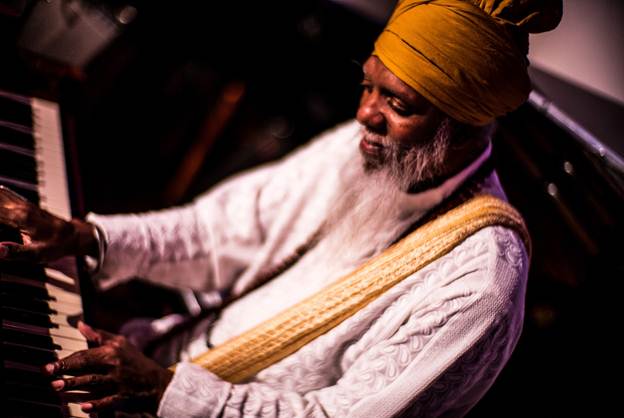 ORGANIST DR. LONNIE SMITH NAMED 2017 NEA JAZZ MASTER
NEW BLUE NOTE ALBUM EVOLUTION IS HIS FIRST FOR ICONIC LABEL SINCE 1970
The legendary organist Dr. Lonnie Smith has been named one of the National Endowment for the Arts 2017 NEA Jazz Masters Fellows, the nation's highest honor in jazz. Smith—along with bassist Dave Holland, vocalist Dee Dee Bridgewater, keyboardist Dick Hyman, and writer Ira Gitler—have been recognized for their lifetime achievements and exceptional contributions to the advancement of jazz. Each will be honored at a tribute concert on Monday, April 3, 2017, produced in collaboration with the John F. Kennedy Center for the Performing Arts in Washington, DC. For more information visit arts.gov.
In January, Smith released Evolution, his first Blue Note album since 1970. The album marked the return of the Hammond B-3 organ master to the iconic label where he first made a name for himself in the late 1960s, first as a sideman with saxophonist Lou Donaldson on albums including Alligator Bogaloo, and soon after as a leader with his own soul-jazz classics such as Think! and Turning Point.
* * *
Born in Buffalo, New York in 1942, Smith had an early musical influence in his mother who sparked a love of gospel, blues and jazz music. As a teenager he was introduced to the Hammond organ and began immersing himself in the records of Wild Bill Davis, Bill Doggett and Jimmy Smith as well as paying rapt attention to the church organ. Smith's first gigs were at the Pine Grill, a Buffalo club where he came to the attention of Donaldson, Jack McDuff and George Benson, eventually joining Benson's quartet and moving to New York City.
After releasing his debut album Finger Lickin' Good for Columbia, Smith joined Donaldson's band and made his first Blue Note appearance on the saxophonist's hit 1967 album Alligator Boogaloo. Two more Donaldson dates followed (Mr. Shing-A-Ling and Midnight Creeper) before Smith was offered his own Blue Note deal, making his label debut with Think! in 1968. Smith went on to record another four Blue Note albums over the next two years (Turning Point, Move Your Hand, Drives and Live at Club Mozambique) all of which are regarded as soul-jazz classics.
After his first run of Blue Note albums Smith recorded for many labels, most recently his own label Pilgrimage, and his wide-ranging musical tastes have found him covering everyone from John Coltrane to Jimi Hendrix to Beck. Many awards have followed since 1969 when Down Beat named Smith the "Top Organist" of the year, including honors from the Jazz Journalists Association, Buffalo Music Hall of Fame and more.
Smith helped celebrate Blue Note's 75th anniversary in 2014 by appearing with Donaldson at the historic concert Blue Note at 75 at the Kennedy Center in Washington DC. Some of Smith's early tracks for Blue Note are collected on the Spotify playlist Intro to Dr. Lonnie Smith including standout cuts like "Spinning Wheel," which was famously sampled by A Tribe Called Quest for their songs "Can I Kick It?" and "Buggin' Out."
Blue Note president Don Was signed Smith and produced Evolution, a robust and spirited collection of seven tunes that includes fresh takes on Dr. Lonnie's favorite originals and standards as well as brand-new excursions. Joining Smith on Evolution are special guests Robert Glasper on piano and Joe Lovano on saxophones, as well as a top-notch band of musicians including reedist John Ellis, trumpeters Maurice Brown and Keyon Harrold, guitarist Jonathan Kreisberg, and the double drummer team of Joe Dyson and Johnathan Blake (appearing together on five of the seven numbers). Evolution is available now on Amazon and iTunes.