Resonance Records to Release "Larry Young In Paris/The ORTF Recordings" on March 11th, 2016 | WATCH NEW VIDEO!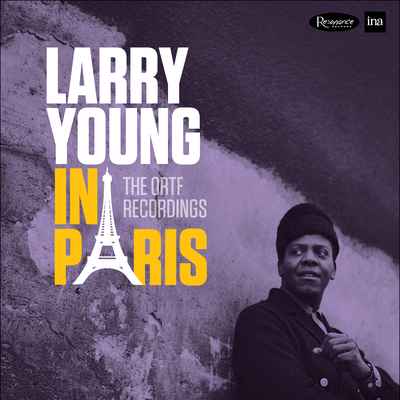 Resonance Records Presents LARRY YOUNG – IN PARIS: THE ORTF RECORDINGS With Never-Before-Released Tracks by The Jazz Organist / Pianist.
Pre-Order NOW on iTunes and Get 4 Tracks Instantly!
Resonance Records, in partnership with the National Audiovisual Institute (INA) of France, is pleased to announce the release of Larry Young In Paris/The ORTF Recordings. Featuring groundbreaking performances by the ingenious organist and pianist, these studio and live recordings from 1964 and 1965 made for French radio and never before issued on record, will be released on March 11, 2016 in deluxe two-CD and limited-edition two-LP sets.
Producer Zev Feldman notes, "It's particularly exciting because none of this music has ever been heard before except on its initial broadcast in France five decades ago. I think that's something to celebrate and a call for us all – as we often do with the archival recordings we at Resonance Records uncover – to revisit and discuss this legendary artist's legacy."
Musicians featured on these recordings include trumpet legend Woody Shaw, tenor saxophonist and bandleader Nathan Davis and drummer Billy Brooks. An international cast of supporting players – pianist Jack Diéval, tenor saxophonist Jean-Claude Fohrenbach and bassist Jacques B. Hess; Italian drummer Franco Manzecchi, Jamaican trumpet player Sonny Grey and Guadaloupean percussionist Jacky Bamboo – round out the personnel. This album marks the first new release of Larry Young music in 38 years.
This project came about in 2012 when Feldman traveled to France to explore the ORTF (Office of French Radio and Television) archives (the media vaults overseen by the French National Audiovisual Institute (INA) in the hope of finding undiscovered treasures, which he suspected he might find there. Feldman asked INA executives about specific artists and was stunned to learn that the vaults contained recordings documenting some of the greatest American jazz musicians who lived in – or visited – Paris in the 1960s, including Larry Young. Resonance Records presents in this album tapes that had been sitting idly in the vaults for nearly 50 years, scrupulously maintained by INA.
Resonance will release other projects from the INA vaults; details to come soon. Feldman states, "It's been a thrill of a lifetime working with Christiane Lemire, Laure Audinot and Pascal Rozat at INA France to find this great music and shepherd this release. No question about it, this project represents jazz through diplomacy and the greater good of a mission. These recordings showcase American artists who found their home and voice in Europe at a time when the American landscape wasn't always as supportive." Feldman continues, "When we started to explore the vaults of the ORTF and search for recordings to release, we had a wish list of various artists we were on the hunt for, but Larry was the one artist whom I personally felt we needed to look extra hard for. I couldn't be more thrilled with what we found and which we are now releasing. I hope we'll all revisit this genius's legacy and appreciate why he mattered so much."
These recordings tell the story of a brief but critically important period when Young lived in Paris in the 1960s. The 19-year-old Woody Shaw was supposed to have joined saxophone/flute/bass clarinet legend Eric Dolphy in Dolphy's group in Paris, which was to have been the house band at the legendary Parisian jazz club Le Chat Qui Pêche. Unfortunately, Dolphy died unexpectedly shortly before Shaw was to have arrived. The venue's owner, Madame Ricard, and Dolphy's fiancée, Joyce Mordecai, asked Nathan Davis, who was the club's de facto music director, to put together a band to honor Dolphy and to provide the musical anchor for the club. Dolphy had extolled the young Shaw's virtues to Davis, and so Woody was invited to come to Paris and join Davis's ensemble. After being in Paris for a few weeks, Woody felt homesick and prevailed upon Davis and Madame Ricard to bring his Newark colleagues Larry Young and Billy Brooks, to join him and Davis in the Nathan Davis Quartet, which became Le Chat Qui Pêche's house band. For several months, Young immersed himself in the flourishing Parisian jazz scene, which had attracted many American jazz players who were able to find steady work playing nightly gigs with both with their American comrades and international artists who had been drawn to the scene. Many American musicians found the atmosphere a welcome escape from economic and social tensions back home. In the '60s, Parisian jazz clubs were filled with legends such as Dolphy, Kenny Clarke, Dexter Gordon, Slide Hampton and Bud Powell.
While in France, Young recorded at the ORTF Studios in Paris (now Maison de Radio France) as a sideman with the Nathan Davis Quartet, the Jazz aux Champs-Élysées All-Stars and with his own piano trio, which included bassist Jacques B. Hess drummer and Franco Manzecchi. Larry Young In Paris/The ORTF Recordings includes selections from the original tapes, which were made specifically for broadcast on French radio. As noted, the only time these recordings have been shared with the public were in their original airings on two iconic monthly radio programs: Musique aux Champs-Élysées, hosted by Jack Diéval; and Jazz sur scène, hosted by producer and jazz scholar André Francis. Shortly after the tapes were made, Larry Young returned to New York to record the classic album Unity, his second album for Blue Note as a leader.
Resonance Records has packaged the two-CD version of this album with a 68-page book of essays by Feldman, legendary guitarist John McLaughlin, associate producer/ jazz scholar/INA executive Pascal Rozat, associate producers John Koenig, Larry Young III and Woody Shaw III; and illuminating interviews with Davis (conducted by executive producer Michael Cuscuna), organists Dr. Lonnie Smith and John Medeski (of Medeski, Martin & Wood), bassist/producer Bill Laswell and French broadcasting legend André Francis. The historic package also contains many rare, previously unpublished images from the archives of INA and photographers Francis Wolff and Jean-Pierre Leloir. The limited edition 12″ two-LP set contains all of the same material as contained in the CD set in an elegant insert, with collector postcards and a digital download card. The LPs are pressed on 180-gram vinyl at 33-1/3 rpm by Record Technology Incorporated (R.T.I.), mastered by the legendary engineer Bernie Grundman. The packages for both sets represent further brilliant creations by art director Burton Yount in a series of beautiful packages he's done for Resonance Records, this time assisted by art director Gordon H. Jee.
Larry Young was only 23 and 24 years old when these recordings were made. He would soon be known as one of the great organ players of his time, and indeed, all time. The son of a professional organist, he played piano and organ from early childhood. Indeed, his first serious piano teacher, after his father, had been a student of Bartók and Dohnanyi at the Franz Liszt Academy in Budapest. The influence of this teacher, Olga Von Till, might explain Young's penchant for harmonic structures based on fourths and his use of pentatonic scales – both characteristic of the strains of Hungarian folk music found in the music of Bartok, Dohnanyi and their compatriot, Kodaly; structures that were unusual in jazz at the time. The only truly notable musician of Young's era who applied these musical elements to his artistry was modern jazz piano icon McCoy Tyner. Although Young grew up playing R&B and jazz in and around Newark, his colleagues always saw him as pushing the boundaries while still respecting the solid jazz traditions of those who came before. Woody Shaw's son, Woody Louis Armstrong Shaw III, writes that the compositions on this album break through the barriers of jazz standards, "all of them bearing idiosyncrasies of a burgeoning style, a new way of speaking to the tradition of jazz, while pushing the limits of the music to new heights."
Young's musical journey swept him into fusion music, joining Miles Davis in 1969 for Bitches Brew (Columbia); the same year Young, Tony Williams and John McLaughlin formed the seminal fusion group the Tony Williams Lifetime (which later added Jack Bruce, who had risen to fame as the co-founder, singer and bassist for the British power trio Cream). Young's popularity in the jazz world expanded to other musical genres, from R&B to rock (he would record with Jimi Hendrix and Carlos Santana). His son, Larry Young III, writes in his essay for the album book, "In the decades since his death, more and more people have discovered the magnitude of his contribution to all of the genres of music in which he was a creative and trailblazing force. My father truly lit a fire, which is still burning, although he has been gone for almost four decades. His music is still relevant and fresh."
Tracks include an over-20-minute version of "Zoltan" (dedicated to the Hungarian nationalist composer Zoltan Kodály), "Beyond All Limits" (which can also be heard on the Blue Note album Unity), other mid-'60s compositions by Young (including "Talkin' About J.C., " "Luny Tune" and the impromptu "Larry's Blues"), and much more.
Larry Young died at the tragically young age of 38 in 1978. Larry Young In Paris: The ORTF Recordings is a tribute to his memory and endorsed by the estate of Larry Young. It was produced Zev Feldman with executive producers George Klabin and Michael Cuscuna, with sound restoration by Fran Gala and Klabin.
Resonance Records continues to bring archival recordings to light. Some historic releases include the critically acclaimed 2015 Grammy Award-winning John Coltrane recording Offering: Live at Temple University (Best Album Notes Grammy, Ashley Kahn), Wes Montgomery's One Night In Indy, In the Beginning and Echoes of Indiana Avenue, Stan Getz & Joao Gilberto's Getz/Gilberto '76, Stan Getz's Moments in Time, Thad Jones/ Mel Lewis Orchestra's All My Yesterdays, Charles Lloyd's Manhattan Stories, and Bill Evans's Live at Art D'Lugoff's Top of the Gate. Located in Beverly Hills, Calif., Resonance Records is a division of the Rising Jazz Stars, Inc., a California 501(c)(3) non-profit corporation that operates the Rising Jazz Stars Foundation, which was created by George Klabin to discover and nurture the next jazz stars. Resonance Records artists include Richard Galliano, Polly Gibbons, Tamir Hendelman, Christian Howes and Donald Vega.
For more information on Resonance, its catalog of recordings and its artists, please visit: www.ResonanceRecords.org
TRACKS
Disc One
1. Trane Of Thought (6:46)
2. Talking About JC (14:53)
3. Mean To Me (4:12)
4. La Valse Girls (16:09)
5. Discotheque (10:43)
Disc Two
1. Luny Tune (4:36)
2. Beyond All Limits (7:36)
3. Black Nile (13:59)
4. Zoltan (20:31)
5. Larry's Blues (6:13)
Pre-order on iTunes and receive 4 tracks instantly: "Trane of Thought, " "Mean to Me, " "Luny Tune, " and "Beyond All Limits."
Source: Nestor