Keyboardist David Garfield to Release New Album "Stretchin' Outside The Box" on Sept. 27th, 2021 | LISTEN!
by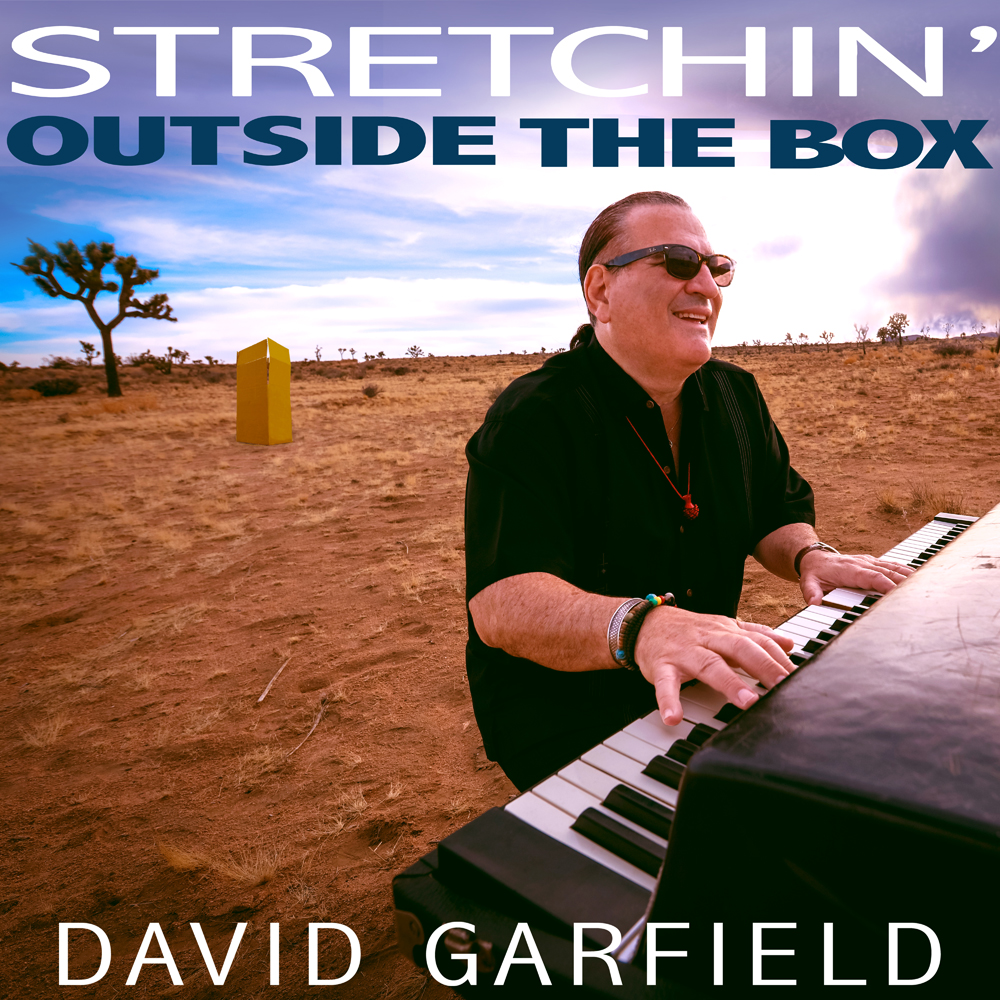 Keyboard wizard David Garfield set to release long-awaited star-studded double album 'Stretchin' Outside The Box' on September 27
Sixth and final installment in Garfield's Outside The Box series includes popular radio singles 'Sweetness,' 'Sir Charles,' 'Pirate's Cove' and 'Rainbow Seeker'
For Immediate Release – Contemporary jazz keyboardist and producer David Garfield is renowned as an in-demand touring and session musician, working over 30 years as George Benson's musical director.
For Garfield, the joy of music-making begins and ends with the opportunity to play with some of the finest musicians in the world. That's what his epic Outside the Box series is all about. For each project, Garfield collaborates with the best artists in the business. Together they create a mix of originals and fresh takes on classic songs that range from funk and fusion to contemporary and straight-ahead jazz.
Due out September 27, Stretchin' Outside The Box is the sixth and final installment in his Outside The Box series. Garfield says, "This one includes several singles that have been popular on the radio, such as 'Sweetness,' 'Sir Charles,' 'Pirate's Cove,' 'Rainbow Seeker' and 'I Won't Back Down.' It's a double CD with 24 songs and the emphasis is on 'stretchin' out,' so many of these tunes are unedited and full of inspired jamming. The music on this album is the closest to what I consider my comfort zone and it features tributes to Herbie Hancock and Joe Sample."
Gerald Albright, Eric Marienthal, Chuck Loeb, Marcus Miller, Kirk Whalum, Paul Jackson Jr., Rick Braun, the Brecker Brothers, Nathan East and many more are among the special guests. Backing musicians include a who's who of top session players, such as Steve Gadd, Greg Phillinganes, David Paich and others.
Stretchin' Outside The Box was mixed by contemporary jazz veteran Steve Sykes and GRAMMY-winning engineers Erik Zobler and Mick Guzauski. Parts of the project were recorded by the late Al Schmitt, one of the most successful recording engineers ever.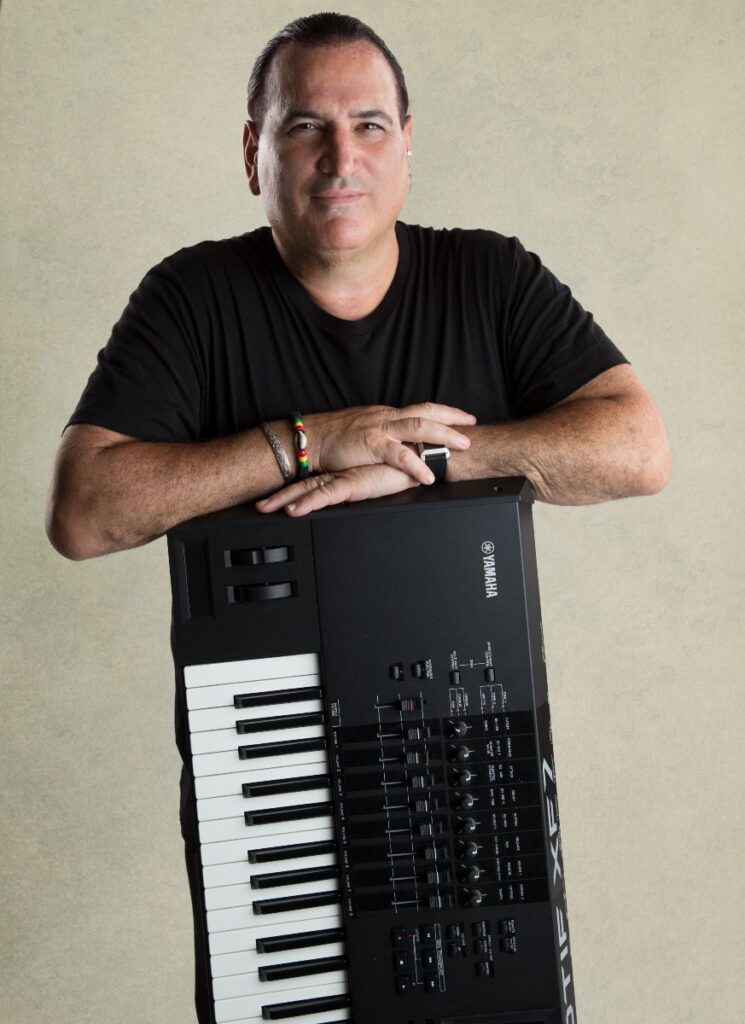 Stretchin' Outside The Box track listing:
Disc one
1. Waiting For Your Love (Extended) – dedicated to George Duke
Featuring David Paich, Greg Phillinganes, Joseph Williams, Ray Parker Jr., Amy Keys, Vinnie Colaiuta, John Peña, & Mike Finnigan
2. Safe Water – dedicated to all the children of the world
Featuring Tim Pierce, Larry Klimas, Harry Kim, Forrest Robinson, John Peña, & Chris Trujillo
3. I Won't Back Down (Instrumental) – dedicated to Tom Petty
Featuring Michael Lington, Tim Pierce, Paul Franklin, Tony Pulizzi, Chase Duddy, Chris Trujillo, Sam Porcaro, & Gussie Miller
4. Shufflin' – dedicated to my brother Stan
Featuring Michael Thompson, Oz Noy, Tim Pierce, Toshi Yanagi, Brent Mason, Paul Franklin, Dan Dugmore, & Shannon Forrest
5. Rainbow Seeker – dedicated to Joe Sample & Chuck Loeb
Featuring Chuck Loeb, Marcus Miller, Steve Jordan, Dean Parks, Tony Pulizzi, & Lenny Castro
6. Rocket Man – dedicated to Jerry Scheff
Featuring Jason Scheff, Steve Porcaro, Oscar Seaton, & James Harrah
7. Teen Town – dedicated to Jaco Pastorius
Featuring Will Lee, Nathan East, Abraham Laboriel, John Patitucci, Henrik Linder, Alphonso Johnson, Jimmy Earl, Jimmy Johnson, John Peña, Sean McNabb, Carlitos del Puerto, Ernest Tibbs, St. Paul Peterson, John King, Federico Malaman, & Andre Berry
8. Hunting Heads – dedicated to Herbie Hancock
Featuring Paul Jacskon Jr., Steve Tavaglione, 'Little' John Roberts, Alex Al, Munyungo Jackson, & Ron King
9. Lovin' You (Remix) – dedicated to the Reyes family
Featuring Lilliana de los Reyes, Walfredo Reyes Jr., Walfredo de los Reyes, Daniel de los Reyes, & Kamar de los Reyes
10. Winning Waves
Featuring Steve Tavaglione, Michito Sanchez, James Harrah, John Peña, & Gregg Bissonette
11. Pirate's Cove – dedicated to Freddie Hubbard
Featuring Eric Marienthal, Dan Fornero, Hussain Jiffry, James Harrah, Nick Lane, & Michito Sanchez
12. Tune for Tony (Extended) – dedicated to Tony Williams & Michael Brecker
Featuring Vinnie Colaiuta, Gregg Bissonette, Michael Brecker, Randy Brecker, Steve Lukather, Jimmy Johnson, & Will Lee
Disc Two
1. Prophecy (Extended) – dedicated to my sisters Joan and Ann
Featuring Vinnie Colaiuta, Steve Gadd, Eric Marienthal, Michael Landau, Cariltos del Puerto, Jimmy Johnson, & Lenny Castro
2. Pool Of Friendship – dedicated to Laszlo
Featuring Steve Tavaglione, Michito Sanchez, James Harrah, & Gregg Bissonette
3. Sweetness – dedicated to Claudia
Featuring Gerald Albright, Rick Braun, PauL Jackson Jr., Freddie Washington, David Williams, & Ricky Lawson
4. Sir Charles – dedicated to Vince Charles
Featuring Brandon Fields, Grant Geissman, Hussain Jiffry, John Ferraro, & Michito Sanchez
5. My Favorite Things (Extended) – dedicated to McCoy Tyner
Featuring Larry Klimas, Marty Ehrlich, Robert Greenidge, Terry Trotter, Richard Tokatz, Neil Stubenhaus, Curt Bisquera, Chuck Findley, Marvin Horne, James Jackson, Joey De Leon, & Charlie Bisharat String Quartet
6. Pool Of Friendship (Remix)
Featuring Steve Tavaglione, Michito Sanchez, James Harrah, John Peña, & Gregg Bissonette
7. Go Home (Jungle Mix) – dedicated to Stevie Wonder
Featuring Lenny Castro, Vinnie Colaiuta, Kirk Whalum, Paul Jackson Jr., Tony Maiden, Tim Weivaars, & Shawn Atkins
8. Cousin Vinnie – dedicated to Vinnie Colaiuta
Featuring Vinnie Colaiuta & David Paich
9. Creatchy Stomp OTB – dedicated to Jeff, Mike, & Joe Porcaro
Featuring John Peña, Steve Tavaglione, Paul Jackson Jr., Lenny Castro, & Bernard Purdie
10. Harvest Time (Electric Extended)
Featuring Eric Marienthal, Carlitos del Puerto, Michael Landau, Vinnie Colaiuta, & Richie "Gajate" Garcia
11. I Can Let Go Now (Instrumental) – dedicated to Michael McDonald
Featuring Steve Tavaglione, James Harrah, Andrew Ford, Chad Wackerman, & Charlie Basharat String Quartet
12. Remembering Carlos Vega – dedicated to Carlos Vega
Featuring Jonathan Lundberg, Bennie Rodgers ll, Gianlucca Palmeiri, Ulf Geist, Khari Parker, Oscar Seaton, James Jackson, Garin Poliahu, John "JR" Robinson, Gregg Bissonette, Jeff Olson, Abe Laboriel Jr., Vinnie Colaiuta, Gary Novak, Steve Gadd, & Jimmy Branly
David Garfield on the web:
Official Site: www.creatchy.com
Facebook: https://www.facebook.com/david.garfield.161
YouTube: https://www.youtube.com/user/CreatchyRecords
Twitter: https://twitter.com/creatchy
Chart Room Media