Blue Note Records to Release Legendary Afrobeat Drummer Tony Allen's Posthumous Album "There Is No End" on April 30th, 2021 | LISTEN!
by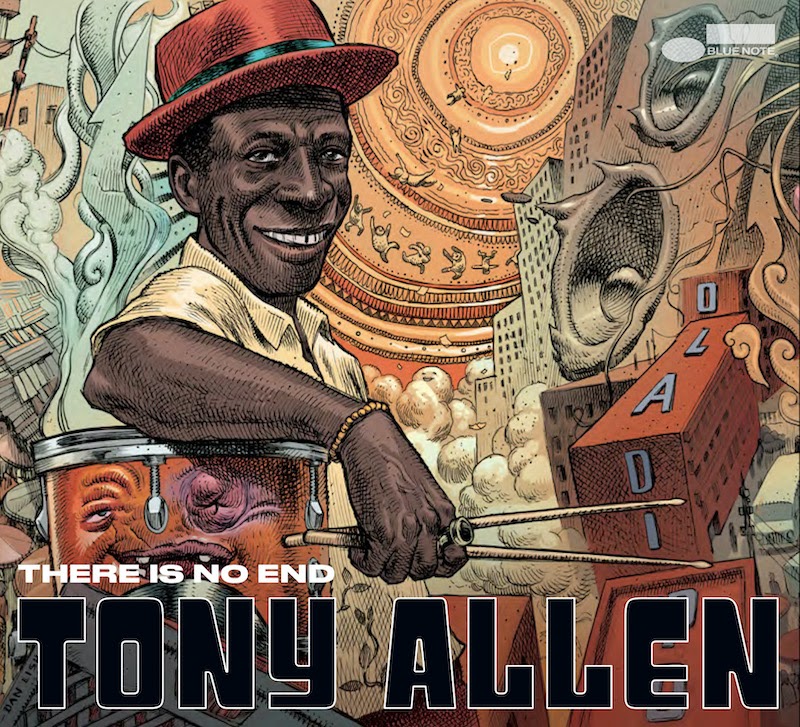 Blue Note Records Announces Posthumous
Tony Allen Album There Is No End
Out April 30th
New Full-Length From The Legendary Drummer Featuring
Guest Rappers and Singers Including Danny Brown,
Sampa The Great, Lava La Rue, and more
March 12, 2021: Blue Note Records announced There Is No End, a posthumous album from the legendary Afrobeat drummer Tony Allen, who died last year at the age of 79. Featuring guest rappers and singers including Sampa The Great, Danny Brown, Lava La Rue, and more, the new full-length will be released on April 30, 2021, the one year anniversary of Allen's death. The preorder launches today along with the first single "Cosmosis (ft. Skepta & Ben Okiri)."
Tony Oladipo Allen, who was born in Lagos, Nigeria, in 1940, never played a traditional instrument: right from the beginning, his interest was for a distant relative of the ancestral percussion family, namely, the drum kit. He taught himself, serving his apprenticeship while working as a technician for Nigerian national radio, all the time listening to records by American masters such as Art Blakey, Max Roach and Kenny Clarke, the eminent drummers of the bebop and hard bop eras.
His life changed totally in 1964 when he made the acquaintance of Fela Kuti, whom he would accompany for the next 15 years, first with Fela's Koola Lobitos, an emblematic highlife band that was a model for all modern African music groups, and then when Fela led Africa 70, for which he developed a new music language: Afrobeat, which combined Yoruba rhythms and funk instruments with themes of revolution. Alongside Fela, Tony recorded some 20 albums and put his rhythm-signature to each of them. From then on, Afrobeat would propel a career that saw him pursue his own projects while collaborating with everyone from Oumou Sangare to Damon Albarn. The language Allen created was as supple and pleasing to the ear as it was complex and difficult to decipher, moving with ease across the avant-garde of modern popular music on both sides of the Black Trans-Atlantic – from jazz to highlife, funk to electronica, hip hop to the full spectrum of African music and its American and European diasporas.
"I play yours, you play mine. The music never ends." The wisdom of Tony Allen's words was as deep as his grooves, and these two sentences truly capture the spirit of There is No End. Tony's motivating concept and desire was to work with younger artists, especially the new generation of rappers, and to give them a voice in a time of global turmoil when music has never been more important – not necessarily as a "weapon" for the future in the manner of Fela's violently political songs, but also as a medicine to heal a fractured world today.
There Is No End was produced by Tony Allen, Vincent Taeger, and Vincent Taurelle — Allen had produced and written all the album's beats back in 2019 alongside Taeger. In thinking back on the process of finalizing There Is No End without Tony physically present to guide them, Taeger remarked that his friend and mentor "was a teacher without speaking… a drummer and a guardian, with a great artistic vision and that vision filled the songs even after he had left us." Renowned Nigerian novelist and poet Ben Okri, like everyone else involved in this valedictory album, had a very similar experience, declaring in awe that "this man could have lived another 150 years and kept creating new worlds. He had become the master shaman of his art. He knew himself and his mind. He wanted the album to be open to the energies of a new generation… but like a great mathematician or scientist who found a code for a new world, with just a few beats, he created this extraordinary canvas."
"Cosmosis" came together just as Tony, Damon Albarn and Nigerian-British rapper Skepta had finished tracking their collaboration, "How Far?" for the Gorillaz 2020 album Song Machine, Season One: Strange Timez. Ben Okri wrote his lyrics as a tribute to Tony, to ask "How do you absorb a cosmos or integrate a cosmos, enrich a world, infiltrate in the highest possible way and change the mentalverse, the spiritverse; it's by cosmosis."
Tony Allen's singular talent didn't end when the music stopped. For all those who knew him, he was a deeply spiritual man whose life's mission was not just to create a new musical language, but to pass it on to subsequent generations. As he put it, "I'm just doing my best to please the universe. Life's a boomerang, you know? You create bad or good [and] it comes back to you." Right up to this, his last album, his thoughts were for the younger artists who continued to flock to him, especially in the fraught historical and political moment in which we live. "I want to take care of youngsters; they have messages and I want to bring them on my beat. The idea is to transmit to the young generation, to mix different universes – the hip hop world to the Afrobeat world."
Tracklisting:
1. Tony's Praeludium
2. Stumbling Down (feat. Sampa The Great)
3. Crushed Grapes (feat. Lord Jah-Monte Ogbon)
4. Très Magnifique (feat. Tsunami)
5. Mau Mau (feat. Nah Eeto)
6. Coonta Kinte (feat. Zelooperz)
7. Rich Black (feat. Koreatown Oddity)
8. One Inna Million (feat. Lava La Rue)
9. Gang On Holiday (Em I Go We?) (feat. Jeremiah Jae)
10. Deer In Headlights (feat. Danny Brown)
11. Hurt Your Soul (feat. Nate Bone)
12. My Own (feat. Marlowe)
13. Cosmosis (feat. Ben Okri & Skepta)
14. There's No End
Missing Piece Group