Documentary "CHICK COREA: IN THE MIND OF A MASTER" Premieres Dec. 1st, 2019 on Scientology Network
by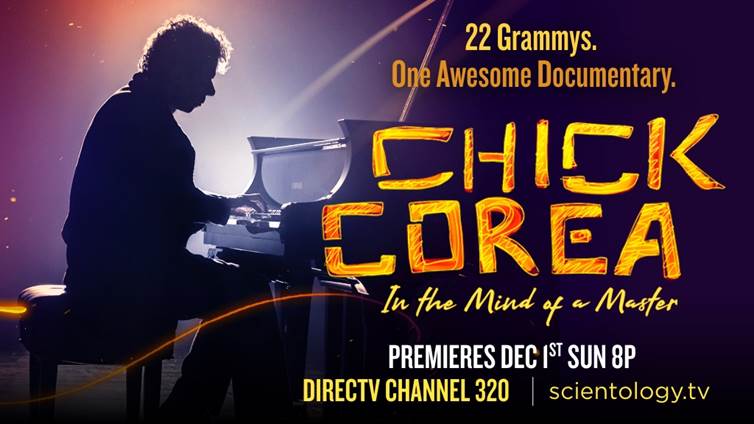 CHICK COREA: IN THE MIND OF A MASTER
Premiere Date: Sunday, December 1, 8pm
Scientology Network, DIRECTV Channel 320
https://found.ee/ChickCoreaSpecialtv
The documentary CHICK COREA: IN THE MIND OF A MASTER presents an unparalleled and coveted front row seat to witness the creative process of the 22-time GRAMMY Award® winning artist while he writes and arranges his new album Antidote, which just received a GRAMMY nomination for Best Latin Jazz Album. Chick Corea is joined by The Spanish Heart Band, a stellar new group of international musicians he collaborates with and draws inspiration from. The one-hour documentary covers seminal moments in Chick's life including his earliest memories at the piano to milestones in his career including working with the likes of legends Miles Davis and Stan Getz. The documentary is filmed predominantly at the famed Mad Hatter Studios, the same Los Angeles studio where Paul McCartney, Prince and legions of music royalty have recorded.
An iconic instrumentalist, composer and bandleader, Chick is a world-renowned jazz musician with an awe-inspiring command of the piano. Chick's body of work, however, defies such conventional and narrow classification. Having pioneered the category of jazz fusion, Chick is without a doubt one of the most prolific, influential and legendary musicians of all time. Chick's genius has touched upon a wide range of musicians across all genres; from Sting and The Police to Bobby McFerrin. The Spanish Heart Band is comprised of some of the leading jazz and flamenco musicians from the US, Spain and Latin America: Flamenco guitarist Niño Josele and saxophonist/flutist Jorge Pardo both hail from Spain; Cuban bassist Carlitos Del Puerto; Venezuelan percussionist Luisito Quintero; Americans Michael Rodriguez on trumpet, Steve Davis on trombone and Marcus Gilmore on drums. "Antidote" also includes the percussive footwork of flamenco dancer Nino de los Reyes. Rounding out the ensemble are special appearances by singer Gayle Moran Corea and the incomparable Latin jazz vocalist and 8-time GRAMMY Award®, Rubén Blades.
The recording process, as Chick relates, is an adventure all its own, with new compositions and fresh interpretations of some of his own classics and personal favorites from other composers, including Paco de Lucia, Antônio Carlos Jobim, and Igor Stravinsky. Some of the album's musical sketches take unexpected twists and turns as each member of the band contributes their unique artistic talents to create some of the most dynamic and breathtaking music of Chick's storied career.
On Tuesday, November 26, the GRAMMY Museum will host Chick Corea for a special screening of his new documentary film and a conversation moderated by Scott Goldman.
For tickets and more information: https://found.ee/ChickCoreaGrammy26
Concord Records