Tenor Saxophone Legend George Coleman to Release New Album "The Quartet" on Sept. 27th, 2019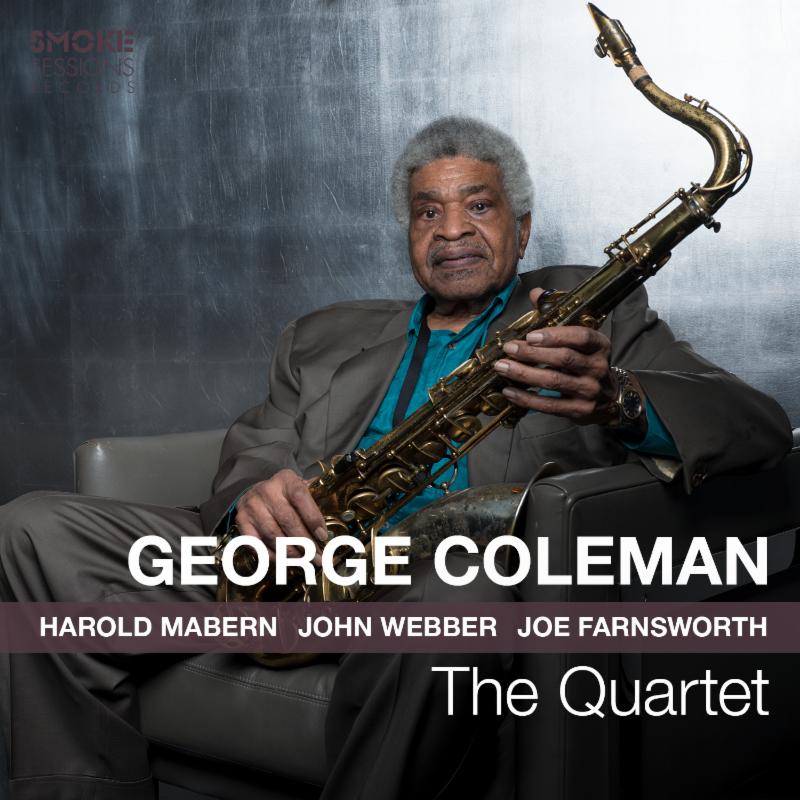 Tenor Saxophone Legend George Coleman Finally Leads Longstanding Group into the Studio on Majestic New Album, Showcasing Two Decades of Scintillating Chemistry
The Quartet, out September 27 via Smoke Sessions Records, Teams the NEA Jazz Master with Harold Mabern,
John Webber & Joe Farnsworth
Album Release Performances at
Smoke Jazz and Supper Club: October 17 – 19
NEA Jazz Master George Coleman has been involved with notable bands throughout his remarkable career. As a leader, he's worked with such estimable players as Ray Drummond, Billy Higgins, Mike LeDonne, Bob Cranshaw, Hilton Ruiz and Sam Jones. As a sideman, Coleman has wielded his powerful tenor alongside such legendary artists as Miles Davis, Max Roach, Elvin Jones, Lee Morgan, Herbie Hancock, Charles Mingus, Cedar Walton, and B.B. King, among many others.
So when the saxophone giant christens an album The Quartet, those two simple words speak volumes about the esteem in which he holds the musicians that make up his band. Coleman's latest album, due for release September 27 on Smoke Sessions Records, more than backs up that typically understated compliment with a captivating session of bristling swing, lively interplay and deep communication.
That fact isn't particularly surprising considering the musicians involved. On this all-too-rare excursion into the studio, Coleman is joined by pianist Harold Mabern, with whom the 84-year old master shares an almost lifelong relationship, bassist John Webber, and drummer Joe Farnsworth. This quartet has been sharing the bandstand for the better part of two decades, though this release marks their debut recording as a unit. That fact alone lends considerable heft to that seemingly straightforward title.
Coleman and Mabern share roots in the fertile musical soil of Memphis, Tennessee, and have known each other since their days in high school studying under swing-era saxophonist Jimmie Lunceford. The two have been recording together sporadically for more than 50 years, ever since Mabern's 1968 debut A Few Miles From Memphis.
"We've kept that connection through the years," Coleman says. "We're still alive and halfway healthy, and there's a certain amount of maturity that we've developed through the years. He and I share a lot of experience and knowledge."
The rhythm section's profound chemistry can hardly be overstated; in addition to their work with Coleman, the three have logged countless hours on stage under Mabern's leadership and as a quartet with saxophonist Eric Alexander. "I've had some great people in my quartets over the years," Coleman says. "These guys are all great musicians. I don't have to rehearse with them; we just get on the stand and play, and they keep their ears open."
The Quartet is Coleman's second release for Smoke Sessions, following 2016's acclaimed quintet outing A Master Speaks. That title could apply to any number of releases throughout the tenor great's breathtaking career; a man of few words, he's stunningly eloquent when he lifts his horn to his lips.
That's evident when one considers the landmark albums on which Coleman has been a key player over the last 60 years: Miles Davis' Seven Steps to Heaven, Herbie Hancock's Maiden Voyage, Booker Little and Friend, Charles Mingus' Three of Four Shades of Blues, Lee Morgan's City Lights, and Cedar Walton's masterpiece Eastern Rebellion, along with great album's by a who's who of jazz masters: Max Roach, Chet Baker, Jimmy Smith, Jack McDuff, Elvin Jones, Ahmad Jamal, Johnny Hartman, Slide Hampton, and on and on.
The Quartet adds a new chapter to that considerable discography, one that reflects the wealth of experiences and encounters that George Coleman has enjoyed over the decades. Most importantly it captures a stellar band at the height of its powers, a tantalizing glimpse of an extraordinary quartet only previously enjoyed by those who've been awestruck by seeing them in person.
DL Media