Jazz Singer Vivian Lee Releases New Album "Let's Talk About Love" | LISTEN TO NEW MUSIC! | Announces Tour Dates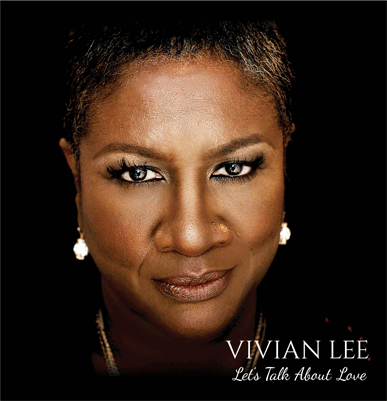 Vivian Lee New CD
"Let's Talk About Love" +
Upcoming Live Appearances
Backed by an empathetic rhythm section, the vocalist shines on an amalgam of haunting ballads and swinging standards.
Vivian Lee-vocals, Brenden Lowe – piano, Joe Gilman – piano (Track #3,) Buca Necak – bass, Jeff Clayton – alto sax (Track #6),, Jeff Minnieweather – drums
http://www.vivianleejazz.com
Vivian Lee is a musical raconteur. An evocative vocal instrument and impressive technique are certainly part of her package, but the jazz singers we prize are musical storytellers. On "Let's Talk About Love," Vivian Lee spins eleven memorable tales. Ms. Lee and her musical collaborators, including pianists Brenden Lowe and Joe Gilman, bassist Buca Necak, and drummer Jeff Minnieweather, offer the type of cohesive, group interplay that only comes from playing together on a consistent basis. When that happens, it's as if the musicians are breathing in sync. Accordingly, the rhythm section provides the perfect magic carpet for Ms. Lee's musical peregrinations. She has been recognized as one of the premiere jazz artists in Sacramento and this recording shows why audiences so appreciate her talent.
As always, Vivian focuses on standards from the great American songbook. Here, the program is love, plain and simple. Keeping with the many aspects of love theme, but off the standards tracks, she includes notable exceptions: "Bein' Green," from Sesame Street and Bill Evans' jazz classic, Waltz for Debby.
Ms Lee certainly knows the meaning of swing, and it's out front on the Bachrach/David's "Wives and Lovers." The track is driven by the swinging, perfectly in sync interconnection of the musicians. On "Before We Fall in Love," music by John Clayton (the bassist), lyrics by Alan and Marilyn Bergman, a more, gentle swing emerges as Vivian urges us not to rush into the one thing we all seek. On "Some Other Time," a luscious ballad, music by Leonard Bernstein, lyrics by Betty Comden and Adolph Green she laments not having enough hours in the day to spend with the one she loves. On "Secret Love" she reveals her love is a secret no more her vocal is joyful, celebratory and tangible. Jazz listeners prize Ella Fitzgerald's rendition of "You Turned the Tables on Me," and it's her phrasing that we love. Once again, Vivian's phrasing and the way she articulates the notes comes from that deep well of emotional reserve. Clayton brother Jeff guests on Johnny Mandel's memorable ballad, "Emily," with lyrics by Johnny Mercer. George Gershwin's "The Man I Love," another medium tempo swinger, finds Vivian looking for love, wondering what could be. The pace quickens with "Out of Nowhere," which also showcases pianist Brenden Lowe's up-tempo chops. "Didn't We" provides a platform for Ms. Lee's musical meditation. She returns to a more joyful perspective on Bill Evans' "Waltz for Debby," with lyrics by Gene Lees, true jazz classic. "Bein' Green," from Sesame Street, is wrapped in poignancy. But it also strikes a blow for being unique, which ain't easy, whether you're a frog, or just an ordinary guy.
The musical artistry of Vivian Lee is far from ordinary. On "Let's Talk About Love," we learn she's truly a singer's singer, with her own unique emotional approach to love and how to express it.
Saturday September 29 – Scarlett Productions presents Jazz at the Buddhist Church 1401 Riverside Blvd, Sacramento – The Blues and the Abstract Truth – Rick Shaw Septet with guests Vivian Lee Quartet, 6-9pm, $25 general admission. $10 students w/ID (night of)
Saturday October 20 – Red Tie Arts and the McHenry Museum – Vivian Lee Quartet – details TBA
Monday December 3 – Sacramento Jazz Coop presents – Vivian Lee Quartet Holiday Concert – Masonic Temple, 1123 J St, Sacramento 7-9, $25
Jazz Promo Services