Jazz Group The Yellowjackets Return with New Album "Raising Our Voice", with Vocalist Luciana Souza, on Sept. 14th, 2018 | WATCH NEW VIDEO!
by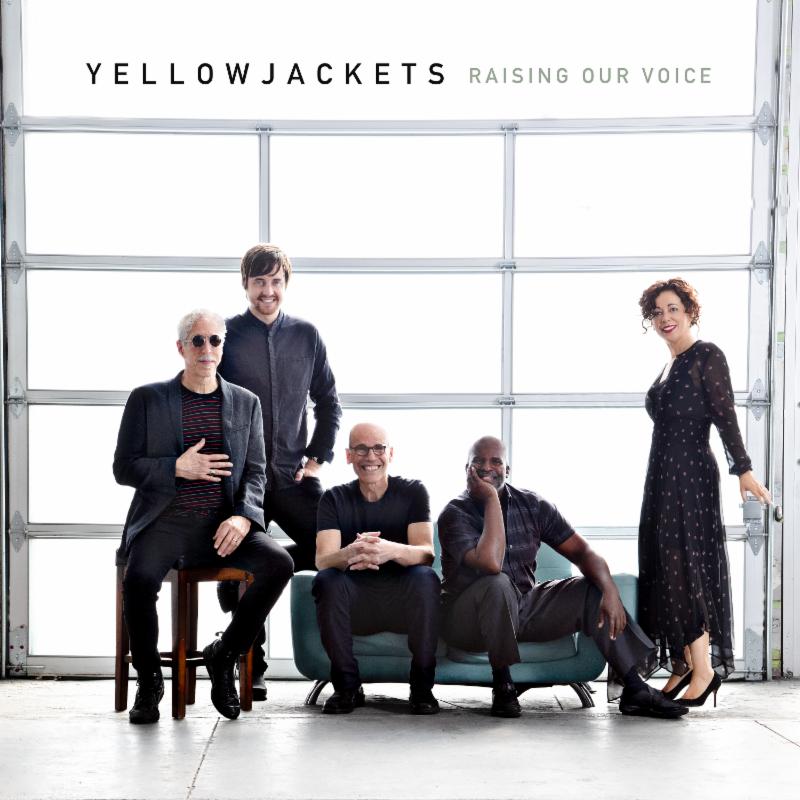 GRAMMY® Award-winning Yellowjackets
Return with New Album & Collaboration
with Vocalist Luciana Souza
Raising Our Voice
Available September 14 on Mack Avenue Records
UPDATE: Sept 17th, 2018: WATCH Official Music Video for single "Solitude" below!
While the Los Angeles-based Yellowjackets have been a creative force on the jazz scene since 1981 when they recorded their eponymous debut, their fourth Mack Avenue Records album, Raising Our Voice, once again ups the ante with bold new strides by inviting vocalist extraordinaire Luciana Souza to collaborate with the group for seven of its thirteen tunes as well as subtly taking a resistant stand against the status quo of the cultural and political undercurrent of our times.
The Yellowjackets have consistently forged ahead in their evolving artistic statements. The band has recorded close to 30 albums, been nominated for 17 GRAMMY® Awards, and has adventurously amplified the eclectic, electro-acoustic soundscape, creating a unique jazz sound since its fusion beginnings.
"The band keeps moving forward," says saxophonist Bob Mintzer who joined the group in 1990. "It's one of the few partnership bands in the last four decades. It's democratic, laissez-faire and accommodating to everyone in the band to contribute. We're constantly reinventing ourselves as a reflection of what's happening in the world."
The Jackets are comprised of pianist/keyboardist/co-founder Russell Ferrante, bassist Dane Alderson in his second recording with the group and drummer Will Kennedy, who joined the band in 1987 and then in 2000 took a 10-year hiatus before returning to the drum chair. As a relative outsider, Souza contributes wordless vocals as well as songs sung in Portuguese and English. She was quickly won over by the band.
"They're killers," she says. "They're so serious yet also so much fun. We laughed a lot during the sessions. Their curiosity is alive, and their joy is to make great music. I was originally going to just do three songs, but it ended up that I'm on over half the record."
The collection features three old Yellowjackets tunes arranged for a fresh ride with Souza's contributions, two co-writes with Ferrante and Souza, three new originals each for Ferrante and Mintzer, and Alderson's first original piece for the band along with two short electronics interludes.
Unlike the last album, 2016's Cohearence, where the music was toured before the studio recordings, Raising Our Voice grew organically from the collaborative nature of the sessions. "There was a gap between the last album and this one," says Ferrante. "We hadn't been playing a lot live, so most of these tunes came alive in the studio and were sparked by the electricity and chemistry with Luciana."
Kennedy adds, "This is the album where we were the least prepared for the writing and rehearsals. It was a bit of a cram. But that gave it an excitement. And then Luciana, who came in at the last moment, was a great discovery for bringing her talents as a gift to the band."
The Ferrante and Souza collaboration began years earlier when talking about working together. "As they were thinking of the next album, Russ came to the house and we went into my studio and we talked," explains Souza. "He played some music and I sang along, and it was very sweet and unguarded."
"We looked through some music that had a Brazilian feel to it," Ferrante says. "We chose songs that lyrically fit her musicality."
"It's a different and unusual snapshot of where the Yellowjackets are today," says Kennedy. "We're getting older, but we're still inspired and listening."
Mintzer sees a bright future for the Yellowjackets. "What attracts me about the group is how stylistically broad we are," he says. "There are no barriers. We're free to try new things without making the music overly complex. I always say this is the band you always wanted to be in. We'll see where we go next."
Yellowjackets · Raising Our Voice
Mack Avenue Records · Release Date: September 14, 2018
DL Media