Hall of Fame Vocalist Larnelle Harris Honored at 83rd Annual National Convention of Gospel Choirs and Choruses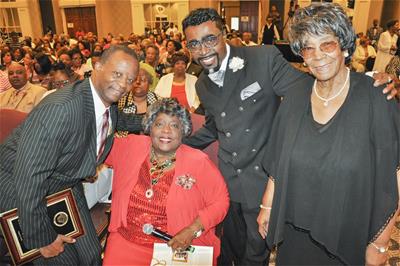 Hall of Fame vocalist honored at 83rd Annual National Convention of Gospel Choirs and Choruses
(Pictured L to R: Larnelle Harris: Dr. Marabeth E. Gentry, NCGCC National President; Rev. Dr. Derrick E. Roberts, NCGCC Chairman of the Board; Dr. Bessie M. Palmer, 2nd Vice President and Host President)
Louisville, KY — Hall of Fame vocalist Larnelle Harris was honored with a Heritage Award from the National Convention of Gospel Choirs and Choruses (NCGCC) at their 83rd annual convention in Harris' hometown of Louisville, Kentucky. Harris says it was a humbling experience.
"The NCGCC has a long and storied history," said Harris. "I was most grateful for the recognition, and privileged to be part of their event."
Harris is the only person in history to be a member of three distinct Hall of Fame organizations: the Gospel Music Hall of Fame, the Kentucky Music Hall of Fame and the Amateur Radio Hall of Fame. In addition to his five Grammy Awards and 11 Dove Awards, including being named Male Vocalist of the Year three times by the gospel music industry, Harris has garnered nineteen #1 national radio singles and countless top 10 hits. Songs such as "How Excellent Is Thy Name," "I Miss My Time with You," and his signature song, "Amen," are now considered modern Christian music classics.
From the White House to the 38th Parallel, Harris has impacted audiences across the globe with his music. He was the first gospel artist to perform inside the Kremlin after the fall of the Soviet Union. He is one of a handful of celebrities to receive the Ad Council's Silver Bell Award for Distinguished Public Service in recognition of his song "Mighty Spirit" as the theme song for the longest-running Public Service Announcement in television history. Harris was recently honored by his home state of Kentucky with the Governor's Lifetime Achievement Award in the Arts.
Married to wife Cynthia (a.k.a. Mitzy) for over 44 years, Harris continues to tour worldwide, recently performing at the National Day of Prayer event in Washington D.C., New York's Carnegie Hall, as well as in Paris, France. In addition to his numerous solo dates, Harris also travels with various multi-artist tours. For more information, visit www.Larnelle.com.
###
About National Convention of Gospel Choirs and Choruses:
The NCGCC was founded by Professor Thomas A. Dorsey, who is affectionately known as the Father of Gospel Music. The first Gospel choral union was organized in Chicago in 1932, and Dorsey was elected president. On August 30, 1933, at the Pilgrim Baptist Church in Chicago, the National Convention of Gospel Choirs and Choruses was organized and held its first session. Every feature of the annual National Convention of Gospel Choirs and Choruses was designed for the betterment of the Christian singer, instrumentalist, educator or leader; geared toward enabling the prepared Gospel ambassador; and purposed for the individual to be spiritually motivated to live the message of the Gospel song. Today, led by its President, Dr. Marabeth E. Gentry, and Rev. Dr. Derrick E. Roberts, Chairman of the Board. the NCGCC continues to expand the reach of Gospel music. Visit www.NCGCCInc.com for more information,
Adams PR Group