Bassist Brian Bromberg to Release New Album "Full Circle" on March 25th, 2016
by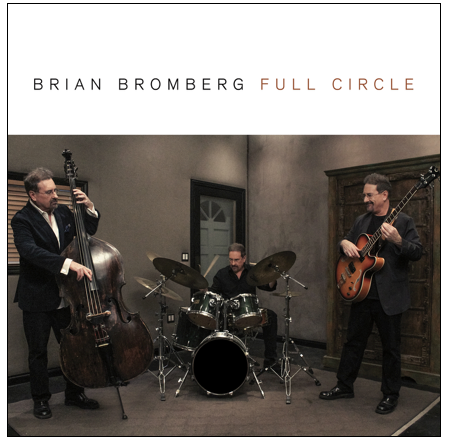 Multi-Instrumentalist Brian Bromberg Returns
to His Roots of Acoustic Jazz With Sentimental
Tribute To His Father on Full Circle
Available March 25, 2016 on Mack Avenue Records
​World-renowned acoustic and electric bassist Brian Bromberg hasn't released an album in the U.S. since 2012, a fact that might not have been cause for concern if you know that at one point he released three albums in one year. Every man deserves a break. However, once you realize that this chameleon with over 20 projects in his catalog recently had reason to believe that he might never play music again, you understand the gravity of his latest acoustic jazz project, Full Circle – one he says may well be "the most important record of my career."
Like all of his work, Bromberg's latest features a stellar cast that includes trumpeter Arturo Sandoval, saxophonists Bob Sheppard, Kirk Whalum and Doug Webb, pianists Randy Waldman, Mitch Forman and Otmaro Ruiz, and percussionist Alex Acuña. The project also finds 'the man that refuses to sit still' mixing styles from New Orleans funk and a legit jazz cover of Michael Jackson's "Don't Stop `Til You Get Enough" to Cubop – with a sizzling relentless swing throughout. But the aspects that make this project resonate deeper than anything Bromberg's done prior boils down to a series of life changing events, career firsts and the magic of today's technology meeting mediums of old.
A freak accident that Bromberg had at his home a couple years ago resulted in him breaking his back in two places with severe trauma. The fall nearly debilitated him requiring extensive rehabilitation to stand and walk, let alone cradle an upright bass properly or strap an electric bass on his back. Through sheer intestinal fortitude, exhaustive work, and the love and support of the woman in his life, Bromberg made an amazing recovery. When he did, a familial spirit guided him to make an album that returned him to his roots in acoustic jazz. That spirit is that of his father, Howard Bromberg, a once-busy drummer in Tucson, Arizona (where Bromberg was born) who inspired both his sons to play drums as well.
Full Circle opens and closes with the tunes "Jazz Me Blues" and "Washington & Lee Swing" that were originally recorded by the senior Bromberg with a band of friends onto a one off acetate. Spiritually moved by a desire to play with his late father – something he never got to do when he was alive due to a stroke he suffered just when Bromberg became proficient on bass – he copied the platter with a USB turntable, had the file cleaned up at Oasis Mastering then overdubbed himself in his home studio playing bass in his dad's old quintet.
"A few really amazing things happened to me when I was recording those tracks with my father; those tracks originally were recorded before I was born, so it was such a trip playing with my Dad before I was even on this planet! When I was playing with him I realized at that moment where I got my time feel and swing from, it was effortless to play with him, mind blowing actually. I guess the experience that inspired the whole concept of this album was feeling his time feel and swing inspired me to start playing drums again, because it felt so good."
That sentimental journey inspired Full Circle. Bromberg seamlessly laid down rhythm tracks for bass, drums and "guitar" (the latter facilitated by playing melodies and solos on the higher pitched piccolo bass) on every song. As a bassist, Bromberg playing the piccolo bass with his fingers affords him a unique sound (much like guitarist Stanley Jordan ) from the majority of guitarists that play using picks.
"That's where the 'Full Circle' concept came around. I didn't know if I was ready to do it but, spiritually, I felt that my father wanted me to do it and to do it now."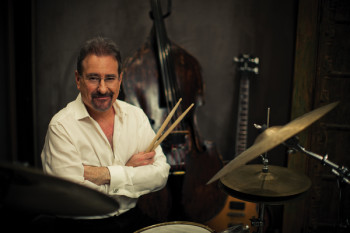 Photo Credit: Raj Naik
Breaking down his methodology, Bromberg shares, "When I wrote the tunes, I made demos with swinging drum samples that I programmed just to hold down time, and then I played reference piccolo bass parts and regular bass parts to make a musical foundation. Then I had the piano players come over and I'd play drums live with them for interaction. The point is, by the time I played drums to it, I had good swinging bass parts to lock my drum parts to or vice versa. I added all my piccolo bass (and the horn players' solos) last. I'm proud that I don't sound like 'a good drummer for a bass player.' It doesn't sound overdubbed and the feel of the pocket is righteous. Because I don't have the facility of a drummer that's played for 45 years, there's more space than a normal drummer would leave which gives it a unique sound."
"This album is just a swinging, in your face traditional jazz album with simple tunes that are easy to sing along with and remember, but have a foundation in hardcore "real" jazz." Bromberg concludes. "I hope people enjoy this album for what it is and what it means to me vs. judging it for what it's not."
Brian Bromberg • Full Circle
Mack Avenue Records • Release Date: March 25, 2016
For more information on Brian Bromberg, please visit BrianBromberg.net
DL Media