Blue Note Records to Release Compilation Benefit Album "Detroit Jazz City" on Dec. 4th, 2015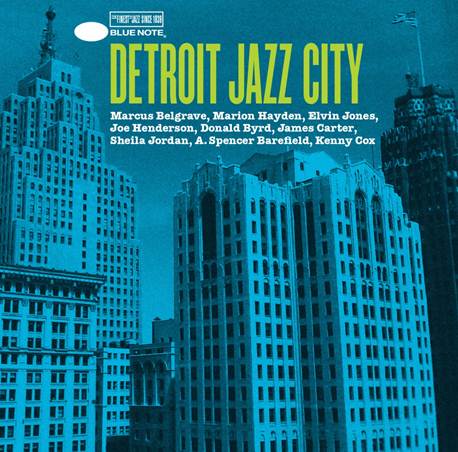 BLUE NOTE ANNOUNCES DEC. 4 RELEASE OF BENEFIT ALBUM
DETROIT JAZZ CITY
COMPILATION ALBUM SIMULTANEOUSLY PAYS TRIBUTE TO
THE PAST & PRESENT OF ONE OF AMERICA'S GREAT JAZZ CITIES
WHILE BENEFITING THE ORGANIZATION FOCUS: HOPE
Blue Note Records has announced the December 4 release of Detroit Jazz City, a compilation album that simultaneously spotlights the past and present of one of America's great jazz cities while also serving as a benefit album for the organization Focus: HOPE. All proceeds from the album will be donated to Focus: HOPE to aid in their on-going pursuit of intelligent and practical solutions to the problems of hunger, economic disparity, inadequate education, and racial divisiveness in Southeastern Michigan. Detroit Jazz City is available for pre-order today on CD or digital download.
Detroit Jazz City was produced by one of Detroit's native sons, Blue Note Records president Don Was. Was assembled the album by selecting catalog tracks by Detroit-born jazz legends from the Blue Note vaults, and alternating them with new recordings that he produced featuring many of the city's current jazz elite including vocalist Sheila Jordan (who recorded her debut album Portrait of Sheila for Blue Note in 1962), bassist Marion Hayden, saxophonist James Carter, guitarist Spencer Barefield, and the recently departed trumpeter Marcus Belgrave whose beautiful track "Lottie The Body's Mood" is available today on streaming services ahead of the album's release. The new recordings were made in the lead up to the 2012 Concert of Colors where the artists were featured as part of the festival's long-standing Don Was Detroit All-Star Revue.
The catalog tracks on Detroit Jazz City represent not only well-known Detroit-born jazz artists like Joe Henderson, Donald Byrd and Elvin Jones who left Detroit to become pacesetters on the New York City jazz scene, but also less famous musicians like the pianist Kenny Cox, who after spending several years in NYC in the mid-1960s returned home to Detroit where he remained a fixture of the local scene as a performer, professor, WDET radio personality and founder of Strata Records.
"All of us at Blue Note Records are excited by this opportunity to shine a light on the rich musical legacy of Detroit and on Focus: HOPE who have done so much to help the city's less fortunate residents," says Was. "The generosity of everyone involved—from the musicians to the Universal and Capitol Music Groups—makes a very powerful statement about the potential of great music to impact lives on a grass roots level."
The track listing for Detroit Jazz City is as follows:
1. Marion Hayden – The Uncrowned King
2. Kenny Cox – You
3. James Carter – Many Blessings
4. Joe Henderson – Mode for Joe
5. Marcus Belgrave – Lottie The Body's Mood
6. Elvin Jones – Reza
7. Spencer Barefield – Ghost Dancers
8. Donald Byrd – French Spice
9. Sheila Jordan – Sheila's Blues
ABOUT FOCUS: HOPE
Focus: HOPE is a nationally recognized civil and human rights organization founded in 1968 after the Detroit riots. Throughout the years, Focus: HOPE has developed numerous programs in its efforts to overcome racism, poverty and injustice, including food, career training, and community development programs. Through Focus: HOPE, thousands of individuals – especially women and minorities — have achieved financial independence. For more information, visit www.focushope.edu.
Blue Note Records