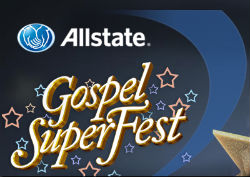 Allstate Gospel Superfest Announces
Return to Chicago in 2015!

J. Moss, Rance Allen Group, Vanessa Bell Armstrong
Ricky Dillard, Dorinda Clark-Cole
set to headline 16th Annual Recording Session

Chicago, IL – November 21, 2014 – Unity Media Limited, the producers of the Allstate Gospel Superfest, announced today that it will return to the city of Chicago for its 16th Annual Allstate Gospel Superfest television extravaganza. The super-show will return to Chicago's House of Hope Arena with a star-studded array of performers, hosts and presenters that resemble a made in Hollywood presentation.