Saxophonist Joshua Redman to Release New Album "where we are" on Sept. 15th, 2023 | WATCH NEW VIDEO for New Single "Chicago Blues"!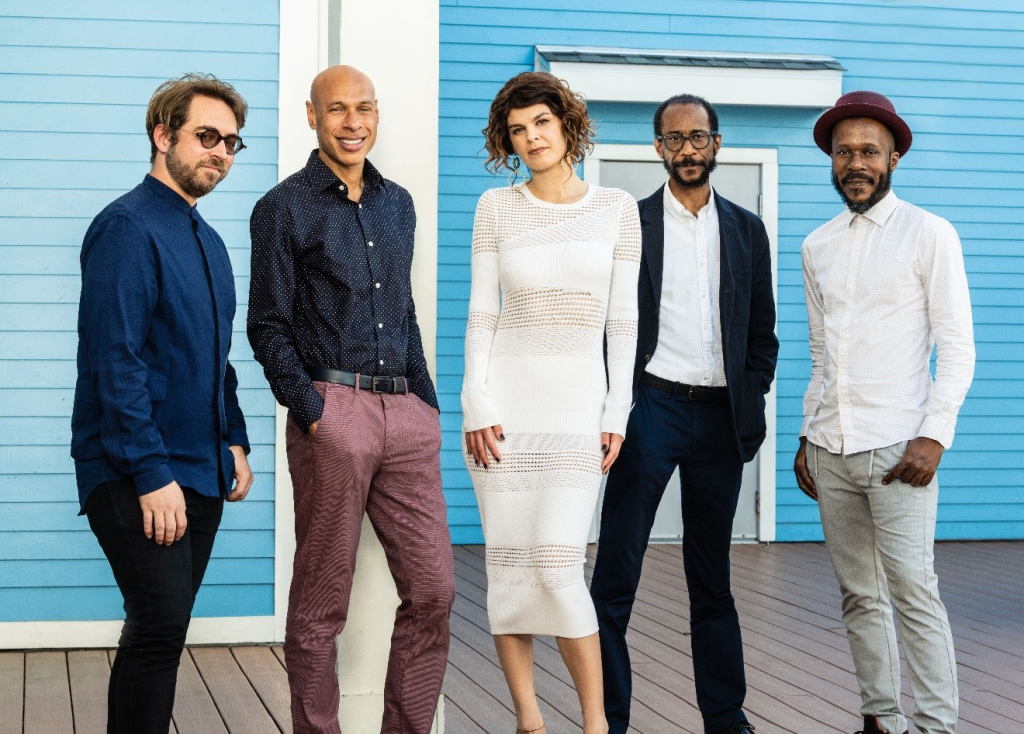 JOSHUA REDMAN ANNOUNCES SEPT. 15 RELEASE
OF HIS STUNNING BLUE NOTE RECORDS DEBUT
where are we
ACCLAIMED SAXOPHONIST'S FIRST-EVER VOCAL PROJECT
IS A MUSICAL JOURNEY ACROSS THE U.S.A.
FEATURING VOCALIST GABRIELLE CAVASSA
WITH AARON PARKS, JOE SANDERS & BRIAN BLADE
PLUS SPECIAL GUESTS JOEL ROSS, NICHOLAS PAYTON,
KURT ROSENWINKEL & PETER BERNSTEIN
UPDATE Sept. 20th, 2023: Watch Official Music Video for New Single "Chicago Blues" (Live)!
Acclaimed saxophonist Joshua Redman has announced a September 15 release date for his stunning Blue Note debut where are we. One of his most compelling albums to date, where are we is a musical journey across the United States of America that also marks Redman's first-ever vocal album with the dynamic young singer Gabrielle Cavassa featured throughout along with a brilliant band comprised of pianist Aaron Parks, bassist Joe Sanders, and drummer Brian Blade.
where are we is available for pre-order now on Blue Note Store exclusive color vinyl, black vinyl, CD, and digital download. Listen to the lead single "Chicago Blues"—a mash-up of Count Basie's "Goin' to Chicago" with Sufjan Stevens' "Chicago"—featuring vibraphonist Joel Ross. Redman will be touring the project across the U.S. and Europe following the album's release. Stay tuned to joshuaredman.com for touring updates.
Redman notes that "the surface concept of where are we is rather simple: each of the songs on the album is about, or at least makes reference to, a specific geographical location (city or state or region) in the United States: Bruce Springsteen's 'Streets of Philadelphia,' Count Basie's 'Going To Chicago,' Rodgers & Hart's 'Manhattan,' John Coltrane's 'Alabama,' etc… So, on one level, this is an album 'about' America — at once a celebration and a critique. But it is also, to varying degrees, a ballads album, a standards album, an album of romantic longing, an album of social reflection, an album of melodic invention, an album of improvisational adventure, an album of mashups, perhaps even a tribute album of sorts."
For added perspective, Redman invited four other friends to contribute to the portraits of their native cities: guitarists Kurt Rosenwinkel ("Streets of Philadelphia") and Peter Bernstein ("Manhattan"), trumpeter Nicholas Payton ("Do You Know What It Means to Miss New Orleans?"), and Ross ("Chicago Blues"). Conceived and planned during the pandemic lockdown, Redman says "it was a dream come true to finally have a chance to connect Aaron, Joe, and Brian — three of the most sublimely lyrical and deeply grooving musicians on the planet, who, somehow, had never before played together as a rhythm section. And it was a transformative experience to collaborate with Gabrielle — a vocalist of uncommon style, sincerity, and soul. This was my first time ever recording with a singer on one of my own projects; and I relished the challenge of discovering and inhabiting new musical roles for myself — not only as a featured soloist and 'lead,' but also as supportive accompanist and interlocutor."
"The magic of this particular gathering of musicians," Redman continues, "was that we were able to come together from points afar, to converge (physically and creatively) in a particular place at a particular time; and to embrace, with fullest imagination and without slightest reservation, the ethic of 'serving the songs.' In this sense, where are we is perhaps above all a meditation on the power and importance of place — the unique human beauty created when we locate ourselves in shared physical spaces together with others; the loss, anomie, and angst suffered when we divide ourselves unnaturally and unjustly apart."
Photo Credit: Zach Smith
The track listing for where are we is as follows:
Side A
1. After Minneapolis (face toward mo[u]rning)
Lyrics written by Joshua Redman, Music written by Joshua Redman and Woodie Guthrie
2. Streets Of Philadelphia
Written by Bruce Springsteen
3. Chicago Blues
Written by Count Basie, James Rushing, Sufjan Stevens
Side B
1. Baltimore
Written by Gabriel Kahane
2. By The Time I Get To Phoenix
Written by Jimmy Webb
Side C
1. Do You Know What It Means To Miss New Orleans?
Written by Eddie DeLange and Louis Alter
2. Manhattan
Written by Lorenz Hart and Richard Rodgers
3. My Heart In San Francisco (Holiday)
Written by Joshua Redman, Douglass Cross, George Cory, Thelonious Monk
4. That's New England
Written by Joshua Redman, Charles Ives, James Sinclair
Side D
1. Alabama (intro)
Written by John Coltrane
2. Stars Fell On Alabama
Written by Frank S. Perkins and Mitchell Parish
3. Alabama
Written by John Coltrane
4. Where Are You?
Written by Jimmy McHugh, Harold Adamson
Follow Joshua Redman:
Website • Facebook • Twitter • Instagram
Blue Note Records