Vibraphonist Cecilia Smith Releases New Album "The Mary Lou Williams Resurgence Project – Volume 1: Small Ensemble Repertoire" | LISTEN!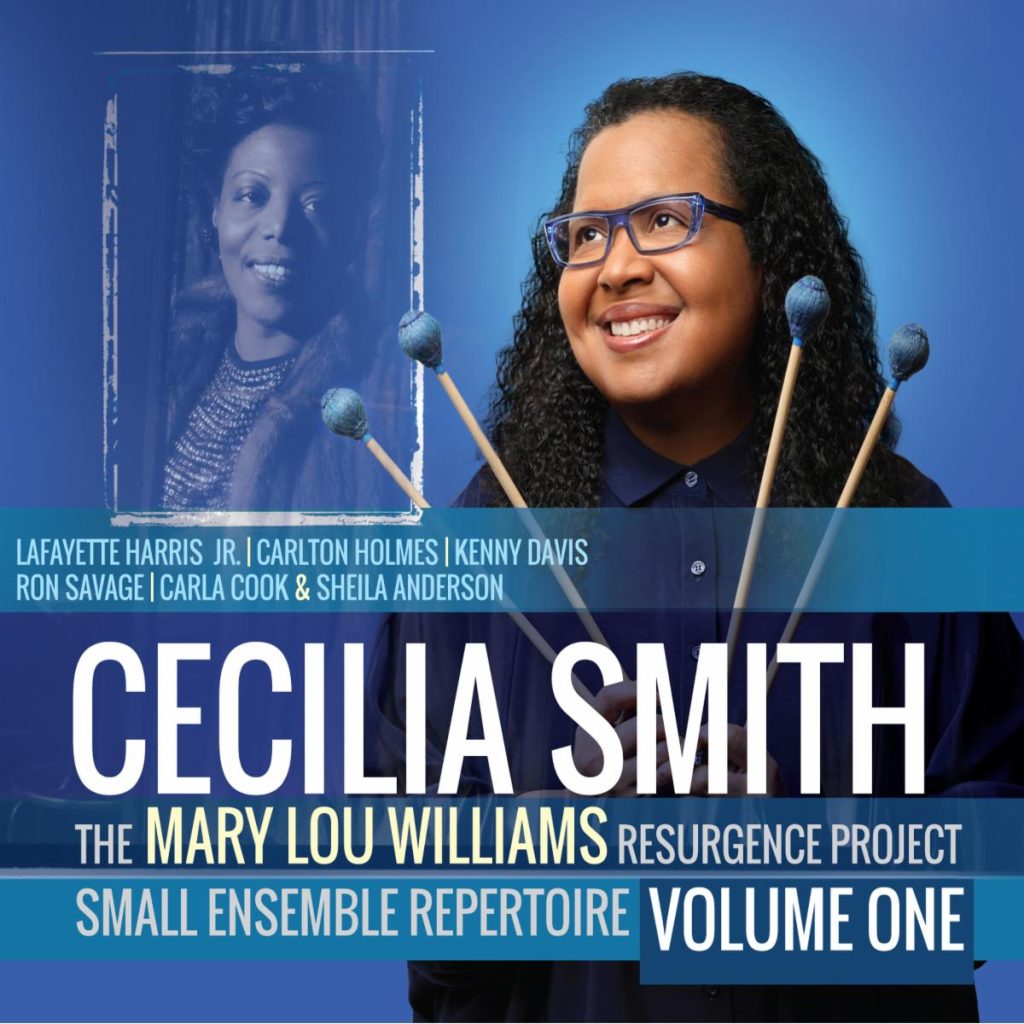 VIBRAPHONIST/COMPOSER CECILIA SMITH ADVANCES MARY LOU WILLIAMS' LEGACY WITH HER MARY LOU WILLIAMS RESURGENCE PROJECT
VOLUME 1: SMALL ENSEMBLE REPERTOIRE
Available from innova Recordings
(in-house label of the American Composers Forum)
With Lafayette Harris, Jr. & Carlton Holmes (piano/organ),
Kenny Davis (bass), Ron Savage (drums)
Special guests Carla Cook (vocals), Sheila Anderson (on-air host, WBGO)
Includes the previously unrecorded "Tell Me How Long the Train's Been Gone"
(Mary Lou Williams/Paula Stone)
Liner notes by musicologist Dr. Tammy Kernodle
March 25th, 2023..NewYork… Building on a long track record of scholarship and interpretive artistry focused on the great Mary Lou Williams, vibraphonist and composer Cecilia Smith is proud to announce the release of Volume 1: Small Ensemble Repertoire, the new album from her NEA American Masterpiece Award-winning Mary Lou Williams Resurgence Project. Through countless hours of immersion in the Williams archive at the Institute for Jazz Studies, and direct access to manuscripts and scores from Williams' former manager Father Peter O'Brien, Smith and her top-tier bandmates put their unique stamp on music either composed by Williams, composed in honor of her, or arranged and recorded by Williams during her lifetime. Among the timeless gems on Volume 1: Small Ensemble Repertoire is Williams' previously unrecorded "Tell Me How Long the Train's Been Gone," sung by the acclaimed Carla Cook.
Pianist and composer Mary Lou Williams made her reputation as a road warrior with the storied Midwestern territory bands of the 1930s (notably Andy Kirk's 12 Clouds of Joy). She gained renown as a formidable boogie-woogie pianist, but her pioneering role in Swing Era big band arranging and composition was for far too long unheralded. She also served as a mentor to Thelonious Monk, Bud Powell and other icons of the bebop revolution, and continued to refine and deepen her creative vision until her death in 1981. In Smith's treatments we hear the intelligence and inventiveness that Williams brought to all her endeavors. With her seasoned swing feel and sparkling touch on the vibes, Smith finds a solid rapport with longtime colleagues Lafayette Harris, Jr. and Carlton Holmes (sharing piano and Hammond organ duties), bassist Kenny Davis and drummer Ron Savage. The album is coproduced by Smith, Harris, Jr. and master trumpeter and educator Cecil Bridgewater.
Smith gave her first public performances of Mary Lou Williams' work in 2000 at Brooklyn's Our Lady of Victory Church and in 2002 during a residency at New England Conservatory. With guidance from Bridgewater, she built on these early efforts to stage a historic concert at the Kennedy Center in 2005 titled The Sacred and Secular Music of Mary Lou Williams (as part of the 10th annual Mary Lou Williams Women in Jazz Festival). Smith's multigenerational, multigender lineup at the Kennedy Center included Bridgewater with fellow esteemed veterans Benny Powell, Howard Johnson, Jack Jeffers, Amina Claudine Myers, Bill Easley and Eddie Allen, as well as rising stars Lakecia Benjamin, Tia Fuller, Montez Coleman, Keith Loftis and more. Carlton Holmes and Kenny Davis, featured so effectively on Volume 1: Small Ensemble Repertoire, were on hand at the Kennedy Center as well.
On Volume 1: Small Ensemble Repertoire, Smith extends her considerable performance history with Mary Lou Williams' music, bringing new insights and ideas to the work at every opportunity. She leads off with her original "Sketch One — Truth Be Told," incorporating a sequence of motifs drawn from Mary Lou's pieces "Nicole," "Waltz Boogie" and "Truth" (a.k.a. "Scratchin' in the Gravel"). The fourth and final motif, commonly identified with Thelonious Monk's "Rhythm-a-ning," is in fact a riff from the killer shout chorus in Mary Lou's "Walkin' and Swingin'" (1936) — just one of Williams' innovative contributions to the band book of Andy Kirk's 12 Clouds of Joy. "Sketch Three — 100 Years of Mary Lou Williams," a Smith original in ¾ time, is another fine example of elevated swing and flowing lyricism. "I've combined a gospel feel with unique harmony and a simple melody," the composer remarks. "My mission is to keep Mary Lou's music current and in the world as part of the jazz narrative."
"Spiritual 2 – Who Was Mary Williams?" knits together Williams' affecting gospel-tinged theme ("the only sacred piece on this recording," Smith observes) with an original text by scholar and liner note author Dr. Tammy Kernodle, presented as a spoken-word by beloved radio presenter Sheila Anderson (a voice that many a diehard northeast jazz fan will warmly recognize).
Smith's vibes-piano duo chemistry with Lafayette Harris, Jr. is an important element of her musical life that she also wanted represented on the album. "Body and Soul" and W.C. Handy's paradigmatic "St. Louis Blues" are the two fine duo picks, both standards that Williams notably arranged and recorded, but that Smith and Harris take in their own direction. Another fresh departure on Volume 1: Small Ensemble Repertoire is the richly expressive voice of Carla Cook on the aforementioned "Tell Me How Long" as well as the jaunty "What's Your Story, Morning Glory?" — the latter another brilliant vehicle for the Andy Kirk band, co-composed by Williams with Paul Francis Webster and Jack Lawrence.
"It's a Grand Night for Swinging," a soulful midtempo minor blues, was composed by the late Dr. Billy Taylor and recorded half a dozen times by Mary Lou. Taylor founded the Mary Lou Williams Women in Jazz Festival during his tenure as Artistic Director of Jazz at the Kennedy Center. "Dr. Taylor hired me to perform at a few of the festivals," Smith recalls, "and he made it possible for me to perform and arrange music for small ensemble, big band and choir. I wanted to pay homage to Billy Taylor, who shared the mission to lift up Mary Lou Williams as a major figure in jazz history."
"Miss D. D.," utterly striking in its bass ostinato pattern and Ellingtonian harmonic and rhythmic character, appears in both a studio version and a live version (from Power Station at Berklee NYC Black Box Theater, September 13, 2022). Williams composed this bit of mystery in honor of late philanthropist Doris Duke, whose Doris Duke Charitable Foundation and its programs continue to impact jazz artists of many stripes.
Smith envisions further volumes from the Mary Lou Williams Resurgence Project, moving away from small ensemble to focus on big band and choral works. A composer and musical thinker of Williams' stature deserves nothing less.
This recording is supported in part by Chamber Music America's Artistic Projects program (funded through the generosity of The Howard Gilman Foundation); by Integrity: Arts & Culture Association; and by the American Composers Forum/innova Recordings National Call Grant.
ABOUT CECILIA SMITH:
Cecilia Smith is a leading vibraphonist of the four-mallet technique and an avid composer and arranger, with six albums as a leader to her credit. She has recorded and performed with Gary Bartz, Milt Hinton, Randy Weston, Marian McPartland, Donald Harrison, Greg Osby, Billy Pierce, Mulgrew Miller and Cecil Bridgewater. Her vibraphone stylings can be heard on Cassandra Wilson's acclaimed Traveling Miles, Digable Planets' Blowout Comb, Lonnie Plaxico's Short Takes and more. She received a Joyce Foundation Award to develop her multimedia work Crossing Bridges. Another multimedia work in development, Decisive Moments, is being made in collaboration with Blue Man Group video artist and filmmaker Kevin Frech. Smith is a 2016 recipient of the Ziegfeld Club's Elizabeth Swados Award. She is the Artistic Director of the Mary Lou Williams Resurgence Project and a teaching artist for nonprofit organizations and social service agencies.
For more information, please visit:
www.ceciliasmith.com
Two For The Show Media