New Contemporary Jazz Group The 3 Keys to Release New Album "We 3 Keys" on Jan. 20th, 2023 | LISTEN!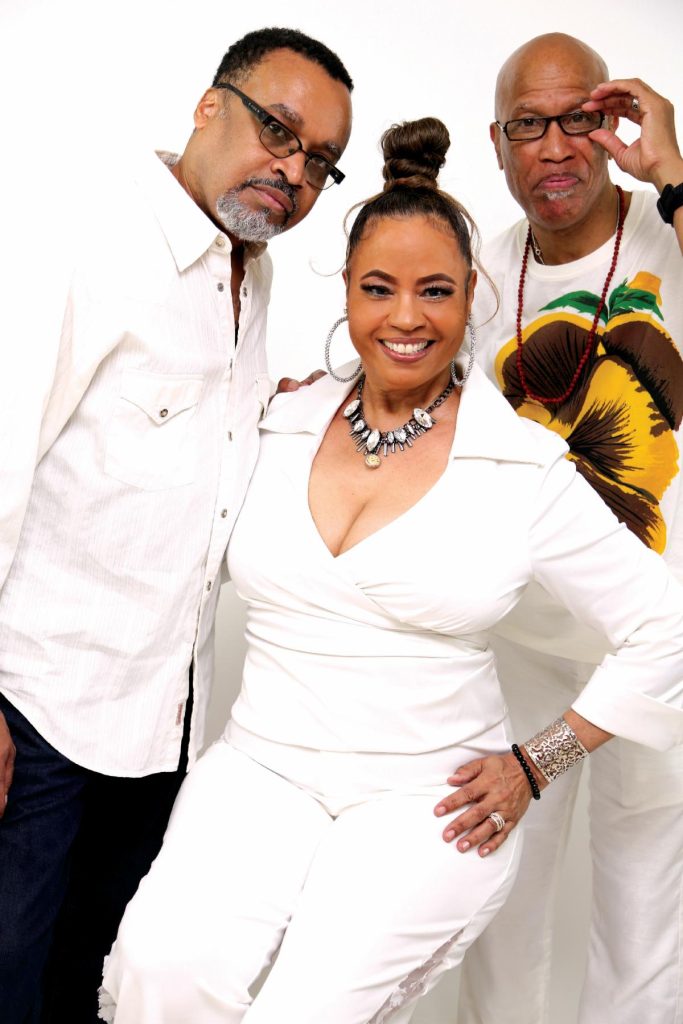 Contemporary Jazz Supergroup
The 3 Keys Featuring
Bob Baldwin, Gail Jhonson & Phil Davis
Define the Power of Three & Celebrate The Magic of Keyboards on Anticipated New Shanachie Recording We 3 Keys
Out January 20, 2023
The number three is often referred to as a divine and mystical number. Pythagoras called it the 'perfect' number. Chart-topping Contemporary Jazz pianists Bob Baldwin, Gail Jhonson and Phil Davis (The 3 Keys), harness the wisdom of three on their harmonious and splendid piano expedition, We 3 Keys, to be released on Shanachie Entertainment January 20, 2023. The recording celebrates the magic of keyboards and is inspired by some of the trio's keyboard/piano influences including George Duke, Bernard Wright, Stevie Wonder, Herbie Hancock, Eliane Elias and Bernie Worrell, among others. There is an eclectic mix of keyboard sounds including Moog synths, pianos, the Fender Rhodes, organ, keyboard bass, and other various synthesizers. At the core of We 3 Keys is the deep respect and mutual admiration that Baldwin, Jhonson and Davis have for one another. Jhonson explains how the anticipated project evolved. "Phil and I were performing with Grammy-winning guitarist Norman Brown in GA, and we met up with Bob Baldwin backstage. Naturally, I wanted a photo of the three of us together since it is rare for keyboard players to get the chance to hang out. We were joking and laughing and as we took the shot I said, 'we should be a group!'" Baldwin adds, "The piano like all instruments is such a personal instrument. It was cool and refreshing to see a different spin on the same instrument from all our different perspectives. This project is really to showcase the piano, which is the backbone for Contemporary and Smooth Jazz."
The sumptuous twelve-track We 3 Keys showcases mostly originals while illuminating each of the pianist's compositional prowess and virtuosity. There are tributes to pianists George Duke and Bernard Wright, as well as a gorgeous reworking of the Aldir Blanc, Ivan Lins and Vitor Martins composition "Camaleão," previously recorded by the likes of the aforementioned Lins, Grover Washington Jr., and Dionne Warwick. Phil Davis hopes the project will touch their fans. "There is a real need to reach people through music right now. We have collectively lost a lot of people due to the pandemic (family, friends, musicians, etc.) and this has created a shift in creative people to produce more music," he reflects. "Hopefully, this music will touch and heal people like it helped us while working on this project." One might wonder how you even begin to fuse three distinct voices and personalities on the same instrument. "It was a challenge to unite the complete cosmos of notes, tonal effects and rhythms…it wasn't long before we found out each other's favorite piano/keyboard stations," recalls Gail. Phil adds, "On most of the project, you will hear one of us on piano, another on Rhodes, one on electric synth sounds and sometimes we added a little organ in as well." The glue in The 3 Keys is the openness that each musician had to let the album unfold organically. "Working with Phil and Gail was a great experience, and in the process, we all learned something about ourselves and each other," shares Bob Baldwin.
We 3 Keys opens with the spirited and cool swinging "That Beat," the album's first single co-written by Gail and Bob. The free-flowing interplay is the perfect opening for the joyous affair ahead. Gail penned the bluesy "Piano Bar" with bassist Andrew Ford, who joins her on the track. "Andrew is really special to me," she shares. "What I enjoy about this song is the melody along with the track's light rhythmic bounce and interesting chordal pattern." Phil Davis' head-nodding and catchy "Into The New," demonstrates just how tight the synergy is between the three pianists as they trade-off to thrilling effect. "'Into the New' is Phil Davis all the way," muses Bob. "I enjoyed that vibe he put down!" Phil also composed the ethereal "Dreaming About A Better Place." It's smooth sailing with Bob Baldwin's funky "Gimme The Keys." "When I first heard 'Gimme The Keys,' I fell in love with it," exclaims Gail. "I told him, 'I'll drive!' and we laughed! Bob is an ideal starter for the song because he can kick the can and leave room for you to get some, or he will keep carrying the ball!" Gail co-wrote "That Beat" which appears as a track and interlude on the album. The R&B inflected, and syncopated groove dares you to sit still. Gail's "Rhythm Speak," is sure to be a hand-clapping crowd pleaser while her "SummerDance," penned with Justin Davis (also on the track) playfully shifts rhythms and keys.
"When I heard 'Something Nice' by Gail, it put me in a George Duke mood. It was cool hearing that groove," confides Bob Baldwin. He first met Duke in the 70s and had the honor to open for him on several occasions. He fondly recalls their hangs together backstage through the years. Gail adds, "Our dedications to George Duke and Bernard Wright are sincere. Their contributions to the keyboard world are profound, so we hope to carry on their legacy and add our own voices." Gail and Bob co-wrote the soul and funk-drenched tribute to Wright, "Work It Out." Baldwin reflects, "I grew up watching Bernard Wright, who was a child prodigy out of Queens, NY (hometown of Najee, Ragan Whiteside, Tom Browne, Marcus Miller, Donald Blackman), break into the business as a teenager. Queens is no stranger to jazz-funk music. I wish 'Nard released more music." We 3 Keys also features a lush and memorable version of the aforementioned "Camaleão." "The movement of Brazilian Bossa Nova, Samba and Partido Alto is such a different vibe. It was fun re-working that track with everyone," says Bob.
"Music is a healing tool for me," declares pianist, composer, producer, and arranger Bob Baldwin, who began taking piano lessons with his father (Bobby Baldwin Sr., who worked alongside bassists Keter Betts and Art Davis) at age six. Baldwin who cites Joe Sample, George Duke, Duke Ellington, McCoy Tyner, Herbie Hancock, and Patrice Rushen as among his many influences shares, "My Dad made it easy for me. He taught me how to play and revealed that I had perfect pitch. I was clueless about what that was all about, but I grew to appreciate and embrace the gift, put down the toys and took classical and jazz piano at age 7." Bob's cousin, by the way, is the late great pianist Larry Willis, who was an original member of the group Blood, Sweat and Tears, as well as a Jerry Gonzales Fort Apache member, and a Blakey Jazz Messenger. Baldwin has been a mainstay and guiding force on the Contemporary Jazz scene for the past three decades. His debut album, A Long Way To Go, was released in 1988, and his last solo effort and 33rd recording is The Stay-At-Home Series. Baldwin has earned five SESAC Music awards and has written and arranged for such diverse artists as The Four Tops, Will Downing, Tom Browne, Grover Washington Jr., Bob James, Lenny White and Regina Carter.
A native of Atlanta, Georgia, pianist, producer, composer, and educator Phil Davis was raised in a musical household. Davis has had the distinction of collaborating with a wide cross-section of artists including Prince, Al Jarreau, Stanley Clarke, Jennifer Holiday, Erykah Badu, Regina Belle and Walter Beasley, among numerous others. Davis touts George Duke, Herbie Hancock, Joe Sample, Keith Jarrett, and Chick Corea as his greatest piano influences, citing that he has borrowed from each of them to help produce this own unique sound. Davis is an Assistant Professor/Coordinator in the music department at his alma mater Clark Atlanta University. His credits include film scoring ("Maynard," the documentary about Atlanta's first black Mayor), song producer for Star Search (CBS), musical director for "The Comedy Show" (Turner South) and producing a commercial for the 2019 Superbowl. Committed to paying it forward, Phil Davis has dedicated his talent and time to the following organizations: Kilgore Music Foundation, How Big Is Your Dream Foundation, The Stewart Foundation, and Westlake High School Marching Band. Davis' most recent solo project is Alive.
"I knew I wanted to play professionally when I was a kid and saw Stevie Wonder on the Farfisa Keyboard at the Uptown Theatre in North Philadelphia!" shares Gail Jhonson, affectionately dubbed 'The First Lady of Smooth Jazz.' "I took classical piano lessons and learned the fundamentals, but Stevie spoke to my soul! Afterwards, Burt Bacharach sheet music and Thom Bell recordings inspired me to continue in the music world. Later, I attended Berklee to get Ellington, Coltrane, and McCoy Tyner, then Ramsey Lewis stole my heart!" Jhonson, now based in LA, began performing professionally at 14 in her native Philadelphia. She is the founder and leader of her own all-star female band, Jazz in Pink. She has made it a mission to address her concern that women are under- represented on the jazz scene, particularly as instrumentalists. Jhonson has held down the piano chair for such diverse artists as Bobby Womack, Janet Jackson, Pink, and Morris Day (Time) to Sheila E., Ray Parker Jr., Peabo Bryson, Kirk Franklin, and Patti Austin, among others. Jhonson who is currently earning her Doctorate at Walden University states, "I hope to inspire upcoming musicians and artists to press on, no matter what. Hang on to your dreams and see yourself where you want to be. Don't give up on yourself too soon!" Her latest recording is Joy!.
Shanachie Entertainment