Pianist Kevin Toney to Release New Concert Project "An Evening with Kevin Toney and Friends ~ Jazz Legacy" on March 24th, 2023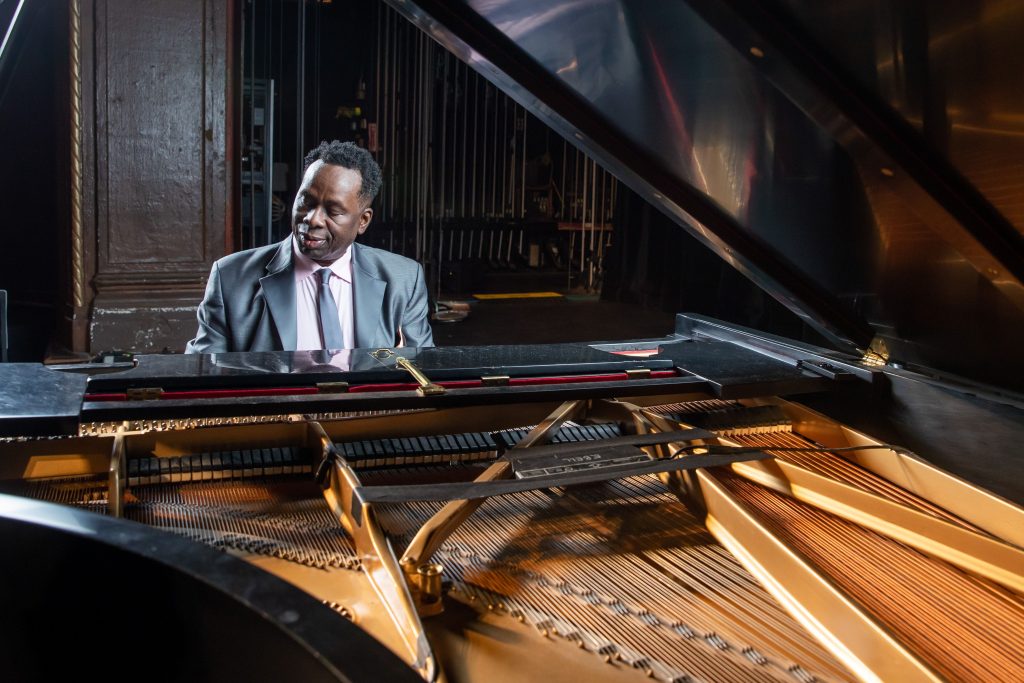 Piano Master Kevin Toney Celebrates 50th Year in Music with Expansive
Concert Recording Documenting His Spirited Acoustic Legacy in Jazz
AN EVENING WITH KEVIN TONEY AND FRIENDS ~ JAZZ LEGACY
Album Features Daughter Dominique Toney, Azar Lawrence and
Kamau Kenyatta
Let it be stated – no shouted from the highest mountaintop – that the root source of piano virtuoso Kevin Toney's dynamic musical artistry has ALWAYS been hardcore straight-ahead Jazz. As an A+ disciple of the Art Tatum's, Oscar Peterson's, McCoy Tyner's, Errol Garner's, and Herbie Hancock's of the idiom (as well as Detroit-born schoolmate of Geri Allen), Kevin Toney began his journey into the dexterous essence of Jazz absorbing the richness and excellence of its most exploratory players. Though as a child of the `60s, Kevin additionally enjoys and throttles the thrilling sounds of raw, unbridled Blues, Soul, and Rock 'n Roll – and as a deeply spiritual man serves GOD in Gospel – Jazz is the music Toney has returned to time and time again to flex the freedoms and disciplines it offers in quantifiably equal measure.
This has never been brought into sharper focus than on his vibrant new concert album, AN EVENING WITH KEVIN TONEY AND FRIENDS ~ JAZZ LEGACY. Recorded Live at the North Coast Repertory Theater in San Diego, the album indisputably places Toney within a setting and repertoire that solidifies his direct connection and lifelong dedication to America's African American-rooted indigenous musical art form. Accompanying Toney are his daughter, singer-songwriter Dominique Toney, high school friend Kamau Kenyatta playing soprano sax on one selection, and the incomparable Azar Lawrence playing tenor sax on another selection.
"This record represents my highest pinnacle of musical expression to date," Toney, a 2x Grammy© nominated and award-winning artist, exclaims. "I'm entirely uninhibited and freely pursue numerous musical avenues. The music covers a broad spectrum of elements – sometimes traditional, sometimes contemporary, yet always adventurous. I've wanted to make a live solo piano album for a long time. I also wanted to feature my daughter's unique and highly exceptional vocal gifts. Together, we share great chemistry when performing."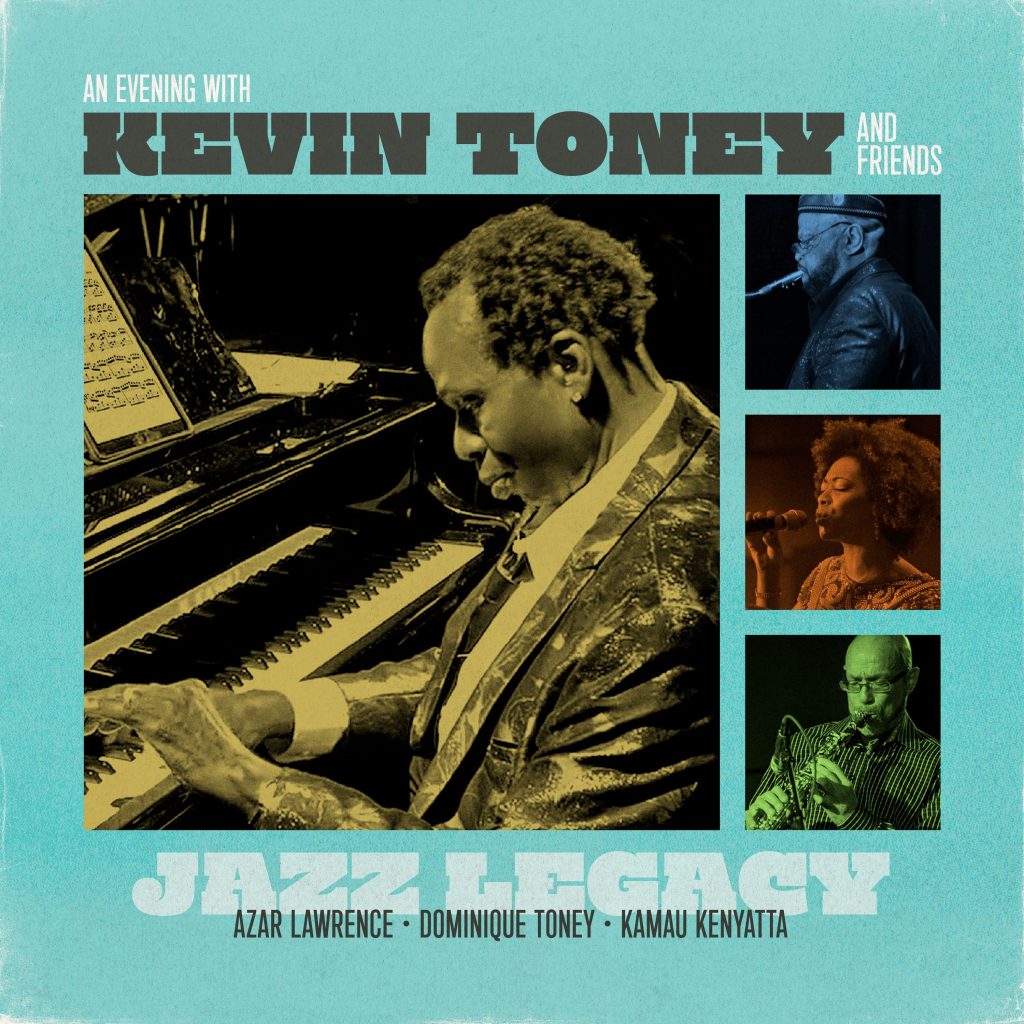 Bookending the album are quintessential solo piano renderings. First is his rapturous, tender (and humorous) exploration of Billy Strayhorn's timeless gem "Lush Life." Then there is a delicious romp through rascally ol' Thomas "Fats" Waller's flirty "Squeeze Me." In between, Toney shares his compositional inspiration reveling in the singular joy of The Lord within a pair of numbers "Rejoice" (100,000 watts of toe-tappin' sanctified soul) and "Happy Dance" ('…and on the seventh day, GOD was sho' nuff swingin')!
Next, Toney introduces daughter Dominique who polishes all of the starlight and moonlight to dazzling sweetness within George Shearing's Ella-mentally delightful "Lullaby of Birdland." Then Kamau Kenyatta (longtime producer for Gregory Porter) joins father and daughter to lend his fluid soprano saxophone flights to the ballad "Love is On Our Side" (written by Dominique with Bobby L. Wilkerson). Then it's onto the ironically rollickin' goodbye groove of "I Can't Take That," originally penned by father and daughter for 'Dom's 2014 debut, A Love Like Ours. Finally, tenor titan Azar Lawrence (Miles Davis, McCoy Tyner) adds his dreamy vibrato tones to Kevin's seventh heaven evocations on Edward Kennedy "Duke" Ellington's heart-stilling "In a Sentimental Mood.
The subtitle "Jazz Legacy" cannot be overstated in its layering throughout. Toney muses, "First, there's the tradition of me playing the timeless songs of Strayhorn, Ellington, Waller, and Shearing. There's our merging history of writing, producing, performing, and recording with my daughter Dominique, building our family heritage by featuring two of my original compositions and two of her original songs. Then there's celebrating my 50-year career as a recording artist with a body of work including playing with Sonny Rollins, Gary Bartz, Nancy Wilson, Oscar Brown Jr., Hubert Laws, Kenny Burrell, Andrew White, Nicholas Payton, Donald Harrison, and Marcus Strickland, plus as a founding member of The Blackbyrds (the `70s Soul-Jazz Fusion sextet assembled by the late, great Donald Byrd at Howard University)."
Grammy© winning producer Don Mizell, executive creative producer of An Evening with Kevin Toney and Friends ~ Jazz Legacy, sums it up best, proudly proclaiming, "This Kevin Toney piano album is nothing short of a tour de force! He doesn't really need anybody…but he's got some stellar friends. And his daughter is among his very best friends. His honoring of the greats along with his own dynamic compositions represent education – one BIG reason why he and Dr. Byrd got along so well. Pianistically, he's not holding back – fully expressing his capabilities within the most challenging of concepts. This record makes Kevin Toney's Jazz credentials undeniable and clear."
Inque Publicity