Geffen/UMe to Release Chuck Berry's "The Great Twenty-Eight: Super Deluxe Edition" | Available NOW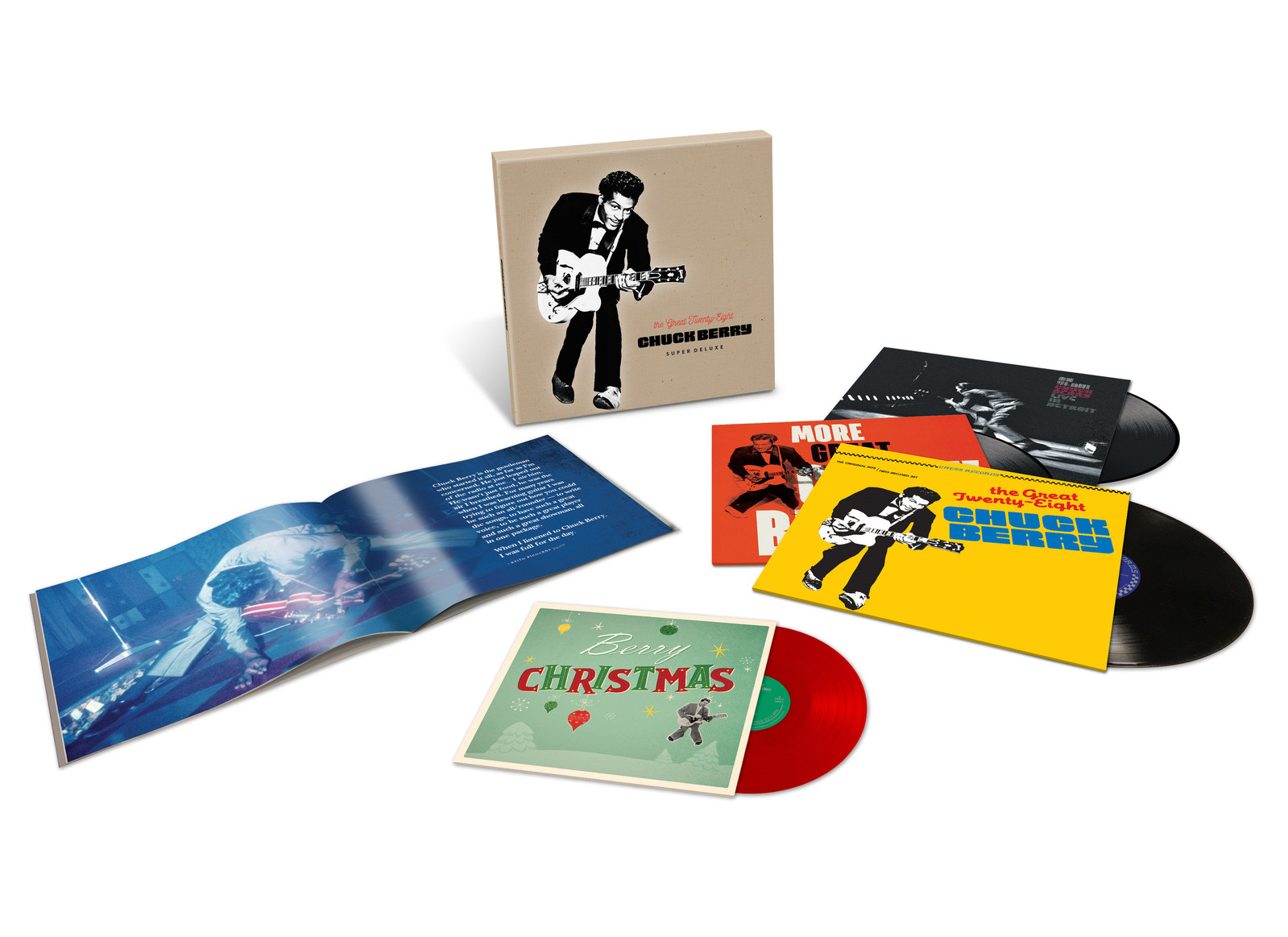 Chuck Berry's "The Great Twenty-Eight," Rock 'N' Roll's All-Time Greatest Greatest-Hits Album Released As Super Deluxe Vinyl Box Set Today Via Geffen/UMe
Berry To Be Celebrated At The Grammys With Tribute Performance By Gary Clark Jr. And Jon Batiste
LOS ANGELES, Jan. 26, 2018 /PRNewswire/ — In the firmament of rock 'n' roll's first-generation creators, no artist looms larger than Chuck Berry. In a consistently innovative recording career that spanned more than 60 years, the iconic singer-songwriter-guitarist, who passed away on March 18, 2017, laid much of the groundwork for modern rock 'n' roll, while creating some of rock's most distinctive and enduring anthems, from "Johnny B. Goode" to "Roll Over Beethoven," "Rock and Roll Music" to "Reelin and Rockin'," and many more.
Geffen/UMe are paying tribute to the immortal spirit of Chuck Berry with the ultimate vinyl version of his landmark greatest hits compilation, The Great Twenty-Eight, with The Great Twenty-Eight: Super Deluxe Edition. Available today, the five-disc vinyl box set housed in a textured box, complements the original two-LP, 28-song compilation with an additional LP, More Great Chuck Berry, containing 14 more hits, rarities and B-sides missing from the original, as well as a rare live album, Oh Yeah! Live in Detroit, available on vinyl for the first time. The collection also includes a newly created bonus ten-inch EP Berry Christmas, featuring four holiday-themed classics on "Rudolph-Red" vinyl, with one song on vinyl for the first time as well. A limited edition version on "Chess Blue" vinyl, limited to 500 copies, is available exclusively via UDiscoverMusic.com. Order The Great Twenty-Eight: Super Deluxe Edition now: https://lnk.to/Great28SDE
This Sunday, the 60th Annual GRAMMY Awards® will celebrate Berry, recipient of the Recording Academy Lifetime Achievement Award in 1984, with a tribute performance by Gary Clark Jr. and Jon Batiste. Three of Berry's classic recordings are enshrined in the GRAMMY Hall Of Fame: "Maybellene," "Roll Over Beethoven" and "Johnny B. Goode." Live from Madison Square Garden in New York City, and hosted by award-winning television personality and performerJames Corden, the 60th Annual GRAMMY Awards will be broadcast live in HDTV and 5.1 surround sound on the CBS Television Network, Sunday, Jan. 28, 2018, at 7:30 p.m. ET/4:30 p.m. PT.
Berry's recordings for Chicago's seminal Chess label have been extensively anthologized in the CD era. But for many Berry devotees, the two-LP vinyl collection The Great Twenty-Eight remains both a sentimental favorite and a definitive document of Berry's musical genius. It's no wonder that The Great Twenty-Eight was ranked number 21 on Rolling Stone's "500 Greatest Albums of All Time," the highest-ranking hits compilation on that list. For those interested in the original 28-track edition of The Great Twenty-Eight, it is now back in print in its original two-LP format for the first time since its initial release in 1982. Order The Great Twenty-Eight here: https://UMe.lnk.to/Great282LP
The Great Twenty-Eight: Super Deluxe Edition also includes a handsome 12″ x 12″ book featuring a special introductory essay by Keith Richards, a new essay by best-selling author and SiriusXM host Alan Light, complementing Michael Lydon's liner notes from the original version of The Great Twenty-Eight, and reminiscences from DJ Lee Alan, plus complete U.S. single, album and EP discographies. The text is enhanced by reproductions of Berry's original LP cover art and rarely-seen photographs.
As Light writes, "When The Great Twenty-Eight was released in 1982, it was immediately recognized as one of the essential albums in rock 'n' roll history… Enter this edition of The Great Twenty-Eight, with thirty more Chuck Berry recordings—the Great Fifty-Eight, as it were—fleshing out the story of rock 'n' roll's poet laureate while also demonstrating, through the addition of a riveting live album from 1963, his power as a stage performer… The opportunity to spotlight additional facets of his music is the greatest contribution to his history that this collection offers."
A survey of Berry's first decade of recording on Chess, the original The Great Twenty-Eight contains 21 singles along with six of their b-sides and one album track from Chuck Berry in London. Of those singles, eleven were top ten hits on the Billboard R&B singles chart and ten were Top 40 hits on the Billboard Hot 100. During his Chess years, Berry created a massive—and massively influential—body of work that includes countless beloved classics, from "Maybellene" to "Roll Over Beethoven" to "Johnny B. Goode" to "Memphis, Tennessee" and beyond. Indeed, Berry's music is so deeply ingrained into our culture that NASA launched "Johnny B. Goode" into outer space on the Voyager spacecraft as a representation of the sounds of the human race for the benefit of our cosmic neighbors. All of these songs are included on The Great Twenty-Eight, which also includes the ubiquitous hits "Rock and Roll Music," "Sweet Little Sixteen" and "No Particular Place To Go" and many others that have become part of the collective consciousness.
More Great Chuck Berry comprises 14 classic Berry tunes not included on The Great Twenty-Eight, including the sultry, simmering number "Wee Wee Hours," the original flip side of "Maybellene"; "My Ding-A-Ling," Berry's only No. 1 pop single; "Too Pooped To Pop (Casey)," the top 20 R&B A-side of "Let It Rock"; the Top 10 R&B hit "No Money Down"; the celebratory "Promised Land"; and the rollicking "You Never Can Tell," which earned cinematic immortality as the accompaniment to John Travolta and Uma Thurman's twist in the film Pulp Fiction.
Oh Yeah!: Live In Detroit is a thrilling, rare concert performance from October 1963, celebrating Berry's return to the stage after a break from performing. With support from local DJ and TV host Lee Alan, Berry, backed by Motown's Funk Brothers rhythm section and horn players, recorded the live album during a series of performances at Detroit's Walled Lake Casino.
Returning to the spotlight after a year-and-a-half brought out an energy and intensity in Berry that can be heard clearly in this historic 12-song set, which launches with "Guitar Boogie" and includes "Let It Rock, "Too Much Monkey Business (available for the first time in the U.S.)," "Johnny B. Goode," Sweet Little Sixteen" and a lengthy, edge-of-chaos medley, as Berry feeds off an audience that sings along with nearly every track. Throughout the show, Berry tells jokes that slyly address racial tensions. But the record was scrapped at the time and has been previously only available as part of a limited-edition CD set; this marks its first time on vinyl, and as any kind of standalone release.
The bonus EP Berry Christmas collects together four Christmas classics on "Rudolph-Red" vinyl. The 10-inch disc features Berry's chestnuts, "Run Rudolph Run" and "Merry Christmas Baby" along with "Christmas" and "Spending Christmas," the latter making its vinyl debut as it was previously available only in a limited-edition CD box set.
Bob Dylan once called Berry "the Shakespeare of rock 'n' roll." John Lennon stated, "If you tried to give rock 'n' roll another name, you might call it 'Chuck Berry.'" As Keith Richards writes in the booklet intro, "Chuck Berry is the gentleman who started it all."
And if those testimonials aren't convincing enough, one listen to The Great Twenty-Eight: Super Deluxe Edition will make the case for Chuck Berry's singular, timeless rock 'n' roll brilliance.
LP 1 & 2: The Great Twenty-Eight
The original classic 2-LP compilation
Side 1
Maybellene
Thirty Days (To Come Back Home)
You Can't Catch Me
Too Much Monkey Business
Brown-Eyed Handsome Man
Roll Over Beethoven
Havana Moon
Side 2
School Day (Ring! Ring! Goes The Bell)
Rock And Roll Music
Oh Baby Doll
Reelin' And Rockin'
Sweet Little Sixteen
Johnny B. Goode
Around And Around
Side 3
Carol
Beautiful Delilah
Memphis, Tennessee
Sweet Little Rock And Roller
Little Queenie
Almost Grown
Back In The U.S.A.
Side 4
Let It Rock
Bye Bye Johnny
I'm Talking About You
Come On
Nadine (Is It You?)
No Particular Place To Go
I Want To Be Your Driver
LP 3: More Great Chuck Berry
Side 1
Wee Wee Hours
No Money Down
Drifting Heart
La Jaunda (Español)
Blue Feeling
Vacation Time
Joe Joe Gun
Side 2
Too Pooped To Pop "Casey"
Our Little Rendezvous
You Never Can Tell
Promised Land
Little Marie
Dear Dad
My Ding-A-Ling (live single version)
LP 4: Oh Yeah! Live In Detroit
Recorded at the Walled Lake Casino, October 25 & 26, 1963
First time on vinyl
*First U.S. release
Side 1
Guitar Boogie
Let It Rock
Almost Grown
Chuck Berry Dialogue 1
Too Much Monkey Business*
Johnny B. Goode
Introduction / Instrumental
Sweet Little Sixteen
Side 2
Wee Wee Hours
Chuck Berry Dialogue 2
Maybellene
Medley: Goodnite Sweetheart Goodnite/Johnny B. Goode/Let It Rock/School Day
Bonus: Berry Christmas EP
Side 1
Run Rudolph Run
Merry Christmas Baby
Side 2
Spending Christmas (first time on vinyl)
Christmas
SOURCE Geffen/UMe