UMe Marks 45th Anniversary Of Marvin Gaye's What's Going On With 7-Album Vinyl Release, Volume 3: 1971-1981 On May 27th, 2016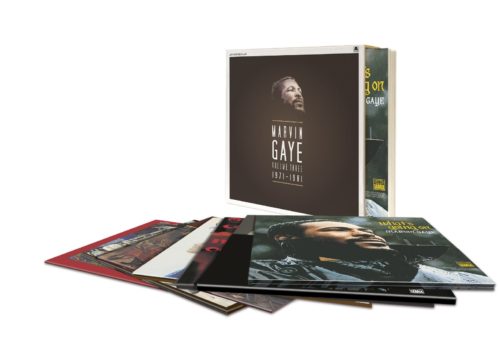 UMe Marks 45th Anniversary Of Marvin Gaye's What's Going On With Seven-Album Vinyl Release, Volume 3: 1971-1981 On May 27
Also Forthcoming: "What's Going On" 10″ Vinyl EP w/original single plus "Motown: Reimagined" duet version featuring BJ The Chicago Kid
LOS ANGELES, May 16, 2016 /PRNewswire/ — It's been 45 years since the release of Marvin Gaye's momentous album, What's Going On, May 21, 1971, on the Motown subsidiary Tamla Records. To mark the occasion, Universal Music Enterprises is preparing a series of special vinyl releases, including a seven-LP box set, Volume 3: 1971-1981, which features on 180gm vinyl Gaye's final seven studio albums for the label, on May 27, a follow-up to the first two installments of the collection. The albums included are: What's Going On (1971), Trouble Man (1972), Let's Get It On (1973), Diana & Marvin (1973), I Want You (1976), the double-LP Here, My Dear (1978) and In Our Lifetime (1981). In addition, four of the albums from the box set – Let's Get It On, Diana & Marvin, Here, My Dear and In Our Lifetime – will be made individually for the first time in several years.
Also releasing for this anniversary is a special 10″ vinyl EP, available June 24, featuring the original 7″ mono single versions of "What's Going On" and "God Is Love" on one side, which are different to the later album versions, and two "Motown: Re-imagined" versions of the title song on the other side: a duet version with new Motown artist BJ the Chicago Kid and an unplugged "Coffeehouse Mix," both using only the original instrumentation. This unique "What's Going On" EP will also be released digitally.
Known as The Prince of Soul – honored by the Rock & Roll Hall of Fame as an inductee as just its second ceremony in 1987, #6 on Rolling Stone's list of the "100 Greatest Singers" – Marvin Gaye recorded the song, "What's Going On," inspired by an idea from Renaldo "Obie" Benson of the Four Tops after Benson witnessed an act of police brutality at an anti-war rally in Berkeley. Composed by Benson with Gaye and Al Cleveland, the single reached #1 on the R&B charts, and the album, which was Gaye's first-ever million-seller, launched two more Top 10 singles in "Mercy Mercy Me (The Ecology)" and "Inner City Blues." Rolling Stone lists What's Going On #6 on its "500 Greatest Albums Of All Time"; All Music called the album "the most important and passionate record to come out of soul music, delivered by one of its finest voices."
What's Going On was Gaye's last album recorded in Detroit. He followed Motown to Los Angeles in 1972 and, rather than deliver an album similar to What's Going On, recorded a mostly instrumental soundtrack album, Trouble Man, in late 1972. Bolstered by the top ten success of the vocal title track, the album peaked at #14 on the Billboard Top 200 and #3 on the magazine's Soul LP's chart.
Gaye followed up his only film soundtrack with Let's Get It On, a record that became an immediate success, staying on the pop charts for two years, and later hailed by All Music as "a record unparalleled in its sheer sensuality and carnal energy." The title track was Gaye's second-ever #1 single on the Billboard Hot 100. The album, #165 in Rolling Stone's "500 Greatest Albums Of All Time," also includes the hit singles "Come Get To This" and "You Sure Love To Ball."
Released in 1973, Diana & Marvin, with Diana Ross, was Gaye's final duets album, a multi-format success that sold more than a million copies worldwide. It peaked at #26 on the Billboard 200 and #7 on the Soul LP's chart. Their cover of "Stop, Look, Listen (To Your Heart)" has been sampled by several hip-hop artists over the years, including 50 Cent and Southstar (who interpolated the song on their only hit, "Tell Me"). The album's singles included "You're a Special Part of Me," an Adult Contemporary hit which peaked at #12 on the pop chart and #4 Soul, "Don't Knock My Love," which scored at #46, and "My Mistake (Was to Love You)," which cracked the Top 20 on the Billboard Hot 100 and Soul Singles charts.
Gaye's next studio album, I Want You, released in 1976, features the #1 R&B hit title track, as well as the single "After The Dance." The album, Gaye's first recording in his new personal studio, Marvin's Room, marked a departure in musical direction, a funky, though introspective, dance-soul that provided an autobiographical glimpse into his relationship with Janis Hunter, soon to be his second wife. I Want You reached #4 on the Billboard 200, topped the Soul Albums chart, and has come to be appreciated as one of Gaye's most influential works. The album's cover, a painting by former NFL player Ernie Barnes, has become an iconic image as well.
The fallout from his marriage to Anna Gordy, sister to Motown founder Berry Gordy, inspired Marvin Gaye to record Here, My Dear, a double-album release in December 1978. Delivered as part of a one-of-a-kind alimony settlement, Here, My Dear, although #26 on the Billboard 200 and #4 on the Soul LPs charts, had no hit singles was not considered a commercial success. Yet it has since become a cultural touchstone. It sits at #456 on Rolling Stone's list of "500 Greatest Albums Of All Time."
In Our Lifetime was Gaye's final album for Motown, an album reworked from its original lightweight "Love Man" concept into a suite invoking religion and apocalyptic end times. Recorded in Los Angeles, Hawaii and London, and released in 1981, the album, entirely written, produced and arranged by Gaye, featured the singles "Praise" and "Heavy Love Affair." In Our Lifetime peaked at #32 on the Billboard 200 and #6 on the Black Albums chart and, though not a commercial success, remains an influential work.
SOURCE Universal Music Enterprises