"Jazz at the Philharmonic: The Ella Fitzgerald Set" Coming March 25th, 2016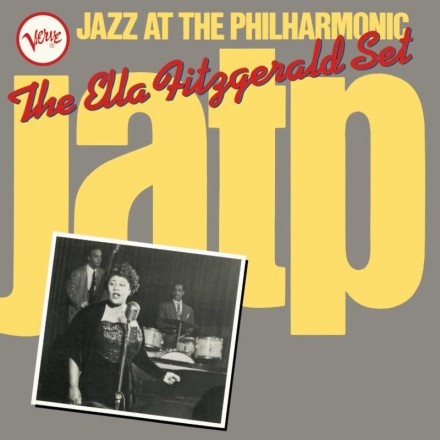 Verve to Release Jazz at the Philharmonic:
The Ella Fitzgerald Set Showcasing
Classic Songs Recorded From 1949 – 1954
Complete U.S. JATP Performance Released
for First Time with 22 Remastered Tracks
As part of Verve's 60th Anniversary, the storied imprint is set to release the complete U.S. Jazz at the Philharmonic performances of celebrated vocalist Ella Fitzgerald. This classic material, which has previously been released on various albums, will be released for the first time in one dynamic live set featuring the original 12-track vinyl LP album cover from 1983. The re-mastered 22-track CD and digital audio collection, with an essay by author Will Friedwald, features a wide spectrum of A-list musicians including Hank Jones, Herb Ellis, Ray Brown, Charlie Parker, Lester Young, and more.
Jazz at the Philharmonic: The Ella Fitzgerald Set was recorded through various performances between 1949 and 1954, with all original recordings being supervised by the historic label's founder and Fitzgerald's longtime manager, Norman Granz. Highlights include jaw-dropping interpretations of "Old Mother Hubbard," "Oh, Lady Be Good!," "Lullaby of Birdland," and the all-star jam session, "Flying Home."
In 1944, Granz launched the historic Jazz at the Philharmonic series in Los Angeles, which would last 40 years. In the formative years of JATP, Granz invited the vocal icon to join some of the greatest musicians in the world, following in the JATP tradition of Nat King Cole, Billie Holiday, and Helen Humes. It wasn't until 1953, when JATP was on tour in Japan that Granz talked to Fitzgerald about managing her career when the singer's contract with Moe Gale at Associated Booking Corporation ran up at the end of the year. She was hesitant at first, but after telling her that it was a matter of pride, the two joined for a historic partnership that lasted more than four decades. With a soon-to-be-ending contract with Decca, Granz launched Verve and announced Fitzgerald as their inaugural signing while they continued work on the JATP series.
The crown jewel of Jazz at the Philharmonic: The Ella Fitzgerald Set was the September 1949 performance at the famed Carnegie Hall-the engagement provides more than 45-minutes of music for this historic release. Granz opens that performance and this release with a special introduction of "the greatest thing in jazz today," Ella Fitzgerald. Two other introductions of the illustrious vocalist appear on the box as well-another from Granz, and one from Dizzy Gillespie.
Throughout three heavy-hitting tracks, Fitzgerald receives support from an all-star JATP horn section featuring trumpeter Roy Eldridge, trombonist Tommy Turk, and saxophonists Charlie Parker, Flip Phillips, and Lester Young. "Flying Home" showcases remarkable scatting from Fitzgerald and features a Phillips solo. "How High the Moon" shows a new take on the classic chorus while switching back and forth between horn players, and "Perdido" hands the reins to the brass players for the melody, with each player taking a solo while Fitzgerald replaces the published lyrics with fervent scatting.
Some of the vocalist's classic tunes appear in this performance as well. She infuses the 1800's nursery rhyme "Old Mother Hubbard" with modern jazz chord progressions and a number of outside melodies, and also performs her trademark tune, "A-Tisket, A-Tasket." Fitzgerald visits two soulful ballads as well, including "A New Shade of Blues" and "Black Coffee," a signature tune for Peggy Lee later on.
Having produced an entire album in homage to Gershwin, it's fitting that the singer includes two of the venerable pianist's tunes. "Oh, Lady Be Good!" has a breakneck tempo that also appears on Ella Sings Gershwin, while "Somebody Loves Me" has a snappy up-tempo that did not appear on her previous Gershwin record. Fitzgerald also explores recordings from Sir Charles Thompson ("Robbins Nest"), Duke Ellington ("I'm Just a Lucky So-And-So"), and Spencer Williams ("Basin Street Blues").
The rest of the release comes from two performances, a year apart, at Bushnell Memorial Hall in Hartford, Connecticut with support from pianist Raymond Tunia, guitarist Herb Ellis, bassist Ray Brown, and drummer J.C. Heard. In 1953, Granz captures two rare songs from Fitzgerald: a moving performance of Jerome Kern's "Bill," and a blues-heavy version of Peggy Lee's tour-de-force "Why Don't You Do Right."
The final five tracks were recorded just a year later. The 1954 performances start off with Gershwin's songbook-standard "A Foggy Day," and move on to showcase compelling contemporary hits. By the time she performed "Lullaby of Birdland" in Hartford, it had already become a success from a recording made just a few months earlier. A beautiful rendition of "The Man That Got Away" is a calm and deliberate recording, while "Hernando's Hideaway" contrasts as a comedy and dance number from The Pajama Game with lyrics exclusive to performance (a 1962 recording of this track did not include this one-time chorus). The set closes with "Later," which elegantly displays Fitzgerald's seamless blend of R&B, pop, bebop, and swing.
The remarkable relationship between an American jazz impresario and the First Lady of Song stands alone as a historically important release and is equally as crucial to celebrating the 60th Anniversary of Verve. Granz produced many consequential performances, however the dynamic live recordings heard on Jazz at the Philharmonic: The Ella Fitzgerald Set are in a league of their own.
For more information, visit www.VerveMusicGroup.com
DL Media