New Jazz Release: "It's Christmas on Mack Avenue" (Compilation) | Coming Oct. 28th, 2014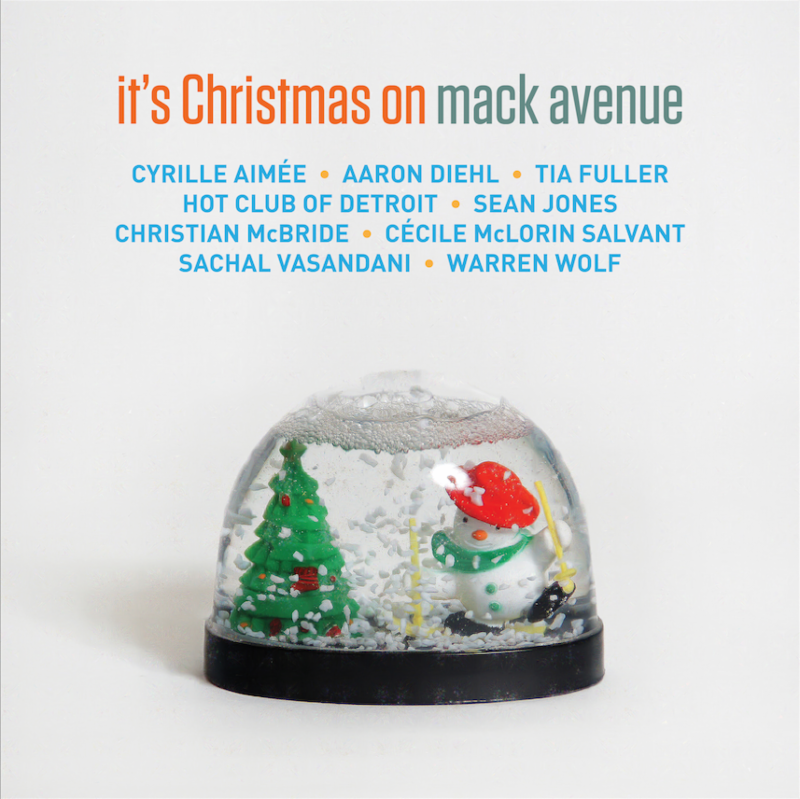 Mack Avenue Records' Brightest Stars Jazz Up the
Holiday Season with It's Christmas on Mack Avenue –
Available October 28
Mack Avenue Records has assembled a stellar family of artists over the last fifteen years, and what better time is there to gather the family together than the holidays? It's Christmas on Mack Avenue (due out October 28, 2014) features some of the season's best-loved songs reimagined in the inimitable style of the label's unparalleled roster of artists, including Christian McBride, Cécile McLorin Salvant, Sean Jones, Aaron Diehl, Warren Wolf, Cyrille Aimée, Sachal Vasandani, Tia Fuller, and the Hot Club of Detroit.
"There's a long tradition of jazz interpretations of holiday music," says producer Al Pryor, Mack Avenue's Executive Vice President for A&R. "This is our contribution to that tradition."
Christmas is deeply rooted in tradition, of course, but traditions evolve and are constantly reinvented from one generation to the next – a claim that can also be made for jazz, making the two as perfect a pairing as egg nog and candy canes. Mack Avenue has proved itself a home for artists who remain rooted in the music's tradition while pushing it forward in their own individual ways. It's Christmas on Mack Avenue allows these musicians to each spin their own particular twist on Yuletide cheer.
"Material that stands the test of time is always material that's open to wonderful interpretive ideas by artists," Pryor says. "If a tune is a great tune, there are going to be many different ways to interpret it but still have it retain its power. Audiences can learn a lot about an artist's individual style and their compositional and improvisational take on things by hearing them do material that we already know. When we hear how they handle something that we're familiar with, it's intriguing and it lets us know something about that artist and their personality. They're all, in some way, characteristic – these versions, I think, shed more light on the artists performing them than they do on the tune itself."
Pryor points in particular to the Christian McBride Trio's rollicking take on James Brown's "Santa Claus is Coming to the Ghetto." Over the tune's soulful groove, the bassist implore Saint Nick to visit his old neighborhood of West Philly, citing a few blocks that tend to get avoided by the flying reindeers on Christmas Eve. The rest of the trio – drummer Ulysses Owens, Jr., and pianist Christian Sands – get in on the act, and a few other Mack Ave headliners drop by as well, with Quincy Davis, Warren Wolf, and Cécile McLorin Salvant all putting a word in for their own 'hoods.
Then there's Cyrille Aimée's winsome "Let It Snow! Let It Snow! Let It Snow!" Sunny enough to withstand the harshest blizzard, Aimée's hand-clapping rendition conjures a green Hawaiian December with Michael Valeanu's tropical guitar work. "Cyrille explores a number of different approaches within the same tune," Pryor says. "It's a wonderful, very fresh approach."
On the other end of the spectrum is Warren Wolf's lustrous "Carol of the Bells," which evokes the resonant pealing of church bells on a wintry night via the shimmering tones of Wolf's solo vibes. Together with pianist Aaron Diehl, Wolf also nostalgically recalls everyone's favorite Christmas special with Vince Guaraldi's classic "Christmas Time is Here," the theme from A Charlie Brown Christmas. The Peanuts crew also gets a gypsy-jazz update thanks to the Hot Club of Detroit, who render the Charlie Brown Christmas favorite "Skating," with Django-esque guitars and accordionist Julien Labro spinning figure-eights with saxophonist Carl Cafagna.
Diehl revisits another holiday-season TV staple with his solo version of John Williams' "Christmas Star," from the soundtrack to Home Alone. His unique approach retains the familiar melody but reconfigures it with a hint of Harlem stride. Diehl then picks up the pace on his brisk, rhythmically playful exploration of "Sleigh Ride," a trio outing with bassist David Wong and drummer Quincy Davis that becomes a lengthy workout for the pianist leading into a sleigh bell-accompanied solo showcase for Wong.
Trumpeter Sean Jones leads off the celebration with a fanfare for the jolly old elf in the red suit. His hard-driving "Santa Claus is Coming To Town" features pianist Orrin Evans, saxophonist Tia Fuller, bassist Luques Curtis and drummer Jerome Jennings, generating a hard-bop holiday spirit to set the tone. Fuller steps into the spotlight with a "Little Drummer Boy" that lets the leader's sinuous soprano be the gift, while drummer Kim Thompson and percussionist Khalil Kwame Bell replace the pa-rum-pum-pum-pums with interweaving rhythms that prove far more exotic and engaging.
One of the holiday's most beloved carols, "Silent Night," becomes a lush ballad in the hands of the McBride's trio, who approach the piece with the delicate hush of newfallen snow. Sands' piano solo beautifully captures the song's poignant reverence for the first Christmas night. Vocalist Sachal Vasandani doesn't so much walk as swing through a "Winter Wonderland," with a finger-snapping, classically hip version.
Cécile McLorin Salvant, who netted four awards in this year's DownBeat Critics Poll (including Jazz Album of the Year and Female Vocalist of the Year), closes the album on a soulful note with her "Have Yourself a Merry Little Christmas," a holiday wish offered with the singer's malleable melodic twists and theatrical range.
It's Christmas on Mack Avenue is the label's third holiday album, following two volumes of Jazz Yule Love released in the last decade. Like an annual family Christmas card, it's a snapshot of a label that has matured and grown with the passing years, albeit a snapshot full of some of modern jazz's most renowned artists.
"Part of our mantra at Mack Avenue has always been to try to retain the best of the tradition while trying to be at the forefront of the new opportunities of the digital era," Pryor says. "You don't always have to break with tradition to be fresh and new."
lt's Christmas on Mack Avenue
Mack Avenue Records · Release Date: October 28, 2014
MACK AVENUE · the road to great music · mackavenue.com
DL Media