Legendary Bassist/Composer Buster Williams to Release New Album "Unalome" on Feb. 24th, 2023
by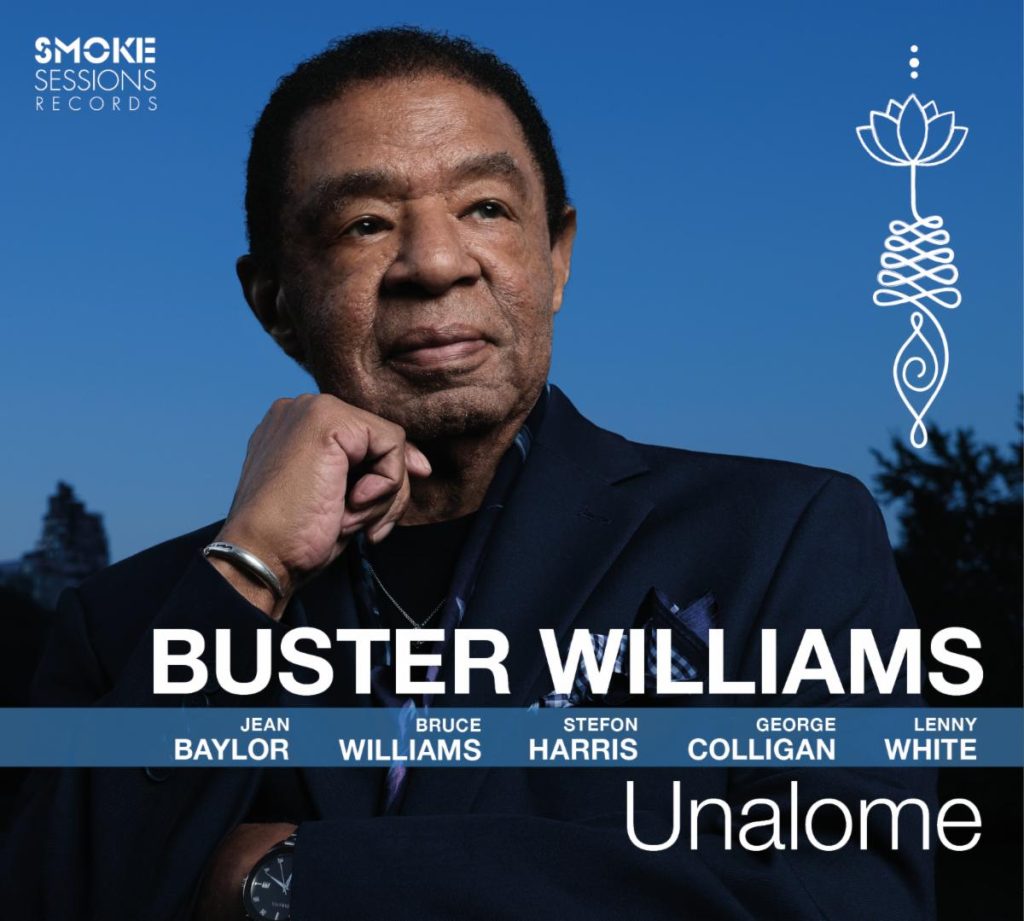 Legendary Bassist/Composer Buster Williams Celebrates 80 Years (and Counting) Along a Path to Musical Enlightenment on his Stunning New Album Unalome
Due Out February 24, 2023 via Smoke Sessions Records,
It Features Vocalist Jean Baylor, Saxophonist
Bruce Williams, Vibraphonist Stefon Harris,
Pianist George Colligan, and Drummer Lenny White
For those unfamiliar with the meaning of the title of the gorgeous new album from legendary bassist/composer Buster Williams, Unalome, or the lotus flower-topped symbol that graces its cover – "Unalome" is a Buddhist symbol representing individual transcendence and the path to enlightenment over the course of one's life.
It is a guiding concept that Williams, a long practicing Buddhist himself, has been exploring throughout his life and career. The idea came vividly to life on his forward-looking new album. "It seemed to express perfectly the mood or the collective spirit of the music on this particular project," Williams explains. "I believe that your life should be a succession of steps, and that those steps should be along an ascending path.
Due out February 24, 2023 via Smoke Sessions Records, Unalome is the latest step along what has certainly been a storied path. One of the most revered bassists of the last half century, the Grammy-winning Williams has played, recorded, and collaborated with such jazz giants as Art Blakey, Chet Baker, Chick Corea, Dexter Gordon, Jimmy Heath, Larry Coryell, Wynton and Branford Marsalis, Sonny Rollins, Count Basie, Errol Garner, Freddie Hubbard, and countless others. He was a charter member of Herbie Hancock's groundbreaking Mwandishi band and the all-star Thelonious Monk tribute ensemble Sphere.
Williams' playing has always been remarkable for being as tasteful and nuanced as it is bold and adventurous, which has made him the accompanist of choice for vocal greats like Nancy Wilson, Betty Carter, Carmen McRae, and Sarah Vaughan. Those experiences in part inspired the ensemble that Williams assembled for Unalome, which features vocalist Jean Baylor along with a stellar group featuring saxophonist Bruce Williams, vibraphonist Stefon Harris, pianist George Colligan, and drummer Lenny White.
Along with her husband, drummer Marcus Baylor, Jean co-leads The Baylor Project, whose inspired debut album Be a Light garnered Grammy nominations in both jazz and R&B categories. She also was a pioneer of the neo-soul movement as half of the platinum-selling Motown Records duo Zhané.
Colligan and White have been Williams' rhythm section of choice for the last two decades, with his relationship with the drummer stretching back even further and including collaborations not only in each other's bands but in groups led by Wallace Roney, Cyrus Chestnut, and a number of others. Renowned for his membership in the landmark fusion group Return To Forever, White has also served notable tenures with Stanley Clarke, Geri Allen and Larry Coryell. Colligan, meanwhile, has released more than 30 albums as a leader alongside brilliant work with jazz greats like Jack DeJohnette, John Scofield, Ravi Coltrane and Cassandra Wilson.
Besides his longstanding relationship with Buster, Bruce Williams (no relation) has worked with such jazz legends as Little Jimmy Scott, Frank Foster, Stanley Cowell, Curtis Fuller, and Roy Hargrove, and was recruited into the elite ranks of the World Saxophone Quartet. Buster first met Stefon Harris more than 25 years ago at the urging of trombonist Steve Turre, who raved so highly about the young vibraphone wizard that Williams hired him sight unseen for a gig at now-defunct NYC club Sweet Basil.
At 80 years of age, Buster Williams shows no sign of slowing his climb along that ascending path. Unalome brilliantly reflects how far he's come while looking eagerly head to future chapters. "As I get older, I discover that there's more over the horizon than you think," he declares. "The horizon may look like the end, but the closer you get the more you realize that you'll never reach it. What you can see from where you are seems to be limited, but with each step you see more and more."
"Unalome" was produced by Paul Stache and Damon Smith, and recorded live in New York at Sear Sound's Studio C on a Sear-Avalon custom console at 96KHz/24bit and mixed to 1/2″ analog tape. Available in audiophile HD format.
Buster Williams · Unalome
Smoke Sessions Records · Release Date: February 24, 2023
For more information on other Smoke Sessions Records releases, please visit:
DL Media