IN+OUT Records Releases Original Soundtrack "Ron Carter: Finding the Right Notes" (2-LP) | WATCH VIDEO!
by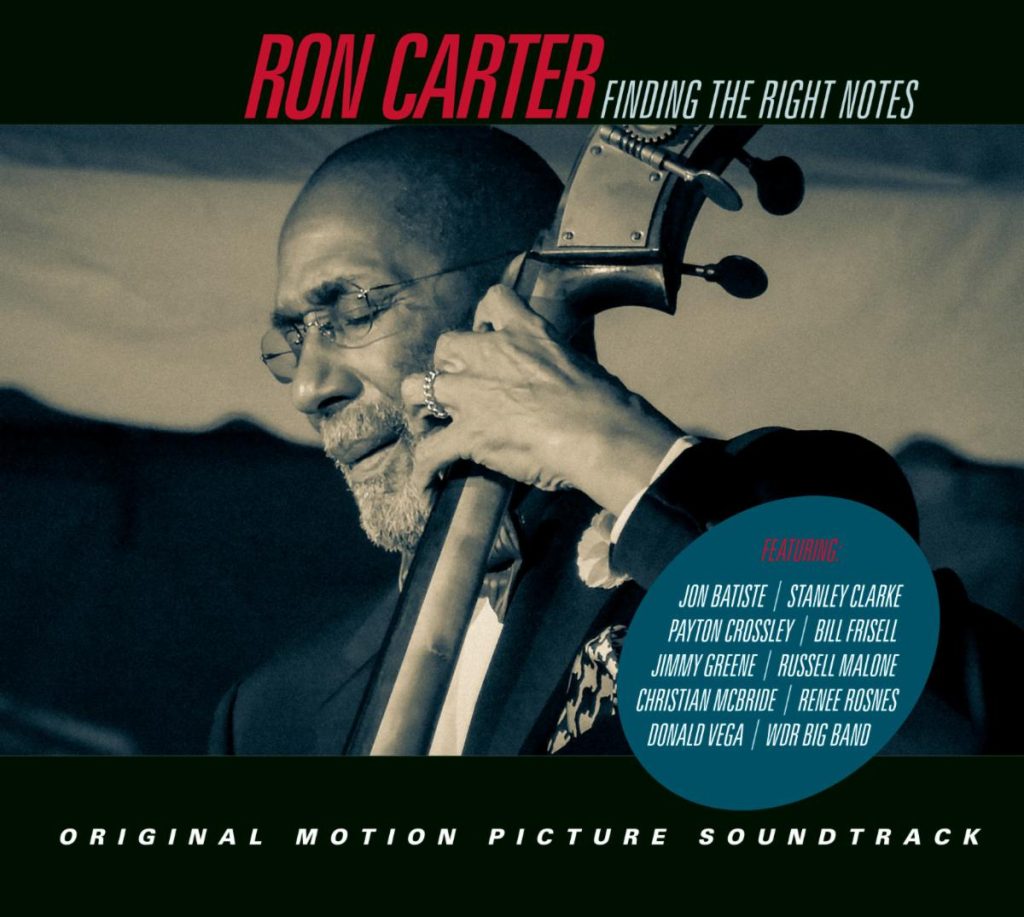 Last Month, PBS Premiered Finding the Right Notes,
the Two-Hour Major Documentary on
Jazz Legend Ron Carter
The Freiburg, Germany Record Label IN+OUT Records Releases the Original Soundtrack of the Film on 180-Gram Double Vinyl Today
Includes Bonus Track "Nearly"
Soundtrack Also Available on CD and
Digital Platforms via IN+OUT Records
Partisan Pictures' Six-Year Project is
Produced and Directed by Peter Schnall
PBS Has Made the Documentary Free to View
Through November 21 in the U.S.
Six years in the making, the documentary film of the most comprehensive look into the life of jazz bassist Ron Carter arrived on October 21. Ron Carter: Finding the Right Notes was produced and directed by the renowned producer/director Peter Schnall, a seven-time Emmy Award and Peabody Award winner.
Schnall reveals poignant and joyful details of the jazz maestro's life, from his early years as a cello student in high school through his years in the Miles Davis Quintet of the '60s and into his vital solo career that continues to expand. In addition to the television broadcast premiere, the exclusive soundtrack of never-before heard Carter performances were released on CD on October 21 by Freiburg, Germany-based IN+OUT Records, which also releases the soundtrack on double vinyl today. The 2-LP version includes "Nearly," a bonus song not on the CD that features Carter's touring band: pianist Renee Rosnes, saxophonist Jimmy Greene and drummer Payton Crossley.
The album includes a live performance filmed at the Newport Jazz Festival of Carter's classic original "Soft Winds," and an impromptu bass duet of "Willow Weep for Me" with Christian McBride at The National Jazz Museum in Harlem. There are also tunes from two New York Blue Note club sessions with Bill Frisell on "My Man's Gone Now" and a first-time recording with fellow bassist Stanley Clarke on "Bag's Groove." The most rewarding recording comes when Carter meets up with Jon Batiste at the Power Station studio for a conversation and ultimately a song: "Sweet Lorraine."
Toward the end of the production, Schnall had thought of reviewing Carter's history, but then decided to have someone else on screen. He invited Batiste who was once a student of the elder while he attended Juilliard. What better choice than to have two of music's most prominent artists talk together? The session lasted two hours. "My hope was that the two would play together," says Schnall. "When Ron showed up with his bass, I knew that something was going to happen."
As for getting the documentary out to the public, Schnall first pitched the story to PBS. "They immediately said 'yes' to the project, they were very excited about the Ron Carter story," he says. "Later, when we presented PBS with our 90-minute rough cut, they asked if we could extend the show to two hours. That doesn't happen too often."
The same enthusiasm held true with IN+OUT Records. "The soundtrack was produced in less than three months," Schnall says. "It's an important compilation, as the tracks represent the breadth and scope of the music Mr. Carter has been performing throughout his career."
In his documentary, Schnall captures the admiration so many artists have for Carter. Here's a sampling of praise from the remarkable film:
Ron Carter • Finding the Right Notes
IN+OUT Records • Release Date: CD: October 21, 2022; 2-LP: November 18, 2022
For more information on IN+OUT Records, please visit:
For more information on Ron Carter, please visit:
roncarterjazz.com | Facebook | Instagram
DL Media