Soul-Jazz Vocalist Ricky Alan Draughn Releases New Single "When You Love A Woman" | WATCH NEW VIDEO!
by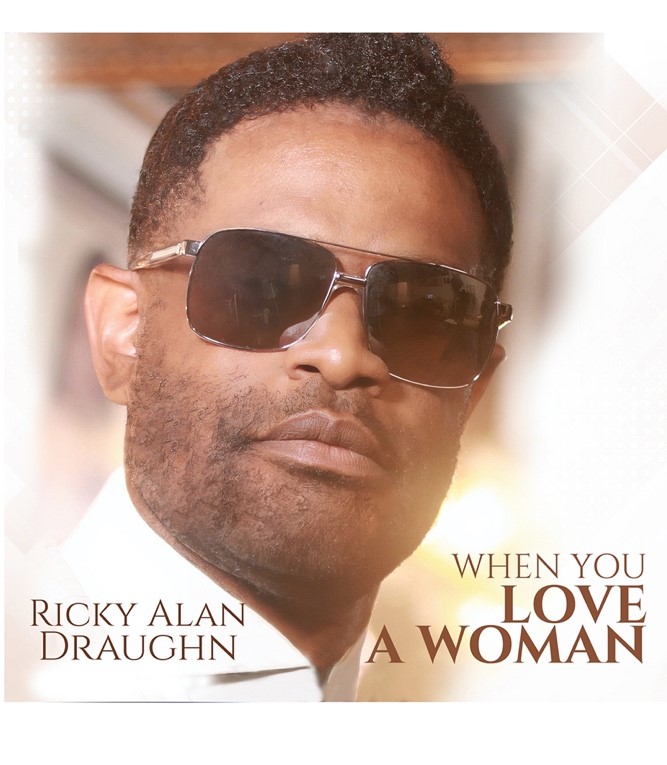 Soul-jazz vocalist Ricky Alan Draughn delivers a timely tribute to women
His reimagined "When You Love A Woman" is currently collecting playlist adds.
NEW HAVEN (19 July 2022): Advocating systemic change when civil unrest erupted in the midst of a pandemic and economic uncertainty two years ago, R&B-jazz balladeer Ricky Alan Draughn teamed with two-time Grammy nominated produced Chris "Big Dog" Davis (Norman Brown, Will Downing, Najee) and urban-jazz saxophonist Kim Waters to record a timely version of Sam Cooke's poignant "A Change Is Gonna Come." On the heels of the recent Supreme Court decision that impedes women's rights, Draughn dropped another aptly timed musical statement, this one celebrating women in the form of the new single "When You Love A Woman," produced by Billboard hitmaker Adam Hawley.
The 1988 power pop ballad written and recorded by Journey serves as Draughn's source material. Anchored by the crooner's emotive tenor vocals, Draughn belts out an impassioned salute amidst a throwback adult contemporary track featuring a grandiose gospel choir (Kevin Monroe & Devotion), sweeping strings and Hawley's piercing electric guitar solo. The cinematic single illumined by cascading melodies and Draughn's emotional fervor was one of the most added new singles last week on the Billboard BDS chart.
"I wanted the song to celebrate women and to be played as a backdrop to honor that special female. I wanted to bring back a memory of simpler days with a refreshing reboot of a classic tune. I've always loved that 1980's soft rock era, when a song had a lyrical composition that was just as impactful as the melody. 'When You Love a Woman' was such a song. We arranged the background vocals specifically to allow for general interpretation and not just for a romantic relationship. My hope is that the single becomes an anthem in the wake of women's rights currently being threatened," said Draughn, who released an accompanying video for the single directed by Edwin Escobar.
While the single is brand new, Draughn has been performing the song in concert with his twelve-piece band for years. He usually closes his sets with it, bringing down the house with his captivating performance, making it one of his most requested songs.
Tapping Hawley to bring his vision for "When You Love A Woman" to life proved to be a perfect match for Draughn.
"Adam and I got together, and he was almost completing my thoughts. It was like we've known each other forever. He is an incredible musician and a pleasure to work with. As a result, the song came together very quickly. He understood the assignment, maintained the song's integrity and left the song intact, ready for my signature vocal arrangements. Adam brought in Carnell Harrell on synths and Dan Needham on drums, and it was magical – that timeless 80's sound was successfully captured," said Draughn about the first single from his forthcoming debut album, "Genesis 8:5," which he aims to release first quarter next year.
Hawley is producing the majority of "Genesis 8:5," including what Draughn expects will be his next single, "Relentless," an upbeat original written by the singer that he describes as having "sort of a neo soul vibe, very danceable." The album will be eclectic in terms of variety, reflecting Draughn's stylistic range and sphere of influence. He's composing most of the music although he anticipates there will also be several collaborations.
Mixing jazz, R&B, pop and gospel, Draughn emerged from singing with prominent gospel groups such as Mighty Clouds of Joy and Mississippi Mass Choir. He's performed at marquee venues, from the Blue Note to the Apollo Theater, and has shared the stage with R&B, funk and jazz stars, including George Clinton, Chaka Khan, Shirley Murdock, Jodeci, The Whispers, Macy Gray, War, Nancy Wilson, Lou Rawls, Wilson Pickett, Marion Meadows and Alex Bugnon, among others.
For more information, please visit https://rickyalandraughn.com.
Great Scott P.R.oductions