Jazz Flutist Ragan Whiteside to Release New Single "Thrill Ride" on May 6th, 2022 | LISTEN!
by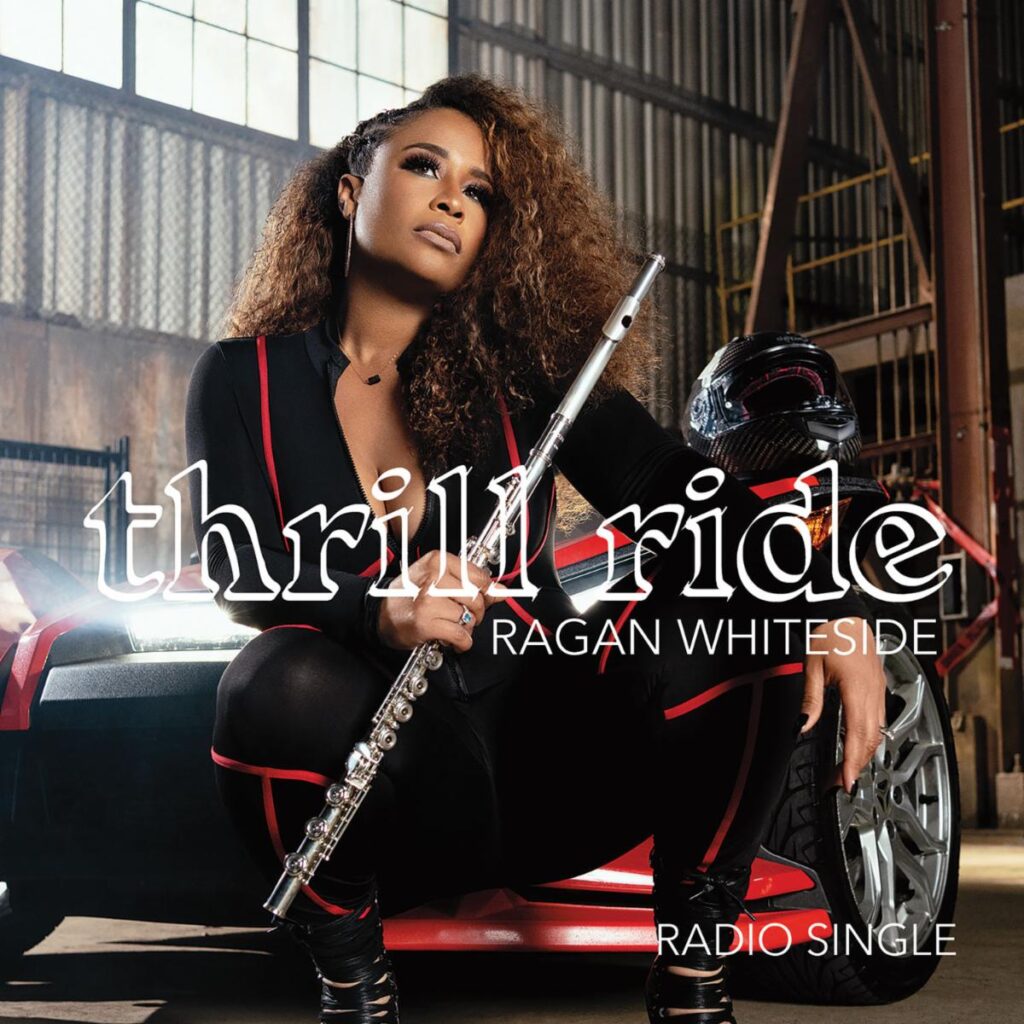 Contemporary Jazz Flute Phenomenon Ragan Whiteside Releases New Single, 'Thrill Ride'
(Atlanta, GA – May 5, 2022) – Flute-playing soul-jazz phenomenon Ragan Whiteside releases a brand-new single, "Thrill Ride," the title track from her forthcoming album, on her label, Randis Music. Written and produced by Dennis Johnson, Bob Baldwin, and Whiteside, the single will be available on May 6, 2022, on all digital download and streaming platforms including Spotify, Apple Music, Tidal, Deezer, and more.
Going for radio adds the week of May 9th, "Thrill Ride" features an ensemble of today's top musicians including guitarist Phil Hamilton and drummer Richard Harrison, also known as the artist RAH.
"Thrill Ride" takes the listener on an exciting musical journey, with unexpected twists and turns fueled by occasional deviations from the standard four-on-the-floor. The driving flute melody places the typically quiet instrument in a different light, matching the energy of the drums throughout the song.
The music video, slated for release in May, follows Whiteside as she experiences various thrill rides on the way to her show. As a fan of sketch comedy, she wanted to do something completely goofy.
"We wanted to create a song that was atypical for flute and show how exciting this instrument can be," says Whiteside. "As for the video, music can be so serious at times. I wanted to have fun with it. I grew up watching Saturday Night Live and that inspired the silly, lighthearted vibe of the video."
In the summer and fall, the classically trained flutist has a series of upcoming concert dates including Mother's Day Wine and Jazz at the Hayti Heritage Center in Durham, NC (May 7); Marcus Anderson's Jazz and Coffee Escape in Asheville, NC (Saturday, August 6); Ferrario Elmira Jazz Festival in Elmira, NY (Saturday, August 13); Jazz in the Park in Hunstville, AL (September 4) with additional dates to be announced in the coming weeks.
Meanwhile, as the host of her four-hour Saturday morning radio show on Atlanta's NPR affiliate radio station Jazz 91.9 WCLK, Ragan Whiteside's show is growing exponentially with an increase of listeners and supporters internationally.
Originally from Mt. Vernon, New York, Whiteside was mentored during high school by members of the National Association of Negro Musicians, participated, and ultimately won Silver at the NAACP's ACT-SO (Academic, Cultural, Technological and Scientific Olympics) competitions for young people. She continued her education at the Cleveland Institute of Music before transferring to the highly competitive HARID Conservatory in Florida. After graduation, she attended a show at a local jazz club and met keyboardist and producer Bob Baldwin, who encouraged her to pursue a career as a contemporary instrumentalist.
Baldwin became a mentor and introduced her to Dennis Johnson, who owned a recording studio. Johnson and Baldwin have since become Whiteside's frequent songwriting collaborators. Since then, Whiteside has blazed a trail in contemporary music by fusing inspired flute melodies and breathtaking solos with hip upbeat grooves. In the fall of 2020, she added yet another highlight to her résumé when she began hosting her own Saturday morning radio show on Atlanta's WCLK 91.9 FM.
Follow Ragan Whiteside on Facebook and Instagram.
Gwendolyn Quinn Public Relations