Reggae Artist Julian Marley to Release New EP "1692" in Sept. 2022 | WATCH New Video for Single "The Tide Is High"!
by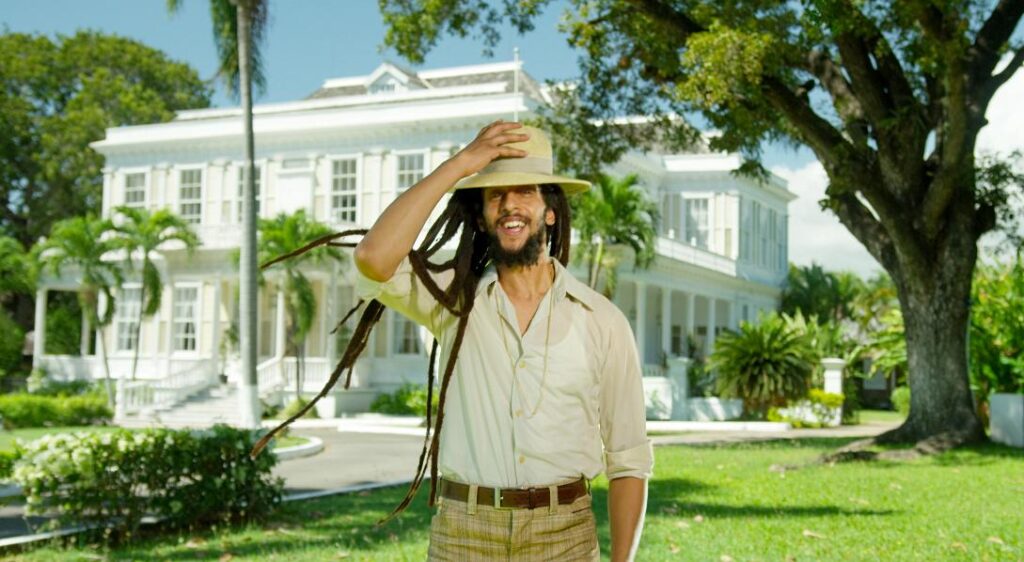 GRAMMY-NOMINATED REGGAE ARTIST JULIAN MARLEY ANNOUNCES NEW EP 1692, OUT THIS SEPTEMBER (via MONOM RECORDS)
WATCH OFFICIAL MUSIC VIDEO FOR "THE TIDE IS HIGH"
NORTH AMERICA & EUROPE LIVE DATES SLATED FOR THIS SUMMER INCLUDING SUMMERJAM + REGGAELAND FESTIVALS
Today, two-time Grammy-nominated artist Julian Marley announces his upcoming EP, 1692 (out September via Monom Records), and shares the first single, an electronic take on the 1967 rocksteady single "The Tide Is High." Originally written by John Holt and performed with his legendary vocal group The Paragons, Marley's new interpretation brings the beloved classic back to its Jamaican roots, over a bouncy dancehall beat supplied by producer and Monom Records chief Alexx Anteaus (Earth, Wind & Fire, Rolling Stones, Jah Vinci, Yaksta)
Speaking on the cover, Julian recalls: "I did 'The Tide is High' because I'm a fan of John Holt…because he's one of my teachers. The song is a nice song…You know, it always gives me an uplifting feeling. We love to pay respect to our teachers and our elders. So, you know, this one is for uncle John, ya man – much blessings."
The official music video, directed by Damanic Green, arrives alongside the single to instantly transport listeners to an island dance vibe. The accompanying visuals highlight Julian's roots reggae tones and flawless vocals against the backdrop of Jamaica's historic Devon House, a heritage site built in 1881 by the first Jamaican black millionaire George Stiebel.
"The Tide Is High" has been reimagined by several notable artists throughout the years. Blondie's 1980 pop version went on to top international charts in the US, UK, Canada, and New Zealand. Additional versions have been cut by Kardinal Offishall & Keri Hilson, Atomic Kitten, and Gregory Isaacs.
British-born Julian "JuJu" Marley is the son of Jamaican musical icon Bob Marley and Barbadian mom Lucy Pounder. Julian is a roots-reggae musician, singer-songwriter, producer, and humanitarian. The 1692 EP and "The Tide Is High" single follow Julian's 2019 Grammy-nominated album, As I Am, which scored millions of streams worldwide, and features collaborations with Jamaican superstars like Shaggy, Beenie Man, Spragga Benz, and Addis Pablo. Julian Marley is currently touring in the U.S. until June 18th and then onwards to Europe for the summer festival season.
For tickets, please visit www.julianmarley.com/
2022 Live Dates
May 27: Anselmo Valencia Tori Amphitheatre – Tucson, AZ
May 28: Mandalay Bay Beach – Las Vegas, NV
May 29: BottleRock – Napa, CA
June 4: Everland Presents: The Concert for Climate – Stockholm, Sweden
June 11: Gerald R. Ford Amphitheater – Vail, CO (The Wailers featuring…)
June 18: Spark In The Park – Hazel Park, MI
July 2: Summerjam Festival – Cologne, Germany
July 4: Antibes, France
July 5: Marseille, France
July 6: Montpellier, France
July 9: Reggae Festival – Ostroda, Poland
July 13: Bataclan – Paris, France
July 15: Les Wattsfestival – Plains, Switzerland
July 19: Parc Du Vissoir – Trélazé, France
July 22: Circolo Magnolia (Estivo) – Segrate, Italy
July 23: Bababoom Festival – Fermo, Italy
July 24: Beach Party – Cerveteri, Italy
July 26: Jazz Cafe – Manchester, UK
July 28: Jazz Cafe – London, UK
July 29: Roots Rock Reggae Gibraltar Reggae Festival – Gibraltar
July 30: Reggaeland UK – Milton Keynes, UK
Aug 5: Festival – Bretagne, France
Aug 6: One Love Festival – Wiesen, Austria
Aug 11: Lucerna Bar – Prague, Czech Republic
Aug 12: One Love Reggae Festival – West Sussex, UK
Aug 12: Fort De St Pere – Saint Pére, France
Aug 13: Nologo Festival – Saint-Malo, France
Aug 14: Nis Jazz Festival – Nis, Serbia
Aug 16: Rototom Sunsplash – Benicássim, Spain
Aug 17: Rototom Sunsplash – Benicássim, Spain
Aug 20: Maré de Agosto Festival – Santa Maria, Portugal
Aug 22: Parksnäckan – Uppsala, Sweden
Aug 23: Berns STHLM – Stockholm, Sweden
Aug 24: Nöjesfabrikan – Karlstad, Sweden
Aug 25: Vulkan Arena – Oslo, Norway
Aug 26: Pustervil – Gothenburg, Sweden
Aug 27: KB – Malmo, Sweden
Aug 28: Amager Bio – Copenhagen, Denmark
Aug 29: Train – Aarhus, Denmark
FOLLOW JULIAN MARLEY:
www.julianmarley.com
Spoonfed Entertainment