Reggae Singer Skip Marley Releases New Single "Change" | WATCH NEW VIDEO! Announces New 2022 Tour
by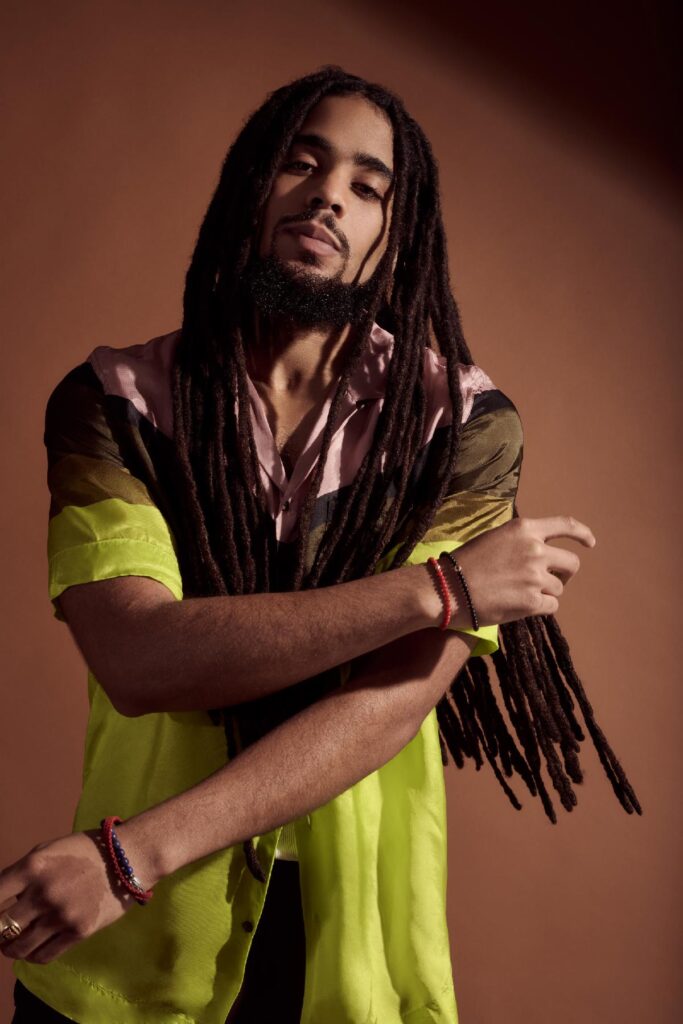 SKIP MARLEY RELEASES NEW TRACK
"CHANGE"
OVER 440 MILLION GLOBAL ARTIST STREAMS
(April 22, 2022 – New York, NY) Chart-topping two-time Grammy©-nominated Skip Marley releases new track, "Change." Produced and co-written by Oscar Holter (The Weeknd, Coldplay, Katy Perry, P!nk,) the feel-good, reggae tinged track brings all of the positive vibes at a time where the world needs it most.
"Change… we're always changing. I would say for me personally, me being a better man, being a better version of myself. Taking my time more, learning more, and observing more as much as I can, personally. Taking in everything 'cause life is school so you know, no one's perfect so allow progress. I learn every day, I try to learn something every day. And something small or big, each their own, works for me personally. When we're talking to the world now – how much things do we want to change? We're still hating each other. We're still racist toward each other. We're still warring with each other. We're still hungry, still can't get no job. The systems have to change. We are the change. The sooner that people realize that one man can make a difference, one woman can make a difference. From one person can make a change, then we all can make a change. Why not make a change together?" – Skip Marley
After completing a successful first leg of his first headline tour, the Change Tour, Skip will continue the second leg this fall. Upcoming tour dates below. For more information, go to http://www.skipmarley.com/tour.
"Change" follows Skip's latest release, "Vibe," featuring Jamaican MC Popcaan which was produced by Rykeyz, who also produced Skip's history-making RIAA gold #1 global hit "Slow Down" with two-time Grammy© Award-winning artist H.E.R. In spring 2020, "Slow Down," with over 200 million global streams, became the quickest and biggest-streaming song in Marley family history, and elevated Skip to over 440 million total global artist streams. It was the first time a Jamaican-born artist reached the #1 spot on the Billboard Adult R&B chart. At the same time, Skip became the first Jamaican-born artist inside the Top 15 on Billboard's R&B/Hip-Hop Airplay chart in nearly a decade and a half (since Sean Paul and Keyshia Cole in 2006 with "When You Gonna Give It Up to Me"). The track, which came off his debut EP, Higher Place, spent 3 weeks at #1 at R&B Radio. Over the course of 2020, amazing chemistry radiated between Skip and two-time Grammy©-winner H.E.R. performing "Slow Down" live together. The song's television debut on Fallon and show-stopping perform­ance at the NAACP Image Awards (where he was nominated for "Outstanding New Artist") both took place in February, followed in June by the ABC Good Morning America Summer Concert Series session.
TOUR ROUTING
May 27 Napa Bottlerock Festival
May 29 Morrison, CO Red Rocks
June 2 Redway, CA Mateel Community Center
June 3 Rohnert Park, CA SOMO
June 4 Paso Robles, CA Robles Amphitheatre
June 7 Tahoe, CA Hawkins Amphitheatre
June 9 Saratoga, CA Mountain Winery
June 10 Anaheim, CA City National Grove
June 11 San Diego Humphreys
Sept 17 Asbury Park, NJ Sea.Hear.Now Festival
Sept 21 Toronto, Canada Toybox
Sept 23 Burlington, VT Higher Ground
Sept 27 Washington DC Union Stage
Sept 28 Virginia Beach, VA Elevation 27
Sept 30 Ocean City, MD TBD
Oct 2 Sacramento, CA Harlows Night Club
Oct 4 Santa Barbara, CA SOhO Restaurant & Music Club
Oct 5 West Hollywood, CA The Roxy
Oct 6 Tempe, AZ Aura
Oct 8 Las Vegas, NV Downtown Events Center
Oct 9 Salt Lake, UT Hangar House
Oct 10 Denver, CO Cervantes' Other Side
Oct 12 Austin, TX 3Ten
Oct 15 Houston, TX House of Blues
Oct 16 New Orleans, LA House of Blues
Oct 18 Jacksonville, FL Underbelly
Oct 19 Tampa, FL Crowbar
Nov 20 San Diego, CA Wonderfront Music Arts Festival
FOLLOW SKIP MARLEY:
www.skipmarley.com
Spoonfed Entertainment