Contemporary Jazz Trumpeter Kimble Funchess Releases New Single "Keep Pressin' On" | LISTEN!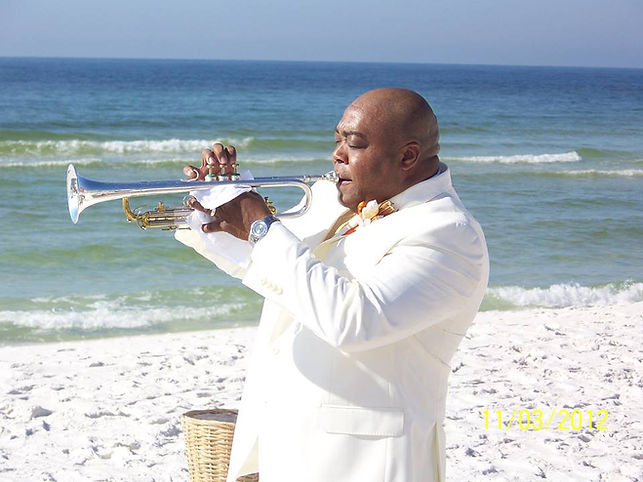 Contemporary Jazz Trumpeter Kimble Funchess Releases New Single "Keep Pressin' On"
BIO: Kimble Funchess is a veteran and versatile trumpeter. He has performed with some of the nation's greatest artists in Jazz, Gospel, Blues and R&B. Some of the most noted artists are: B. B. King, The O'Jays, Wilson Pickett, Charlie Pride, The Temptations, The Four Tops, Johnny Taylor,Composer/Arranger Benjamin Wright(The Benjamin Wright Orchestra, The Fifth Dimensions, Paul Overstreet, Mavis Staples, Charlie Pride, Brandy, Dorothy Moore, Lionel Hampton's Big Band, David "Fathead" Newman, Willie Clayton, Eddie Cotton, Bobby Rush, Mavis Staples, Nanette Workman, Hubert Sumlin, Pine Top Perkins, Raphael Semmes and "Mississippi LIVE!", Fusion Coffee House Jazz Series, rap artist David Banner and The Spinners. He performed as part of the orchestra for the 1st Mississippi Grammy Event that honored Mississippians who have won Grammy awards such as Jerry Lee Lewis, Paul Overstreet, Marty Stuart, Brandy, Charley Pride and Robert Johnson. Kimble has also performed with many of our local churches, including: Anderson United Methodist Church, Christ United Methodist Church, Broadmoor Baptist Church and Galloway Memorial United Methodist Church. He is a founding member of Anderson United Methodist Church Instrumental Ensemble "Gospazz". Presently, He serves as a member of the orchestra at Pearl St. African Methodist Episcopal Church.
Kimble's enthusiasm for music led to a professional career in music as a performing artist and music educator. Kimble has a Bachelor's and Master's Degree in Music Education. He also has a Master Of Education Degree in School Counseling. He has served as the facilitator for classes that focused on learning problem solving skills as a tool for 6th graders which helps them see the value in goal setting, learning social skill sets and to focus on behavior management using music therapy, mindfulness and relaxation methods. His wide-ranging career led him to positions as a Pre-GED teacher, Director of Bands at McComb High School, McComb, MS, Yazoo City High School, Yazoo City, MS, Peeples Middle School, Jackson, MS and Yazoo County Schools Director of Bands, Yazoo County, MS. The Yazoo County Panther Band has performed the National Anthem at the New Orleans Pelicans -vs-Los Angeles Lakers Basketball game November 2016 and then again in 2018. As an area band director, Kimble's groups have earned superior and excellent ratings in marching and concert evaluations.
He has been featured on many Blues and Gospel recordings on Ace Records, MALACO and Blackberry Records. He has also recorded with and arranged horns for The Williams Brothers, The Jackson Southernaires and Pastor Tim Rogers and the Fellas CD. The gospel single, "Happy with Jesus" has been featured on Video Gospel on BET. Kimble made his movie debut with a musicians' role in the Dixieland Band in the James Brown movie "Get On Up!" In September 2019, Kimble performed Satchmo! A Tribute to Louis Armstrong as part of the 2019 Mississippi Opera season and also for The 2021 Natchez Festival Of Music as both venues were filled to capacity. Kimble was also honored as the recipient of the Mississippi Jazz Foundation(MJF) 2021 Music Education Award for commitment to musicianship and creativity in education in schools.
As a member of The Jackson Horns, Kimble has arranged and recorded horns for three International Blues Challenge (IBC) winners. Kimble is also an active member in the American Federation of Musicians(AFM Local #777) as well as a member of Chi Sigma Iota(CSI), an international and professional academic honor society for counseling students, counselor educators and professional counselors. It is truly a blessing to have the opportunity to live a life through music after growing up in Crystal Springs, MS which is the same county that the Blues Great Robert Johnson was born in! Kimble is very appreciative of the wealth of opportunities that have been afforded him thus far and is excited about continuing to grow in God's Grace. Kimble is a member of Prince Hall Masons, Kappa Alpha Psi Fraternity, Inc. and serves as a board member of the Mississippi Musicians' Hall of Fame and Successful Inc. Kimble is married to the former Julia Andrews of Yazoo City, MS. They have four beautiful daughters: Ria, Rakia, Caitlin and Kimberlee. They reside in Madison, MS. Julia and Kimble are co-owners of Mobile Music Makers, Mindfulness Through Music and Kimble Funchess Music.
Official Website: Kimble Funchess
The Boogie Report