The Soul Rebels Releases 2 New Singles in Sony's 360 Reality Audio | WATCH Official New Video for "Good Time"! Announces New Tour for 2022
by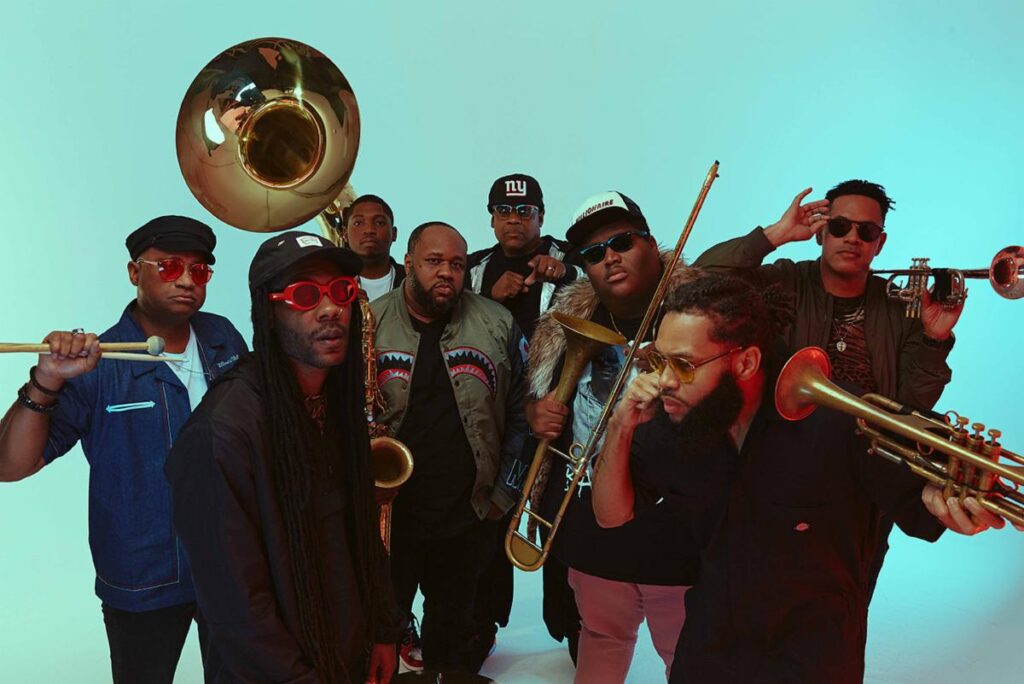 THE SOUL REBELS RELEASE TWO NEW SINGLES IN
SONY'S 360 REALITY AUDIO
PREVIOUSLY UNRELEASED SONGS CAN BE HEARD IN 360 REALITY AUDIO ON
AMAZON MUSIC UNLIMITED, TIDAL, DEEZER & NUGS.NET
"GOOD TIME" MUSIC VIDEO ALSO OUT NOW ON YOUTUBE IN 360 REALITY AUDIO
JANUARY 14, 2022 – NEW YORK, NY – The Soul Rebels today announced the release of two previously unreleased songs from their latest album, Poetry In Motion, which have been mixed in exclusively in Sony's 360 Reality Audio. The tracks, "Groove Train" and "Musica", are being released for the first time as an extension of their 2019 album.
360 Reality Audio is an immersive music experience that uses Sony's object-based 360 Spatial Sound technologies. Individual sounds such as vocals, chorus, piano, guitar, bass and even sounds of the live audience can be placed in a 360 spherical sound field, giving artists and creators a new way to express their creativity.
STREAM "Groove Train" ft Nigel Hall HERE
STREAM "Musica" ft Christian Scott Tunde Adjuah HERE
The eight member brass group has captivated fans around the world with their upbeat performances and dynamic sound.
"We are so excited to share these new songs with our fans in Sony's 360 Reality Audio, " said The Soul Rebels. "We're committed to delivering the best listening experience and spatial audio allows us to provide a truly live sound experience to our fans."
In addition to the two single releases, The Soul Rebels are debuting their previously released music video for "Good Time" in Sony's 360 Reality Audio.
The 360 Reality Audio release of the two songs follows on the heels of the band's recent EPIC VIBES tour announcement, with headlining shows across The United States. See upcoming tour dates below:
DATE CITY VENUE
1/14 Memphis, TN RAILGARTEN
1/15 Baton Rouge, LA CHELSEA'S
1/22 New Orleans BLUE NILE
2/11 New Orleans DBA
2/16 San Diego, CA MUSIC BOX
2/17 Los Angeles, CA TERAGRAM BALLROOM
2/18 San Francisco, CA THE INDEPENDENT
2/19 Oakland, CA THE NEW PARISH
2/20 Felton, CA FELTON MUSIC HALL
2/23 Seattle, WA NECTAR LOUNGE
2/24 Olympia, WA CAPITOL THEATER
2/25 Portland, OR PDX JAZZ FESTIVAL
2/26 Bellingham, WA WILD BUFFALO
2/27 Victoria, BC UPSTAIRS CABARET
3/24 Waterloo, NY THE VINE @ DELLAGO CASINO RESORT
3/25 Philadelphia, PA BROOKLYN BOWL
3/26 Washington, DC 930 CLUB
3/27 Pittsburg, PA THUNDERBIRD CAFE
3/29 Buffalo, NY BUFFALO IRON WORKS
3/30 Albany, NY LARK HALL
3/31 Boston, MA BIG NIGHT LIVE *w/ GZA & Talib Kweli
4/1 NYC BROOKLYN BOWL
4/2 NYC BROOKLYN BOWL
4/3 Millersville, PA PHANTOM POWER
4/6 Bridgeport, CT PARK CITY MUSIC HALL
4/7 Fall River, MA NARROWS CENTER FOR THE ARTS
4/8 Greenfield, MA HAWKS AND REED
4/9 Westhampton, NY WESTHAMPTON BEACH PAC
4/10 Ventura, CA SKULL & ROSES
4/23 New Orleans DBA
Connect with The Soul Rebels
Shorefire Media